Seattle, WA, October 10, 2019– Mountain Safety Research® (MSR®) is honored to receive the prestigious 2019 Editor's Choice SNOW award from BACKPACKER magazine, the most prestigious award in the outdoor industry, given annually to products in recognition of their outstanding innovation in design, materials, and perfo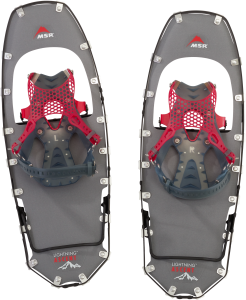 rmance. MSR was awarded for their Lightning Ascent Snowshoes with Paragon snowshoe bindings, the world's first single-strap mesh snowshoe binding. This ultralight binding delivers the pinnacle of simplicity, security, durability, and comfort in alpine terrain while also being engineered to be the most intuitive and effective snowshoe binding available to serious winter adventurers.
"We're thrilled to receive this award because we know the level of rigorous testing that Backpacker Magazine conducts on new products," says Sarah Courtney, Winter and Water Category Manager at MSR. "After years of research, development, prototyping, gathering snowshoe user feedback, and rigorous testing of our own – both in the lab and in the field – it's an honor for our team to receive this prestigious award."
The annual Editors' Choice Awards honors the products that BACKPACKEReditors have chosen as the best of the year for the Fall/Winter season. With no set categories for the awards and no set number of recipients, the products and the testing process drive the award categories. BACKPACKEREditor-In-Chief Dennis Lewon and Gear Editor Eli Bernstein formally presented the award to the MSR team during the Outdoor Retailer Summer Market in Denver earlier this year. Last year, MSR won BACKPACKER's Editors' Choice Gold Award for its Reactor Stove System, which was bestowed on MSR for the stove's sustained years of best-in-class performance.
"The Lightning Ascent's new Paragon binding provides a secure fit over boots but without any stiffness or pressure points, and promotes a natural stride. It's also super easy to adjust, which is great when temperatures plummet and fiddling with your binding is the last thing you want to be doing," said Eli Bernstein, BACKPACKER Gear Editor.
Additionally, in technical terrain, the Lightning Ascent snowshoes have 360 Traction™ Frames providing unrivaled grip—especially on traverses. The Lightning Ascents also allow for add-on Modular Flotation tails, giving you the maneuverability of a smaller, primary snowshoe with the added, on-demand flotation of optional, 5-inch (13-cm) tails. Ballistic-grade decking offers long-lasting durability, and Ergo Televator heel lifts reduces fatigue and backs you up when climbing the steeps.
The complete list of BACKPACKER's 2019 Editors' Choice Award winners will be officially announced to the general public in the magazine's Fall Gear Guide, on newsstands October 10, 2019. The Paragon Binding will be standard on the MSR Lightning Ascent Snowshoe (MSRP: $319.95 USD) as well as a second model, the Revo Ascent Snowshoe (MSRP: $259.95 USD), offered in both men's and women's versions, starting October 2019.
About MSR (Mountain Safety Research): Seattle-based MSR has been engineering standard-setting high-performance outdoor equipment since 1969. A commitment to quality manufacturing and innovation ensures customers are outfitted with the finest, most reliable gear available for outdoor adventures. MSR product lines include stoves, fuel, cookware, water treatment and hydration systems, shelters, snowshoes, snow tools, and backcountry poles. The majority of MSR products are made in the company's Seattle, U.S.A. and Cork, Ireland manufacturing facilities. For more information, visit msrgear.com.
About Backpacker: BACKPACKERbrings the outdoors straight to our readers' doorsteps, inspiring and enabling them to Get Out More. The authority on active adventure, BACKPACKER is the only outdoor media whose editors personally test the hiking trails, camping gear, and survival tips they publish.