Portland, ME, October 9, 2019—The Sea Bags Women's Sailing Team is preparing to set sail for Miami, Florida this month to compete with and against the sport's top professionals in the 2019 J/24 World Championship. The racing week of October 19-26, 2019 will boast 83 boats and more than 400 racers, all the while the Sea Bags Women's Sailing Team is one of four teams from Maine competing in the global competition and Maine's only all-female team in attendance.
The Sea Bags Women's Sailing Team (SBWST) is a group of focused, experienced and passionate racing champions who take the thrills and incredible challenges of J/24 sailboat racing to new heights.  Campaigning their J/24 for the past five years, the team is comprised of 11 sailors ages 16 to 57 and is led by co-captains Erica Beck Spencer and Jess Harris. Co-captain Spencer received the 2018 J/24 World Championship Top Female Skipper Award, and the SBWST won the prestigious Jaeger Women's Trophy in 2017 at the J/24 World Championship in Ontario, Canada. 
"I couldn't be more proud of this team. We have had an excellent season with strong finishes at North Americans in Mexico, Nationals in Rochester and a win at the Marblehead NOOD," said Erica Beck Spencer, Skipper and Co-Captain of the SBWST. "Our team has excellent boat speed—going as fast as several world champions at Nationals. If we can get off the starting line consistently, I think we could have an even stronger finish than we did at the 2017 Worlds in Toronto. There are over 80 boats competing at this event, our largest fleet ever, so any finish in the top half is good, top twenty is exciting, and top ten, if we can pull it off, will feel like a victory."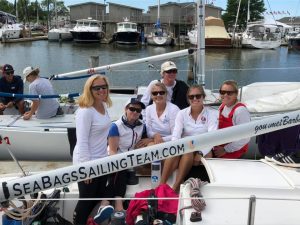 On the heels of the U.S. Women's World Cup victory, Allyson Felix beating the record for most gold medals at the track and field World Championships, and the Tampa Bay Buccaneers becoming the first NFL team to hire two full-time female coaches, the energy and vigor around women persevering in sports in 2019 has never been more palpable. This group of all-female champion sailors is ready to show they are a force to be reckoned with and claim their stake in Florida. 
The Sea Bags Women's Sailing Team is sponsored by Sea Bags, the Maine-based designer and manufacturer of bags and accessories from recycled sails. As ambassadors of Sea Bags and stewards to the company's sustainability mission, the SBWST actively collects seasoned sails along their journey. Sea Bags upcycles the sail cloth and uses the material to design and create new products. Through its donation and Sail Trade program, Sea Bags has saved over 700 tons of material from ending up back in the ocean and landfills.
"These women are role models, competitive sailors and true advocates for everything we believe in at Sea Bags," said Beth Shissler, President and COO of Sea Bags. "Their authenticity and love of sailing make us natural partners, and we are beyond thrilled to support them as they show the world they have the determination and drive to succeed in the J/24 World Championship this month."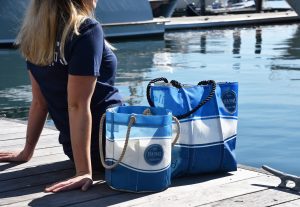 This short video shows behind-the-scenes footage of the team and their story. Show your support for the team from Maine with a Sea Bags Women's Sailing Team Tote. Twenty percent of sales from this collection are donated to the Sea Bags Women's Sailing Team to support their racing efforts. Follow along the Sea Bags Women's Sailing Team journey as they compete at Worlds and beyond at seabagssailingteam.com.
About Sea Bags Women's Sailing Team:
Sea Bags Women's Sailing Team began sailing together in 2015 and is co-captained by Erica Beck Spencer and Jess Harris. Though the team is made up of eleven women sailors, only six members of the team are onboard the team's J/24 during competitions. In 2017, the team won the prestigious Jaeger Women's Trophy as the top all-female team at the J/24 World Championships in Ontario, Canada. At the same event, team Captain Erica Beck Spencer received the Top Female Skipper Award. In 2019, Spencer was inducted into the New England Inter-Collegiate Sailing Association Hall of Fame and named the Top Female Skipper at J/24 National Championships. When the team is not racing together, they lead full lives as working professionals, moms, college and high school students. Learn more at seabagssailingteam.com.