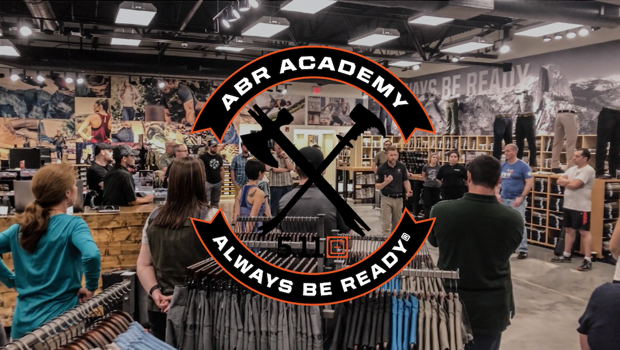 Irvine, CA, September 3, 2019 – 5.11 Tactical®, the global leader in innovative tactical apparel, footwear and outdoor gear, is celebrating National Preparedness Month in September by putting forth a series of activations spanning the brand's reach across retail, online, partnerships, a nine-part web series and giveaways. The brand will host preparedness trainings nationwide through its in-store ABR Academies, a video series with former Navy SEAL and survivalist Clint Emerson, as well giveaways online and at their 53 retail locations across the US.
5.11's largest activation during National Preparedness Month will be a series of Always Be Ready® (ABR) Academy classes in 5.11 retail stores nationwide. ABR Academies are free classes led by experts in trauma care, self-defense, overall preparedness, everyday carry and outdoor adventure.
"Preparedness is a significant part of 5.11's brand DNA," says Deb Radcliff, Chief Marketing Officer of 5.11. "Our ABR Academy is just one of the ways 5.11 provides consumers with the knowledge, gear and pertinent skills necessary to always be ready for their next challenge. National Preparedness Month is an opportunity for us to honor the first responders and servicemen and women in our country, as well as educate our consumers so they're better-prepared on-duty, while training, or on their next adventure."
At 5.11's National Preparedness Month's ABR Academy events, subject matter experts lead an interactive and educational class open to all experience levels. Participants are able to meet and learn from local law enforcement officers and medics, professionally trained survivalists, veterans, and active duty servicemen and women. In addition to empowering individuals, the ABR Academy serves to build camaraderie within our local communities.
In honor of National Preparedness Month, 5.11 has partnered with Retired Navy SEAL and best-selling author, Clint Emerson, on an educational video series. Emerson has spent a lifetime surviving the most difficult situations on earth and wholeheartedly embodies 5.11's Always Be Ready ethos. In the new video series, 100 Deadly Skills presented by 5.11, Clint will teach everything from go-bag basics to escaping a kidnapping and what to know for every situation in between. With the right equipment, mindset, and training, 5.11 gives you what you need to Always be Ready.
As an added bonus throughout September, 5.11 customers online and in-store, will receive a copy of Emerson's best-selling book, 100 Deadly Skills, a hands-on, practical survival guide, with purchases of $125 or more, while supplies last. In addition, as a special gift to 5.11's National Preparedness Month ABR Academy attendees, 5.11 will be giving away copies of Emerson's book as well as a free pouch with pack or bag purchase during ABR Academy in-store events.
Emerson will personally be making special guest appearances hosting Go-Bag Building ABR Academies in Frisco, TX and Arlington, TX in September.
For a full list of ABR Academy events this National Preparedness Month, click here