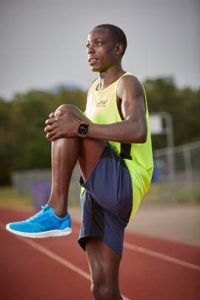 Polar, a manufacturer of heart rate sensors, activity trackers and wearable sports technology, welcomed 17-time NCAA champion and Kenyan-born professional distance runner Ed Cheserek to its pro team.
Cheserek, who was the most highly recruited high school distance runner in the nation out of Saint Benedict's Preparatory School in New Jersey, began his collegiate running career at the University of Oregon in 2013. He became the first college freshman in the school's history to win the NCAA National Cross-Country Championships. At Polar, he joins an already robust team of champion triathletes and endurance runners.
"Ed accomplished amazing athletic feats early in life; only a select group of people have champion high school and collegiate successes under their belt. He knew what he wanted, and he went after it," said Stan Brajer, senior vice president of U.S. sales and marketing. "He chased his destiny, from Kenya to New Jersey, to Oregon, and inspired a lot of young people along the way. We're excited to be with him on this next leg of his journey."
Cheserek joins other champion and Olympic athletes such as Molly Huddle, Gwen Jorgenson, Kate Grace, Will Leer and Noah Droddy.
In 2018, Cheserek is planning a full indoor and outdoor training and racing schedule. He's already slated to kick the year off running the Camel City Elite meet in Winston-Salem, NC on February.
"I'm so excited to be joining the Polar team. The data collected via my Polar M430 and analyzed in Polar Flow is invaluable," said Cheserek. "As I advance my professional running career, it's important to understand what is affecting my performance, and how we can adjust my training plans to maximize that performance. This will be hugely important in setting myself apart from other competitors and creating my overall race strategy this year. Polar is the perfect partner to help me do it: a name that is synonymous with reliable, trusted data. I can't wait."
Headquartered in Finland, Polar is a privately held company that operates in more than 80 countries.
Photo courtesy Polar