By Thomas J. Ryan
<span style="color: #9e9d9d;">Planet Fitness expects to benefit from consolidation in the fitness space, heightened interest in health and wellness and pent-up demand for workouts. But the key will be a 100-page COVID-19 operations playbook developed with franchise partners to elevate sanitation protocols and convince members that it's safe to return.
"The gyms will definitely be different that first opening compared to what they saw when we closed," said Chris Rondeau, CEO, on a conference call with analysts.
Personal protective equipment is being provided for all employees, and members will be able to use touchless check-in via their mobile app.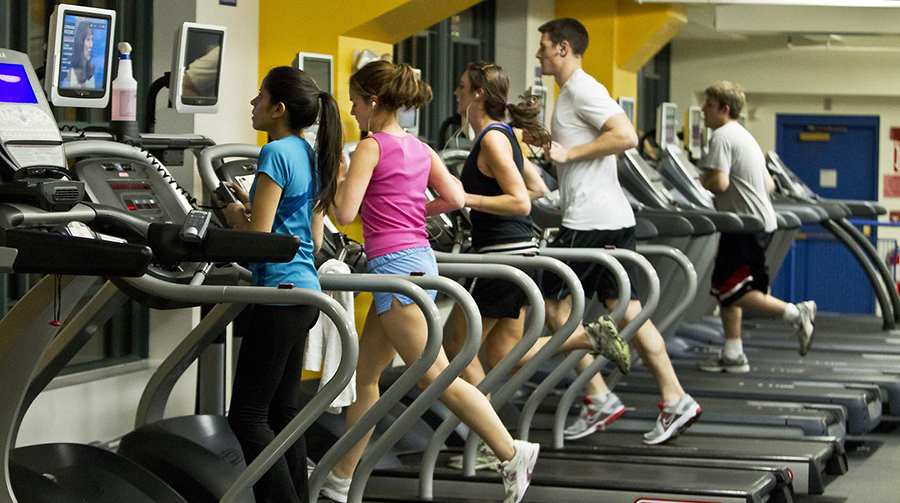 Planet Fitness has always featured sanitization stations for both staff and members but the number of stations will be increased throughout the space. More signage is being posted to reiterate cleaning policies and procedures. Said Rondeau, "Our members are cleaning as much as our staff is. It's before and after they use a bench. They're cleaning the treadmill or their workout apparatus that they're on. So we're reiterating a lot of that."
About half the 120 cardiovascular machines in its clubs will also be unplugged if there is social distancing mandated in the location's area.
Rondeau said the equipment restrictions shouldn't impact members since the clubs are generally only overly-crowded at the start of the year and members have otherwise shown they'll come back at a different time if it's busy during a typical week. Said Rondeau. "So, not unlike January, people that want to avoid the crowds, they just come a different day of the week and spread the usage out. I don't see that being a difference."
During a typical week, each club will have about 5,000 workouts per location, with about two-thirds of those taking place from Monday through Wednesday. The majority of those take place during the evenings from 4:00 pm to 7:00 p.m.
Rondeau also noted that half of its members don't use the club in a 30-day period either with the club's budget prices compared to some other gyms. He said, "It's a little different customer than a general SoulCycle or Gold's Gym customer that's a six- to seven-day a week, hell-or-high water person."
…
<span style="color: #9e9d9d;">On March 17, Planet Fitness closed 99 corporate stores and encouraged its franchisees to do the same. By March 22, all of its more than 2,000 locations were closed.
As of May 1, Planet Fitness "began a thoughtful phase reopening approach" and opened three stores, including two in Georgia and one in Utah, in accordance with local official guidelines. Another 150 clubs are expected to re-open between May 13 and May 15. Said Rondeau, "We're using these three clubs to make sure we have all our T's crossed and I's dotted before we roll out to the broader system."
Upon the closures of our stores in March, all members' accounts were frozen and Planet Fitness communicated to members that they would not be charged any fees while stores are closed. Said Rondeau, "As a leader in the industry, we and our franchisees believe it is critical that Planet Fitness put our members' interests first and foremost. We believe this message has been extremely well received and may have also helped minimize cancellation requests. In fact, we did not see any material change in our member count due to cancels in the second half of March during the initial closure period."
Rondeau said new member sign-ups "were strong" in the first quarter and gym usage was "business as usual" until the locations started to close due to COVID-19 in mid-March.
The company has significantly ramping up digital engagement to reach members at home, including its United We Move marketing campaign that includes daily live workouts on Facebook. The workouts are 20 minutes or less and feature Planet Fitness trainers and special celebrity guests, such as New England Patriots football player, Julian Edelman; Biggest Loser Trainer, Erica Lugo; and actor, Jerry O'Connell. The sessions are averaging more than 100,000 views per workout and 4.5 billion media impressions.
Planet Fitness is also encouraging people to download its app to gain access to more than 500 exercises that can be done at home and is seeing a 173 percent increase in average daily workout on the app.
Finally, Planet Fitness in March announced a new partnership with iFit to bring streaming workouts to the Planet Fitness app, to be used with minimal or no equipment. The workouts are available for free to both Planet Fitness members and nonmembers.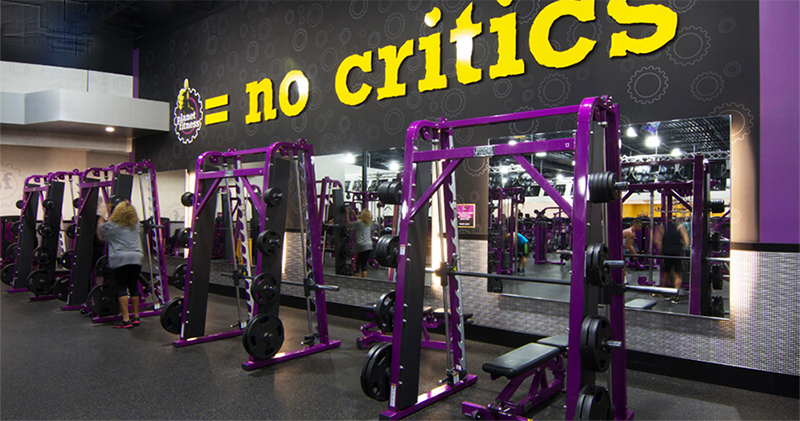 In the quarter ended March 31, revenue slumped 14.5 percent to $127.2 million, including system-wide, same-store sales growth of 9.8 percent.
Franchise segment revenue decreased 11 percent to $58.5 million, and franchise segment same-store sales increased 10 percent. The $58.5 million of franchise segment does not reflect $18.7 million of deferred royalty and national advertising fund revenue that was collected, but not recognized, as a result of temporary store closures related to COVID-19.
Corporate-owned stores segment revenue increased 6.5 percent to $40.5 million and corporate-owned store same-store sales increased 7.3 percent. The $2.5 million increase was driven by higher revenue of $5.5 million from corporate-owned stores opened or acquired since January 1, 2019, partially offset by lower revenue of $3.0 million from corporate-owned stores included in the same-store sales base. The $40.5 million corporate-owned stores revenue does not reflect $5.9 million of deferred revenue that was collected, but not recognized, as a result of temporary store closures related to COVID-19.
Equipment segment revenue fell 37.4 percent to $28.2 million due to lower equipment sales to new and existing franchisee-owned stores in the three months ended March 31, 2020 compared to the three months ended March 31, 2019. Included in the decrease is $10.0 million of lower revenue due to COVID-19.
Net income tumbled 68.6 percent to $8.6 million, or 11 cents per share. Adjusted net income decreased 56.0 percent to $14.4 million, or 16 cents per diluted share,
Planet Fitness also outlined a number of steps it's taken to mitigate the financial impact of COVID-19 and preserve liquidity to-date:
The company's CEO, President, Chief Financial and Chief Digital and Information Officers have significantly reduced their base salaries. In addition, the base salaries of other members of senior management were reduced in graduated amounts. The Board of Directors suspended payment of its annual cash retainer to non-employee directors;
Planet Fitness temporarily furloughed all employees, with the exception the store manager at each corporate-owned store location, while the stores remain closed. These employees are able to continue receiving benefits from the company;
Planet Fitness' corporate headquarters remains closed, and its employees are working remotely to ensure their well-being;
Planet Fitness fully drew down its $75.0 million Variable Funding Notes to provide additional liquidity; and
Planet Fitness said it suspended share repurchases to preserve liquidity and flexibility; and
Capital expenditures were deferred, including new corporate-owned store openings and investments in existing corporate-owned stores.
Planet Fitness previously withdrew its guidance for the year as a result of uncertainty due to the COVID-19 pandemic and did not provide an update.
In the Q&A session, Rondeau said one benefit for Planet Fitness is consolidation with Gold's Gym already filing for bankruptcy and 24 Hour Fitness reportedly exploring a bankruptcy. Said the CEO, "I think this is definitely accelerating the timing of what it would have probably taken if this pandemic didn't happen. So I guess that's the silver lining here."
He also said the "renewed appreciation, I think, for the importance of being healthy and the importance of your health and being fit" shown from some surveys will longer-term help the fitness industry.
Asked about the performance at the three clubs that are open, he said usage is "bit slower." But noted one executive on a recent panel of CEOs of gym chains overseas that is 'ahead of us in this whole pandemic" is seeing usage rates of about 80 percent that indicates that pent-up demand and a new commitment to healthy stemming from the health crisis. Said Rondeau, "in my own neighborhood, I mean the people you see walking around. I didn't know I had neighbors until this all happened. So I think people are just paying more attention to that."
He also expects that similar to the recession in 2009, Planet Fitness will benefit as fitness enthusiasts trade down from more expensive clubs in a downturn.
Rondeau concluded, "These are difficult times for everyone and impact on our industry and overall economy from COVID-19 is still unclear at this point. However, based on several factors such as the strength of the Planet Fitness brand, our differentiated business model, our attractive price points and welcoming, non-intimidating store environment, our great group of employees and franchisees and an increased focus on the importance of health and wellness, I'm confident we will emerge from this period well positioned to further expand our leadership role in the fitness industry."
In a note, Jonathan Komp, an analyst at Baird, wrote that Planet Fitness confirmed plans to relax franchisee development/re-equip schedules by one year Komp said, "By doing so PLNT is potentially sacrificing near-term profit while proving a commitment to preserving strong alignment that should better position the system to capture longer-term market share gains. We remain buyers especially on pullbacks and/or with successful re-openings which could bolster franchisee confidence (for capex commitments) and support multiple re-expansion."
Baird has a "Maintaining Outperform" rating with a $65.
Alex Maroccia, at Berenberg, wrote in a note, "Overall, we believe Planet Fitness is in a surprisingly good position despite the system-wide store shutdown due to its competitors' financial struggles forcing bankruptcies and gym closures across the U.S."
Berenberg has a "hold" rating and a $47 target price.
Shares of Planet Fitness were trading up about$4.00, or 7 percent, to $61 in mid-day trading Wednesday.
Photo courtesy Planet Fitness