Thomas J. Ryan
Peloton Interactive marked its first quarterly profit as sales vaulted 172 percent in the fiscal fourth quarter ended June 30. The company also forecasted first-quarter and fiscal 2021 sales that far exceeded analysts' expectations.
The outsized growth comes as its high-tech stationary bikes and treadmills have become hot commodities as people look to work out at home during the coronavirus pandemic.
"I want to propose a pretty simple concept that fitness is moving into the home because home is a better location," said John Foley, co-founder and CEO. "With roughly 35 million treadmills in U.S. homes today, American consumers have said that they want fitness at home. It just hasn't worked until now."
Foley credited Pel0ton's "incredible instructors," "strong and supportive community," "best in class hardware," as well as its software, delivery capacity, and music content for creating a better at-home fitness experience.
Said Foley, "Again, these are not COVID dynamics. These are fundamental, sustainable dynamics that meet people where they are with content and programs that exceed their fitness and wellness goals and make it fun and engaging to work out at home. For the first time, full stop."
Peloton has managed to gain more ground with upstarts flooding the space, from vertical cardio machine CLMBR, rowing machine Hydrow, and at-home personal trainers Tempo and Mirror, which was acquired by Lululemon in June.
The one drawback from hyper demand are the challenges catching up with supply that are causing delays for customers looking to receive their Peloton product.
Jill Woodworth, CFO, noted on the call that when the company reported Q3 results in May, it expected demand to moderate in Q4. She added, "However, the unexpected increase in COVID-19 cases in many states starting in late June had sustained the imbalance of supply and demand in many geographies for us. This has made it challenging to meaningfully reduce our order to delivery time frames in the U.S."
She added that while production capacity has "materially increased" in recent months and manufacturing capabilities continue to expand, Peloton doesn't expect to return to normalized order-to-delivery windows in the U.S. before the end its second quarter, which represents the end of the calendar year.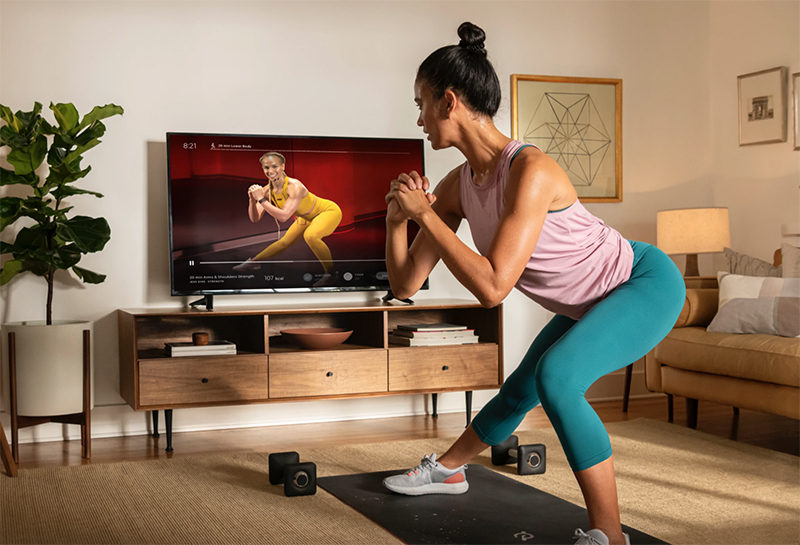 Connected Fitness Subscribers Expand 113 Percent In Q4
In the fourth quarter, revenue grew 172 percent to $607.1 million from $223.3 million. The company had guided sales in the range of $500 million to $520 million. Wall Street's consensus estimate had been $580 million.
Connected Fitness segment revenue climbed 199 percent to $485.9 million, reflecting both a significant carryover of undelivered bikes from Q3 as well as continued strong organic demand due to COVID-19.
Apparel sales growth also accelerated in the quarter reflecting improved sell-through rates and its Memorial Day and Homecoming sales events in May.
Subscription revenue grew 99 percent to $121.2 million driven by strong Connected Fitness product sales and continued low average net monthly Connected Fitness churn of 0.52 percent.
Among the strong growth indicators:
Peloton's Connected Fitness subscription base reached 1.09 million at the end of Q4, up 113 percent year-over-year. When it released third-quarter results in November, Peloton had predicted 1.04 million to 1.05 million subscribers;
Total Peloton members, including those who only pay for its digital subscription, was 3.1 million compared to 1.4 million in the prior year;
Member engagement grew in Q4 with 24.7 average monthly workouts per Connected Fitness subscription versus 12.0 workouts in the same period last year;
Members with a Connected Fitness subscription worked out 76.8 million times overall in the quarter, up from 17.8 million workouts in the same period last year, representing a 333 percent year-over-year growth; and
Peloton ended the quarter with over 316,800 paying digital subscriptions, up 210 percent year-over-year.
Net income for Q4 was $89.1 million, or 27 cents a share, against a loss of $47.4 million, or $2.07, a year ago. Results were well ahead of Wall Street's consensus estimate of 10 cents.
Q4 adjusted EBITDA was $143.6 million, representing a margin of 23.7 percent, up from a loss of $23.6 million a year ago. In reporting third-quarter results, Peloton had predicted adjusted EBITDA in the range of $55 million to $65 million.
Beyond the top-line growth, profitability was aided by an improvement of 275 basis points in gross margins to 47.6 percent. The margin benefited from a mix-shift to bike deliveries and product cost efficiencies, partially offset by expense growth in supply chain and logistics, including expedited shipping and COVID-19-related costs
In the full-year, total revenue doubled to $1.83 billion from $915 million. Connected Fitness product revenues climbed to $1.46 billion from $733.9 million. Subscription sales reached $363.7 million against $181.1 million. The net loss in the year was narrowed to $71.6 million from $195.6 million. Adjusted EBITDA was a profit of $117.7 million against a loss of $71.3 million.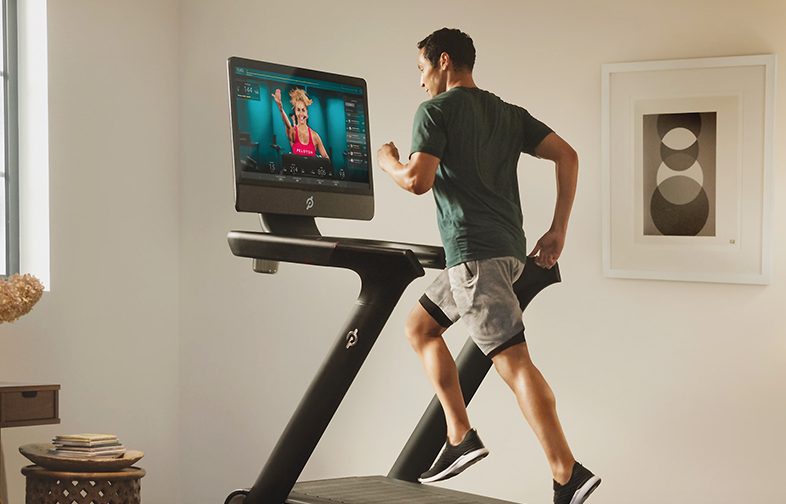 Q1 Revenue Growth Expected To Triple
For the first quarter of 2021, the guidance calls for:
1.32 million to 1.33 million

ending Connected Fitness subscriptions, year-over-year growth of 135 percent at the midpoint;
Average Net Monthly Connected Fitness Churn under 0.75 percent;
$720 million to $730 million total revenue, up 218 percent at the midpoint. Wall Street's consensus estimate had been $506 million;
Gross margins of approximately 41 percent; and
$80 million to $90 million in Adjusted EBITDA, representing 11.7 percent Adjusted EBITDA Margin at the midpoint.
For the full fiscal year, the guidance calls for:
2.05 million to 2.10 million

ending Connected Fitness subscriptions, growth of 90 percent at the midpoint;
Average Net Monthly Connected Fitness Churn under 1.00 percent;
$3.50 billion to $3.65 billion in total revenue, representing 96 percent growth at the midpoint;
Gross margins of approximately 41 percent; and
$200 million to $275 million Adjusted EBITDA, 6.6 percent Adjusted EBITDA Margin at the midpoint.
Connected Fitness subscribers are people who pay $39 per month to sync workout classes to their Peloton equipment, versus accessing the programs separately through a phone or tablet device and paying $12.99.
Lower-Priced Bikes And Treads To Expand Peloton's Reach
Earlier this week, Peloton revealed a product revamp, reducing the price of its signature bike by 15 percent from $2,245 to $1,895 and introducing its new $2,495 Bike+ with a rotating screen and Apple Watch integration. The rotating screen allows users a more seamless transition between a Peloton bike workout and a floor workout.
Additionally, the company announced its current Tread will be renamed Tread+ and still sell for $4,295. A less-expensive Tread will go on sale for $2,495. The Bike+ is currently available for sale. The new Tread will be available in the UK on December 26 and the U.S. and Canada in early 2021.
The launch of the range of more-accessible products was delayed as demand for its bikes surged during the pandemic.
"It has long been our goal to democratize access to fitness and lowering the price of our bike, along with the introduction of our lower-priced Peloton Tread, are important steps in achieving this goal," said Foley on the call.
Foley said the company is going to need to invest in its supply chain "for years and years" to keep up with demand, especially as it expands into additional markets overseas.
Peloton ended the quarter with $1.8 billion in cash, cash equivalents and marketable securities on its balance sheet.
In a note, KeyBanc Capital Markets analyst Edward Yruma described Peloton's quarterly revenue growth as "extraordinary." He raised his price target on the stock to $120 from $74, maintaining an Overweight rating.
"The rollout of a lower-priced Tread and reduction in the original bike pricing continues to improve the consumer value proposition," Yruma wrote. "Moreover, our fieldwork points to high receptivity of existing Bike users to upgrade to the Bike+, which is a vector of growth (device upgrades) that we had not previously contemplated."
Photos courtesy Peloton