By Eugene Buchanan
With fishing license sales up across the country, angling gear companies have been reeling in sales during the pandemic, helping fuel both participation and the continued protection of our natural resources. 
SGB Executive caught up with Orvis President Simon Perkins for his take on how the business has evolved during the pandemic, its growing apparel business, DEI initiatives, conservation battles, hiring a new product director, and how working as a fishing guide in Montana for a decade has helped him run one of the industry's top brands.
How did 2020 go for Orvis during the pandemic? 2020 produced many humbling, sobering and tragic moments that continue in 2021. It's also taught us many lessons to prioritize the important things in life and business. Since the pandemic hit, we've had two top priorities: keep our employees and customers safe and keep the business running. We've been successful in this due to a caring, innovative and resilient group of people that make up the Orvis family. It's been a powerful display of the human spirit, and I've been humbled by our team's work to keep people safe and meet our goals and the loyalty of our customers. We're fortunate to be a brand where we connect with customers about inspiring moments in the outdoors. A customer who comes into one of our stores is also the person we're sharing stories about their most recent adventure on a trout stream or saltwater flat. It's a powerful connection, and our customer relationships have been instrumental in helping us navigate this challenging year.
What have been the biggest hurdles you've had to overcome? Safety and maintaining meaningful connections with our associates and customers. We've worked hard to keep our people in our distribution center, retail stores and home offices safe and our customers through safety measures and protocols. Early on, we also began manufacturing masks to help our local Vermont and Virginia communities. Our internal protocols have meant a lot of remote work for many employees, so finding ways and platforms that keep our associates connected has been a challenge and an opportunity for new and agile practices to work in the future. COVID-19 has also challenged us to find new and creative ways to connect with our customers. Through storytelling, videos, e-commerce pathways, curbside pick up, customer care, virtual education, and Facebook Live events, we've worked hard to make sure our customers feel connected to us, each other and the brand.
Why has flyfishing grown so much this past year? The pandemic has moved more people to the outdoor world for their health, wellbeing and inspiration. It also gave people a space to find connection—with an activity or resource—to replace other forms of contact they had to give up. For many, it presented the opportunity to try something new, and for many, 2020 marked the first time they've attempted flyfishing. Our fishing business was up 17 percent over last year, with upticks in entry-level rod outfits. Many states have reported increases in fishing license sales, including our home state of Vermont, whose license sales were the highest they've been in 30 years. For those who've always pursued these passions, it's perhaps allowed them to pause and prioritize what is most important and meaningful to them.
Orvis has a new Chief Product Officer. What does it mean for the brand, and what can consumers expect down the line? Bringing Reenie Benziger into the team is an important step for us and something we have been working toward for a while. We have a strong team that has done great work refining our product collections and designing innovative, best-in-class products over the last few years. We want to build on this momentum, and Reenie brings a breadth of experience from some of the world's best retailers. Her knowledge and experience with merchandising, product innovation and product strategy will help us identify new opportunities for growth within the active lifestyle apparel space.
What's Orvis' breakdown between hardgoods and apparel sales? Do you envision venturing more into apparel? Hardgoods does not account for the majority of our sales, but it's essential, and we pour our passion into it. It's core to the brand and our outdoor pursuits, and it's where our spirit for innovation was born 165 years ago. That said, apparel is the majority of our business. We see an opportunity for future growth, particularly in the active lifestyle space. We've seen exciting success with recent innovative product designs. Our PRO Apparel line is one example, as is our new Ultralight Rainwear Collection launching this spring. Taking this success and putting it in the hands of a strong team with Reenie, and we've got some exciting years in front of us.
What is the Angling for All pledge of which Orvis was the inaugural pledgee? We've always held a passion for exploring how to help make fly fishing more inviting and accessible. We started our schools over 50 years ago. We offer free flyfishing classes in our stores, how-to videos across our social platforms, and a free flyfishing learning center online. We're always trying to understand where we can address barriers to entry. We're incredibly passionate about fly fishing, but when you're passionate about something, you can have blind spots, so we have to be curious and listen to find opportunities. This is how our 5050 on the Water initiative began several years ago, focusing on making fly fishing more inviting to women. The Angling for All pledge is an important next step in our journey toward making fly fishing and the outdoors more accessible, equitable and inclusive. It's centered around a curriculum developed by partners Brown Folks Fishing and REAL Consulting to help identify and build pathways for more access and participation and provide the tools and resources necessary to help brands and organizations move forward in solving these issues in the angling community.
We know we're not perfect and have a long way to go, but we're committed to this essential work. Since signing the pledge, we've created an internal Justice Equity Diversity and Inclusion committee to help assess organizational needs and implement the pledge curriculum. We've had 100 of our employees engage in the pledge curriculum to date, and we have made strong strides to increase the representation of Black, Indigenous, and people of color in our marketing and storytelling. It's been exciting to see the momentum and enthusiasm for this work from our associates, partners and customers.
There's been a surge in interest in fly fishing. How has Orvis addressed this with its education platforms? Have the virtual/online components been working well? We've built robust online resources for years, from our Orvis news blog to the Orvis Fly Fishing Learning Center and Fly Fishing Guide Podcast with how-to content. Early on in the pandemic, it was amazing how our customers craved these resources, and we quickly realized that we needed to keep pushing to find new ways to connect with people. We knew our in-person courses and instructions would be impactful, so we created and launched Virtual Casting Instruction and turned our retail Fly Fishing 101 courses into a digital series. We've launched weekly Facebook and Instagram live events where anglers of all levels can come together online and learn from our consummate teacher Tom Rosenbauer, members of our rod and tackle team or our retail fishing managers. We've seen a positive response to these events. Our most recent online fly-tying course with Tom saw over 2,000 registrations. With so many new anglers coming into the sport, we'll continue to find new ways to engage and teach.
Orvis has always played a significant role in conservation. How important is that role moving forward? It's fundamental now more than ever. For 165 years, we, our customers and our partners have built our lives around enjoying, sharing and protecting habitat and ecosystems so that we can pass these passions along to the next generation. We have a mantra that if we are to benefit from our natural resources, we must be willing to protect them. Being a leader in conservation will always be fundamental to our business and an expectation of our customers. With more people entering the outdoors, education, protection and restoration will continue to be vital for the habitat and ecosystems on which our business, our collective pursuits and our industry rely.
How hard did Orvis work to fight against the Pebble Mine, and how big of a deal was it to win? Orvis has been in this fight for over a decade with our partners at Trout Unlimited, Native Alaskans, our customers and industry partners. We donated financially, as did our customers; we ran ads, wrote op-eds, created short films, traveled to Washington, D.C. to meet with policymakers, and made our voices heard on social media. There's still more work to be done, but the Army Corps of Engineers' decision to deny the Pebble permit is a victory worth celebrating. Two important takeaways are that conservation takes a sustained effort and that it has the power to unite us. More than a decade's worth of work paved the way to that decision to deny in 2020. And perhaps most importantly, in a year marked by uncertainty and polarization, we saw the power that a natural resource like Bristol Bay has to unify. A diverse coalition including commercial fishermen, native and local communities, mining experts, economists, environmentalists, federal officials from both sides, local and national businesses, hunters, anglers, and outdoor enthusiasts came together in opposition to a Pebble Mine in Bristol Bay, Alaska. It's a powerful reminder of the impact the natural world has on all of us.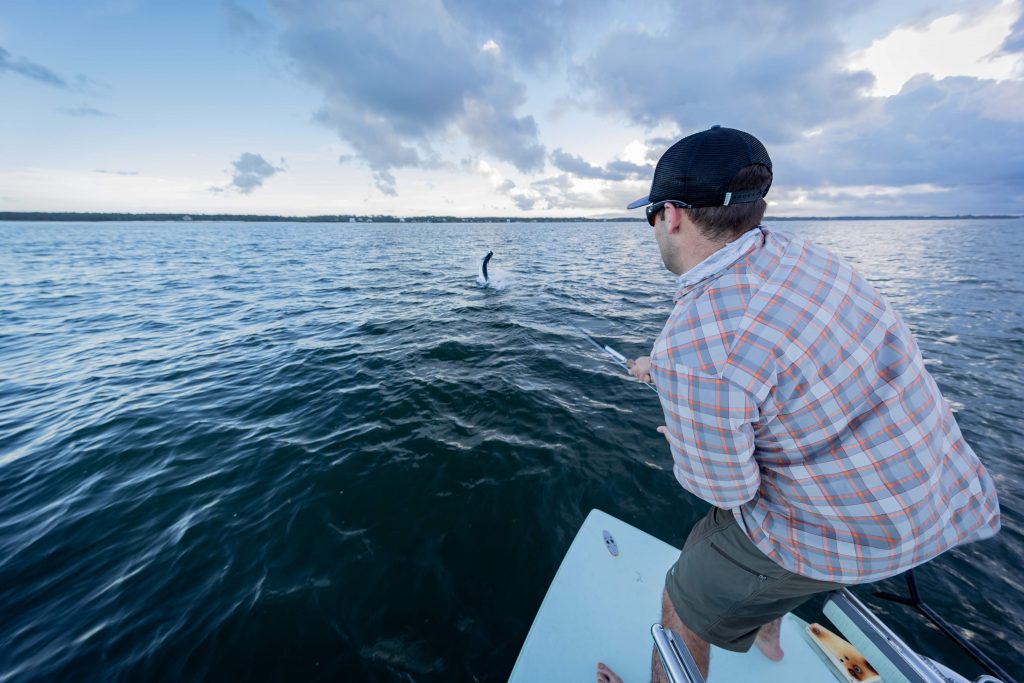 What are Orvis' next conservation battles? The Pebble Mine permit denial last year was a big win, but there is still work to do. We will continue to learn and work with our partners at Trout Unlimited and others to ensure that this valuable resource is permanently protected for generations to come. Like Bristol Bay, Florida's Everglades is another massive ecosystem that, if kept healthy, supports the passions of so many which, in turn, supports a robust, sustainable economy. So, we'll continue to work with our partners at the Everglades Foundation and Captains for Clean Water to help ensure that its ecosystem is restored. We've also joined with the outdoor industry to support the federal government's goal of conserving 30 percent of U.S. land and coastal waters by 2030. Climate change is the largest threat to fishing and hunting habitat and our customers' ability to live the inspired, outdoor lives they seek. It's a bold and vital effort to help ensure that the outdoor world and economy it supports can continue and thrive and be accessible to all.
What does the future of flyfishing look like? We're excited and optimistic for several reasons. We've seen a significant spike in interest in the sport over the past year. Getting outside and on the water is fun, and for 165 years, we've believed that connection to the natural world makes lives better. This is good for the industry and all of us. We also know that when you fall in love with the sport and the places it takes you, you want to protect them. That means more people with a conservation ethic are committed to protecting the environment long term. More interest is also great for the local independent dealers, guides, outfitters, and lodges, who are the industry's heartbeat. When we look at the future of fly fishing, we see one that is more diverse, more accessible and more inclusive.
How important are retail shops, guides and outfitters to the fly fishing industry, and what can manufacturers do to help? They are very important. We partner with over 500 shops, guides, outfitters, and lodges worldwide through our Endorsed Program. They are critical to the fly fishing industry and provide the experiences and knowledge that make it unique. As manufacturers and a brand, our job is to support their businesses, their clients and the habitats they rely on for their livelihood. Each spring, we host an annual Rendezvous to share best practices within the industry. It's a great event, and the listening and learning that occurs is fundamental to our business and the industry's health. We had to cancel last year's, and this year will be online, but 2021 is an important year to continue our work and partnerships, as many of them work to re-establish their footing.
You're a longtime guide. What can business leaders learn from spending time on the river? Guiding is a crash course in connecting with people, including a wide range of personalities and developing empathy for someone so that you can best understand how to help create a meaningful experience for them. It's all about building relationships with the customer and understanding how you as a leader and a brand can positively impact their lives. As a guide in Montana for 11 years, I spent every day in a boat connecting with Orvis' core customers, learning what their needs are personally and as anglers, and understanding their pain points. I've been able to take these connections and apply them to how Orvis can better support them through our product, service and values.
Photos courtesy Orvis