Orange Mud … Orange Mud … Orange Mud
Innovation From Frustration
We sat down last week with Josh Sprague, pictured above, for a one-on-one conversation about his wide-ranging knowledge of the hydration category and
what inspires him as a backpack designer, business owner and Founder of Orange Mud, maker of award-winning hydration packs.
—•—
How did you decide on the name Orange Mud for your company? My middle name is Clay. When I had my boy, he's almost seven, I wanted to name him Clay. I lost that argument. Three months after he was born, I was making my first prototype and I tried to get a domain name that had Clay in it, but nothing was hitting the sweet spot. Clay is everywhere in Kansas where I was born. And a lot of places where I lived the clay is orange. So that stuck and 'mud' made sense. So that's how Orange Mud came about.
How has the company grown to address the hydration needs of the athlete? When we started the business, it was all about run. That was the focus. How do we make packs for the running market to make running easier, make runners happier with the water or fluid that they're carrying? That was with a bottle-based pack that mounts on your back. And as time went on, people would ask if we could make a two-bottle pack and one with chest pockets, and so we added those components.
What led you to create hydration packs for runners and cyclists? I had this cool brand that was making all this cool stuff for running—which I love—but, I really love mountain biking. So, two years ago we launched our first bladder pack for bike and run and, I believe, we made what is perfect for both sports. Neither one is sacrificed as a result of the other and that was really the start of diversification.
It was exciting to diversify our business into more than just run. And it's had a tremendous impact on our growth—and not only at retail but direct-to-consumer, international distribution and even with event partnerships. The business has definitely taken off and grown like mad, largely due to the diversified portfolio that we have.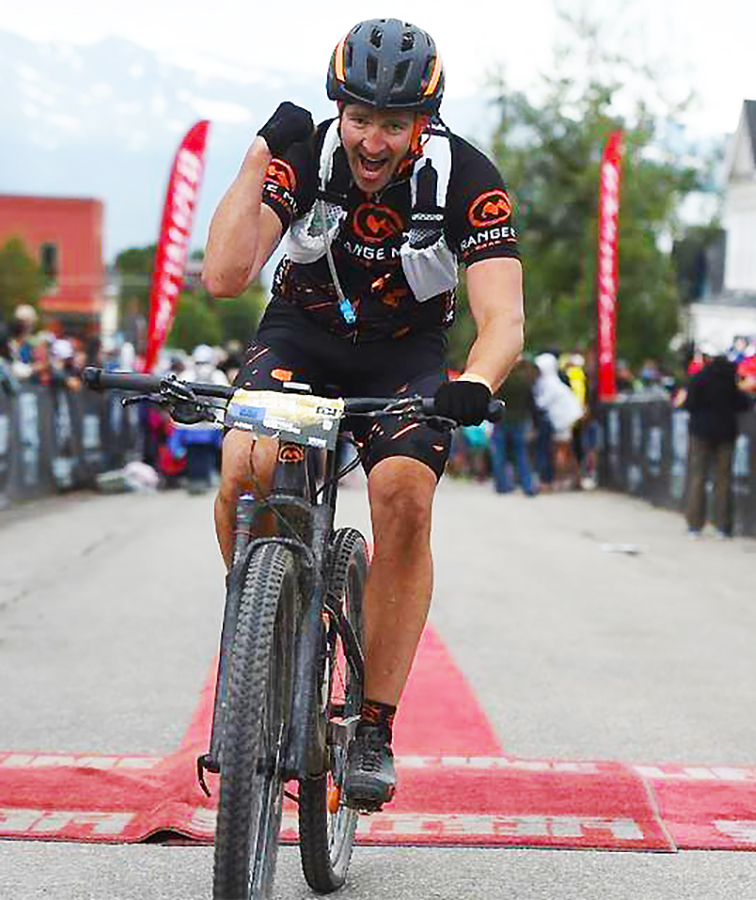 Are you the designer, or do you have product designers that work for the company?  I design everything.
Are you also choosing the fabrications and closures for the products? 100 percent.
How important is feedback from your brand ambassadors in the design process? It's huge! We have 337 people on our ambassador team as of now. They have been very influential from the beginning with helping to shape and tweak our designs for products that are already on the market and how to make them better. They're a big help with the colors of packs, too.
Did you say 337 ambassadors?  Yup.
Are they a mix of competitive athletes and weekend warriors? We have a mix. A small percentage are elite athletes, but we have a lot of weekend warriors and honestly, I believe in the weekend warrior because, in the end, that's who buys products. They have different demands. Pick ultra-running as an example. A lot of elite athletes will run with a hand-held because they're so fast between aid stations; they can get away with it. And they're so fast that they're going to finish earlier in the day and will experience different weather than what an everyday athlete will.
We built the backbone of the brand with the everyday athlete in mind because that's who is buying our product. They're the ones who are saying 'hey, I carry your two-bottle pack in a marathon because I finish in six, seven, eight hours. And the marathon course runs out of water for me.' Most elites don't even understand that. They have no concept that even happens because they're going to finish the same marathon in two hours and 30 minutes.
We've taken a very different ambassador design approach in that yes, we have elites on our team; they often have to be people that are always the core focus. I don't care if someone is the fastest, the most popular in the sport, or someone who may just jump from one brand to another because they're getting paid more. I respect that and I get it, but it's just not the fit for us. We partner with people who believe in our brand, believe in the products, and that's been our focus.
Do you have a one-size-fits-all philosophy? Yes, except for one product where we have two sizes. But, that being said, our packs fit all 99 percent of the time. It's so rare that we don't fit somebody. And in the beginning that was the whole premise behind the single-bottle pack. I wanted a bottle-based pack that fit really high up on your shoulders, allows maximum breathability—meaning it doesn't have a chest strap—with shoulder pockets and that's it. In its simplistic form that pack will work with a five-year-old and it will work with someone who weighs 400 pounds.
As we expanded our product line, it got more complex, especially in the bladder packs. Anything that mounts really high, there isn't as much variance as you think between all different sizes of people. When you add a bladder pack and two chest straps, female curves are very challenging. I tell women all the time that we design packs for females first, second for guys. Ladies are so challenging because of such different variation in curves, height, weight and everything else.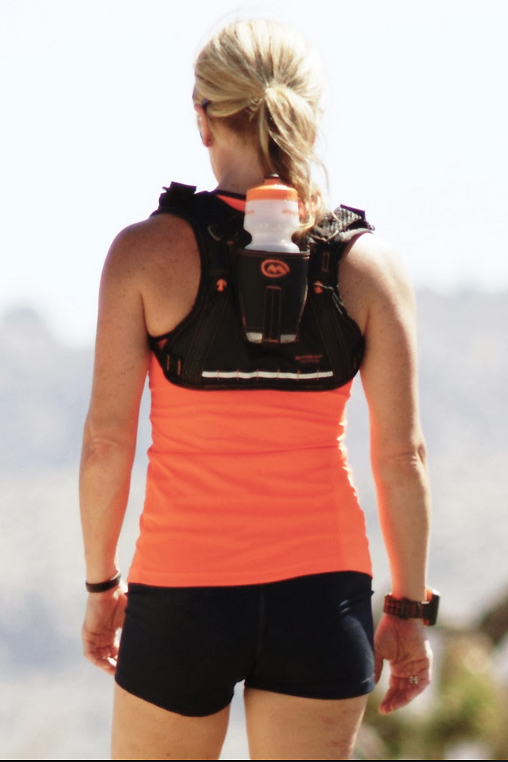 We took all the feedback from our ambassador runners for our bladder packs—tiny to larger frame—and again different chest sizes, and we tweaked it into our design where it fits, again, almost everybody. The product is very adjustable. Occasionally there are limits to about a 50-inch chest, but we have other packs that we make for chest sizes that exceed that length. Or I can always customize it for larger runners.
Anything on the drawing board that will challenge your competitors? Already we have taken a different approach. Most of our competition uses all stretchy materials because it feels really cool. And maybe they can be the lightest because of that.
Weight is important but to me; I focus first and foremost on stabilizing the fluid, because in the end if you have a pack that weighs one ounce less than mine, or two or five for that matter, if you have  four pounds of water and it's sloshing around, that is going to be significantly worse than beating me by an ounce. That's why I always tell people weight is not always relevant. And we use a little more rigid materials in key places that allow us to apply pressure to our fluids, and that's really been what sets us largely apart.
Do you think there is too much competition in the hydration market to the point of over-saturation (no pun intended)?  The running hydration industry has grown so much. It's unbelievable how many brands have jumped into this category. There are probably at least 10 major players in the market now–and that's major–selling packs in the running space, and that's crazy how much that's grown. And there's probably another 50 out there or more.
But that's where we have always been very different in the way we are working to stabilize the fluid. And we have some really fun stuff we are working on. We have a new design coming out that's going to be rippling across all of our packs in the not-too-distant future. We are finalizing the compression system for the soft flask in our packs that is unique as well.
Are your products manufactured in the U.S. or off-shore? We started manufacturing in the states, but from a quality and delivery standpoint, we do better manufacturing in Vietnam. And we didn't get the support from local retailers that we thought we would have for manufacturing in the U.S.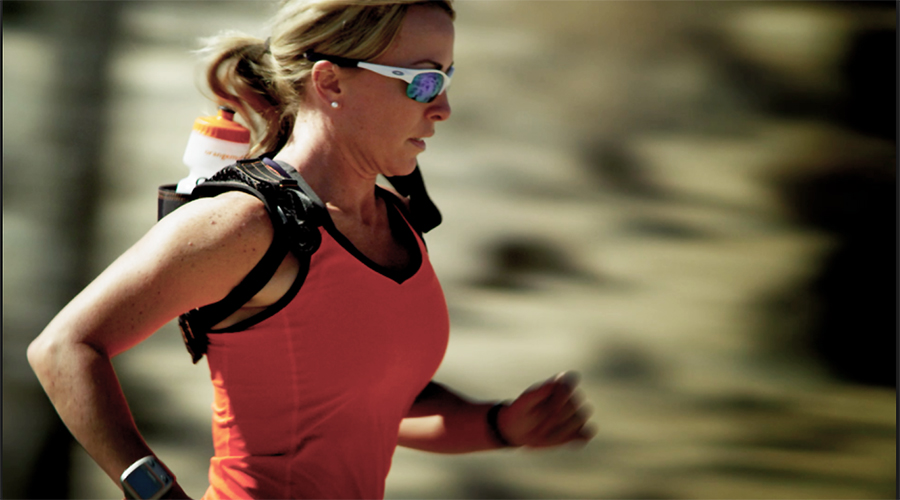 Are you working with a U.S. agent to help you with the manufacturing process overseas?  We've had insane growth this year.  And dealing with a middle man slows the process down. I communicate with our Vietnam factory directly with no issues and good success. The cost overseas is a huge benefit, and it's better than what I found here.
 How do you handle manufacturing/delivery problems? Things happen, but fortunately it's generally been my fault and I have been able to fix them myself. My Vietnam factory has been almost flawless. I still have relationships with suppliers in the U.S. if I need a quick turnaround.
How is your international business?  Tremendous. It's up probably 5,000 percent. We sold out in about two months of what I thought was going to be at least a year build.
Back to the color conversation for a minute. Do you use a forecasting house to help with the color palette for each collection? No, but I've heard of them.
Black and orange have always been best sellers for us. Not because of our name, Orange Mud, but because people like the version in black/orange. So we will always have black/orange in all of our products. We've dabbled in other colors combined with black, like black/lime green two years ago. Turns out, people that don't like orange like lime green nearly equally, and that has never happened with any other color at product launch. Those are our color standards.
Pink is tricky. We're introducing a teal/pink combination that we think will not only appeal to our feminine demographic but also plenty of guys as well. And our all-white pack with accent colors does really well. It's always tricky, but we do try to keep it to more of a conservative approach to keep a lot of people happy and not just a shot in the dark.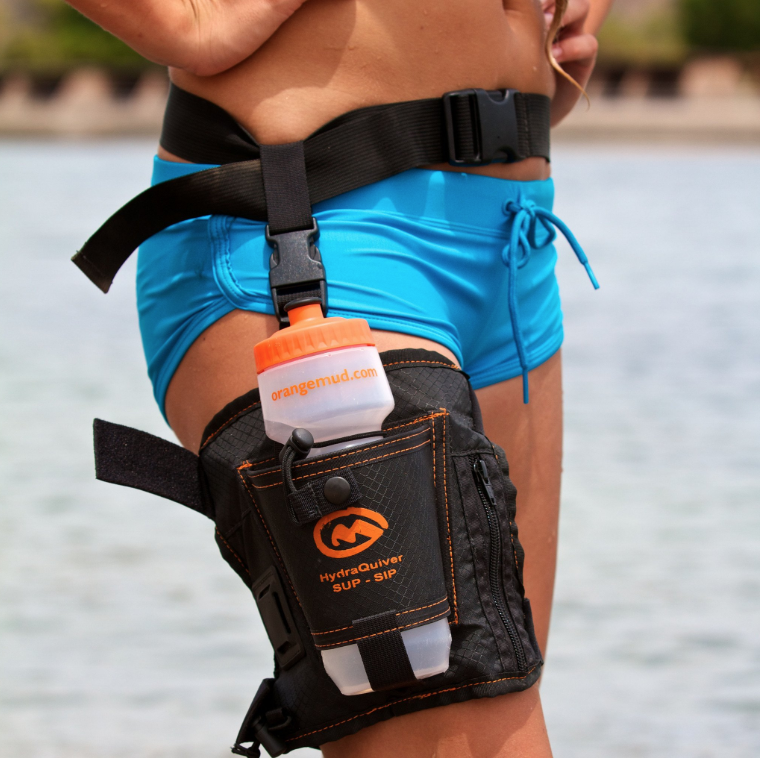 What's the core fabrication for your packs? Nylon for the rugged shell. A 3D spacer mesh under and more durable nylon mesh on the outside for breathability. Those three.
What comes naturally for you and your company that you see will continue to accelerate growth? I think it's my diverse, multi-sport background. I'm an athlete that has done pretty much every sport in bike and run. I've done well over 100 mountain bike races and many triathlons all the way through Ironman; I've done over 100 adventure races and, as a result, I want to make sure that we have packs that are built tough, which definitely sets us apart, but also stabilizing the fluid is my 100-percent focus. Third is heat release.
What's the best compliment you can receive? When someone comes up to me that swore off wearing a pack to run/bike and tells me that they wore our pack and they're a convert. It tell me that my everyday design has paid off.
What do you not like to do? Paperwork, it's exhausting.
What three people would you want to have dinner with? Both my Grandpas would be it. They were so influential. I grew up in Kansas around horses and worked on wagon trains in summers with one of them. It taught me tenacity and toughness, which you need for business. My mom's dad taught me the value of investing. That's how I funded Orange Mud.
Favorite word? Right on!
Favorite noise or sound? Our website makes a ding when every order comes in. I'll never not be happy with that sound.
What profession other than your own would you want to try? I really love what I do. If I sold my company tomorrow, I would still design backpacks. It is so much fun being a designer.
Photos courtesy Orange Mud