The woman at the helm of Norway's premium knitwear manufacturer talks about heritage, responsible manufacturing and the value of hard work.
Writer: Carly Terwilliger
For Dale of Norway Owner Hilde Midthjell, the key to success is investing in something you believe in. After selling her successful cosmetic company in 2009, Midthjell's interest was piqued by knitwear designer and manufacturer Dale of Norway, which was seeking a new part owner.
Midthjell gradually bought up the company and eventually became its full owner in 2013.
Founded in 1879 in the quaint Norwegian village of Dale, the brand is built on a foundation of quality and authenticity. "We don't use synthetic blends," Midthjell told SGB, and the knitwear is produced from raw material to finished product in one location in Norway, which has been operated by HydroPower since 1879. The wool ranges from long-lasting Norwegian wool to fine skinsoft Merino, lending diversity to its offerings.
While tradition and history are important, Midthjell doesn't shy away from developing updated versions of her company's apparel and bringing its aesthetic to new demographics. "What's funny is that our traditional styles are becoming more popular with young, cool, hipster people," she observed – evidence that an authentic story is a good way to attract a broad spectrum of consumers.
We asked Midthjell about her company, her story and why she values hard work and honesty over heroes.
SGB: Describe the process of coming to own Dale of Norway. How did it begin?
HM: In spring 2009, I sold a cosmetic company I started and built as a 100 percent owner during 20 years to be one of the biggest and most successful companies in Scandinavia within this industry.
My plan was to relax more, but I soon found relaxing quite boring, and started investing in other companies. When I heard that Dale of Norway wanted a new part owner, I decided to visit the factory in the Dale village to know more – and fell completely in love with the brand.
I started out buying 35 percent of the company, but after a couple of years I bought shares to own 80 percent, and in 2013 I bought 100 percent. As a 100 percent owner, it is much easier and quicker to make decisions, and we started to renew the brand with new and more modern designs and qualities. But still with 100 percent wool, premium qualities – and production in Norway. This has been a great success and given us a good international growth.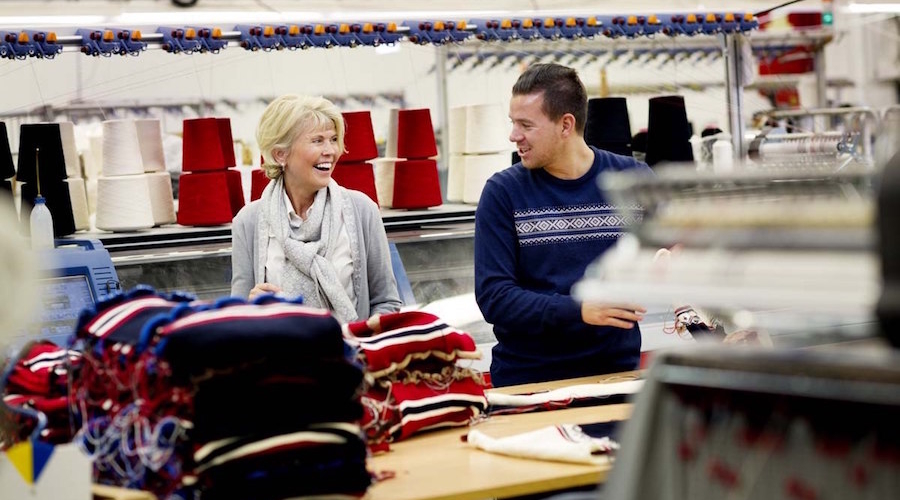 SGB: And when did you start to think, "This could work!"
HM: I was from the very beginning convinced this could work. Dale of Norway had all the "ingredients" to be successful. One, true authentic heritage with production in Norway since 1879. Two, a strong brand name known for high quality knitwear and beautiful Norwegian designs. Three, an extremely competent team with world leading competence within wool and knitwear. Four, a unique history creating sweaters for the Norwegian Ski Teams since 1956, including official Olympic and World Championship sweaters. And finally, an ethical and eco-friendly brand with use of 100 percent natural wool and sustainable energy from local waterfalls.
The brand, however, needed to be modernized from making only heavier sweaters to also offering more soft and lightweight wool qualities – and more fresh colors and designs. And the company needed to have a much clearer marketing strategy and commercial understanding.
The brand is much more attractive for today's consumers, but still building on the roots mentioned above.
SGB: What have been some of your biggest business and personal challenges since taking on running the company?
HM: The biggest challenge has been to understand a company where everything from design, product development and knitting is done in house, with all the complexity of production in Norway. Especially when we offer a wide range of products with several types of wool and a lot of exclusive details.
To create a profitable business, you need to make sure you have control and routines of all details to secure sufficient margins, cash flow and high level deliveries. Fortunately, today we have a business and a team that works really well, and with a good foundation for further growth.
SGB: What has most surprised you about owning a company like Dale of Norway?
HM: How much positive feelings, respect and loyalty there are for the brand wherever I travel to meet retailers. This of course due to the design and qualities, but also because Dale of Norway have been true to their heritage and not moved the production to low-cost countries – which often also includes a lack of quality control.
SGB: Do you have any heroes?
HM: Honestly, I never have had heroes. I believe in hard work and honesty.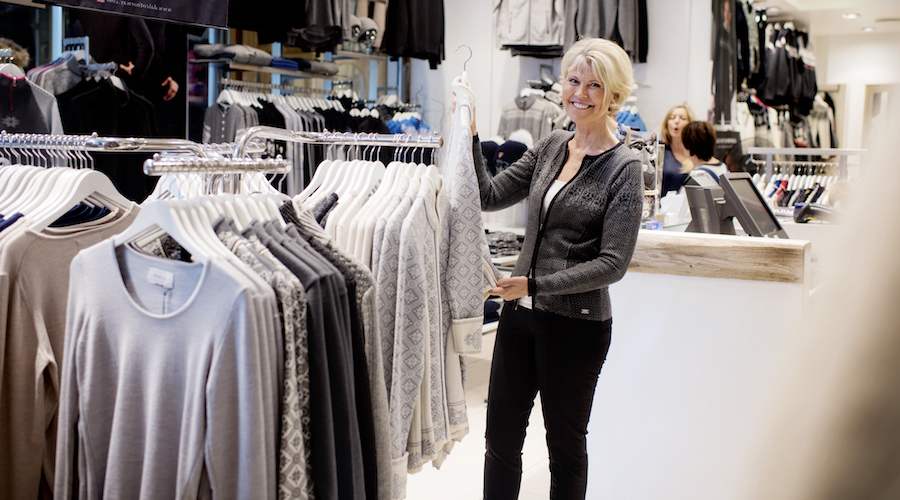 SGB: How have changes in knitting technology impacted your company?
HM: Knitting machines today are getting more and more advanced and efficient. This means that by investing in new machines, we have increased profitability even with Norwegian production, since we can supply more products without having to employ an equivalent amount of staff. However, we still need our qualified staff and skilled craftsmanship to make sure we deliver the qualities and innovations we are known for.
SGB: If you could do something other than own a successful luxury apparel brand, what would it be?
HM: I do not believe I will start up another new business again. However, I have a wish to use some of my time to stimulate women to have more confidence as entrepreneurs and leaders, including in countries where women do not have the same economy and standing as in Scandinavia.
Photos courtesy Kapital by Eivind Yggeseth