Jared Ward, the marathoner and statistics professor at Brigham Young University, discussed pacing and motivation while offering a few takeaways from his experience at the Rio Olympics.
Writer: Thomas J. Ryan
On the Friday before the 121st running of the Boston Marathon, Jared Ward, the Olympian and Saucony athlete, gave a brief lecture on pace strategy to some runners participating and fans attending the legendary event.
Ward, who finished sixth in the marathon at last year's Rio Olympics, also happens to be a statistics professor at Brigham Young University, and his master's thesis was on marathon pacing. Considered one of the best pacers in the game, he aced his Olympic marathon trials run with splits of 1:06:31 and 1:06:29. He finished 10th overall in Monday's Boston Marathon with a time of 2:15:28.
In his academic study, "The Beautiful Mind Of Running," Ward concluded that people who achieve their BQ (Boston Qualifying time) do a better job at maintaining a consistent pace throughout the race. Women were also found generally to be better pacers than men.
Ward said many runners have a tendency to start off too fast or over-pace mid-race due to competitive spirits.
As an example, he noted that during the Olympic Trials at around mile 15, three runners – Galen Rupp, Meb Keflezighi and Tyler Parnell – burst ahead of the pack and started moving at a 4:45-per-mile pace. Ward wasn't sure whether to pick up his speed in order to land among the three spots heading to the Olympic games. But especially in the 80-degree weather in Eugene, OR, he felt he had to stick to his 5-minute-per-mile pace to finish the race. Fortunately for Ward, the leaders' pace slowed and he was able to pass Parnell to join the Olympic team.
"There's something bigger in life about maximizing your own potential rather than trying to beat someone else who's maximizing their potential," offered Ward. "And I think that's sometimes a hard lesson to learn for those who are competitive. But if we can use the people around us to elevate us to new levels and we can help elevate them, I think we reach our highest potential."
Asked about his takeaway from the Rio Olympics, Ward said he was first blown away by the competitive field. He stated, "I was in a pack running five-minute miles and there were 50 guys around me. I'd never run that fast with so many bodies around me. And that was cool to be running with the world's best."
But the bigger realization for his running career in finishing sixth was that he belonged among running's elite. Said Ward, "Some of the media made fun of me for being the most excited sixth-place finisher they had ever seen. But I was excited and I felt that was an accomplishment to validate that I can run with those guys."
Ward also discussed how he found motivation outside himself to land among the top three finishers at the Olympic Trials. With about three miles to go, he recalled looking into the camera lens of a passing press truck and "for a second I saw everybody watching me at home who had sacrificed for my performance that day at the Olympic Trials."
His list of supporters over the years included junior high and high school coaches and trainers; massage therapists; teammates and training partners; his wife, parents and kid; as well as some friendships he's formed at Saucony.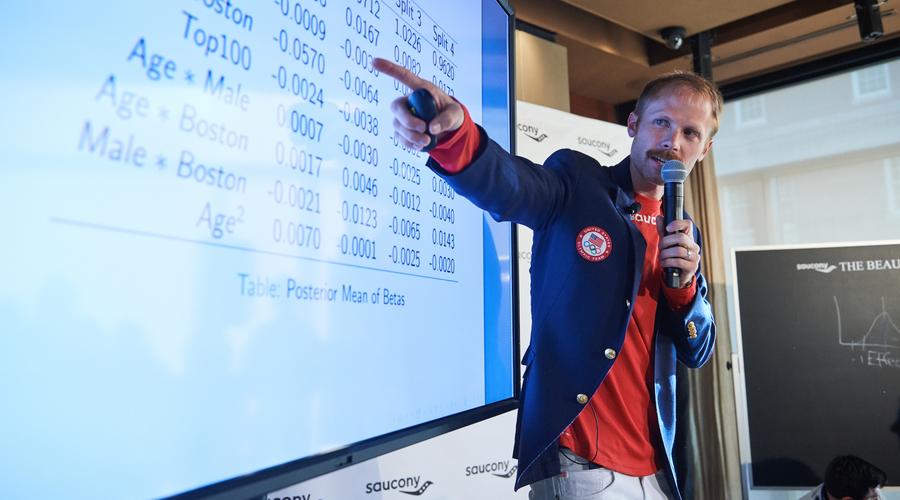 Said Ward, "There were still three miles to go in the marathon so I wasn't feeling great, I wasn't thinking straight either, and I was wondering if I was going to make it. But when the press truck went by me it dawned on me that it wasn't my race to win or to lose or to give up or anything, it was their race too. And that gave me the motivation and the resolution to do it for the people who had invested in me."
Ward overall admits that he still doesn't totally understand what motivates people to tackle a marathon or run overall. But he also feels accomplishing "something that maybe our bodies aren't built for" provides a powerful lesson that can be applied to other life pursuits.  Stated Ward, "I think if running can teach you that you can do hard things, then maybe it's worth it."
At the event, a Saucony grant in the name of Jared Ward was made to the John D. O'Bryant School of Mathematics and Science, Roxbury, MA with several students attending. The O'Bryant students not only share a passion for numbers with Ward, but running as well: The O'Bryant Middle School boys and girls cross country teams captured the 2016 Boston City Cross Country Championship titles.
Photos courtesy Saucony