In an op-ed in the New York Times gaining wide attention, former prodigy runner Mary Cain, now 23, said she was "emotionally and physically abused" until she quit Nike's Oregon Project, Nike's elite track and field training program.
The op-ed comes after long-time Oregon Project head coach Alberto Salazar on October 1 was given a four-year ban by the U.S. Anti-Doping Agency (USADA) for doping conduct. On October 11, Nike said it would be shutting down the program.
"I joined Nike because I wanted to be the best female athlete ever. Instead, I was emotionally and physically abused by a system designed by Alberto [Salazar] and endorsed by Nike," Mary Cain said in an op-ed in The New York Times.
The New York City native, in her teen years, became the first American to win a world junior title in a distance race and moved to Oregon in 2014 to join the Oregon Project after graduating from high school.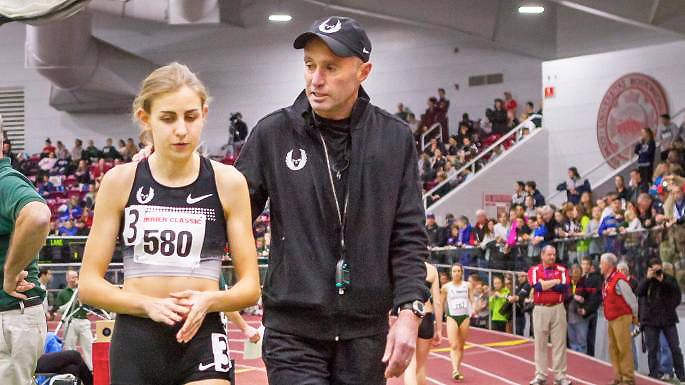 The op-ed asserts how an all-male staff continually urged her to become "thinner and thinner and thinner" to improve and detailed the lack of any certified nutritionist to help her and her teammates. In the end, Cain broke five bones after losing her menstrual cycle. She also developed suicidal thoughts and started cutting herself amid performance pressures.
″[Nike] is not acknowledging the fact that there is a systemic crisis in women's sports and, at Nike, in which young girls' bodies are being ruined," Cain said.  "You can't just fire a coach and eliminate a program and pretend the problem is solved. My worry is that Nike is merely gonna rebrand the old program and put Alberto's old assistants in power," she said.
The New York Times stated that Salazar disputed Cain's story in an e-mail and claimed to have "supported her health and welfare."
In a Times op-ed published in May, and also earning wide coverage, Olympic champion Allyson Felix discussed how her contract was cut during her pregnancy. Nike said it ended that practice in 2018.
Photos courtesy Mary Cain