By Thomas J. Ryan
Nike Inc. reported both earnings and sales that came in well ahead of Wall Streets' targets with a boost from triple-digit growth online in North America and a continued strong recovery in China. Nike raised its outlook for the year and said it planned to accelerate its move away from nonstrategic wholesale accounts.
"These are times when strong brands get stronger," said John Donahoe, Nike's president and CEO, on a conference call with analysts. "The structural tailwinds we're seeing, including permanent shifts toward digital, athletic wear and health and wellness, continue to offer us an incredible opportunity. And, of course, as organized sports returns around the world, that energy creates yet another tailwind for Nike."
In the quarter ended November 30, revenues increased 9 percent to $11.2 billion compared to the prior year, up 7 percent on a currency-neutral basis. Wall Street's consensus estimate had been $10.55 billion.
Earnings rose 12.2 percent to $1.3 billion, or 78 cents a share, topping Wall Street's consensus estimate of 62 cents.
The second-quarter revenue performance was impacted by robust Nike Brand digital growth of 84 percent, or 80 percent on a currency-neutral basis, with triple-digit growth in North America and substantial double-digit increases in EMEA, Greater China and APLA. The online gains offset lower revenue in its wholesale business and Nike-owned stores.
Nike Direct sales were $4.3 billion, up 32 percent on a reported basis and up 30 percent on a currency-neutral basis, with double-digit growth across all geographies. During the quarter, Nike experienced temporary door closures in geographies affected by rising COVID-19 cases; however, more than 90 percent of its owned stores are currently open, with some operating on reduced hours. Year-over-year declines in physical retail traffic are were incurred in North America, EMEA and APLA due to COVID-19 impacts and safety-related measures, partially offset by higher conversion rates.
Revenues for the Nike Brand were $10.7 billion, an increase of 8 percent to the prior year on a currency-neutral basis driven by strong double-digit growth in Nike Direct, as well as growth in Sportswear and the Jordan Brand, slightly offset by mid-single-digit declines in its wholesale business.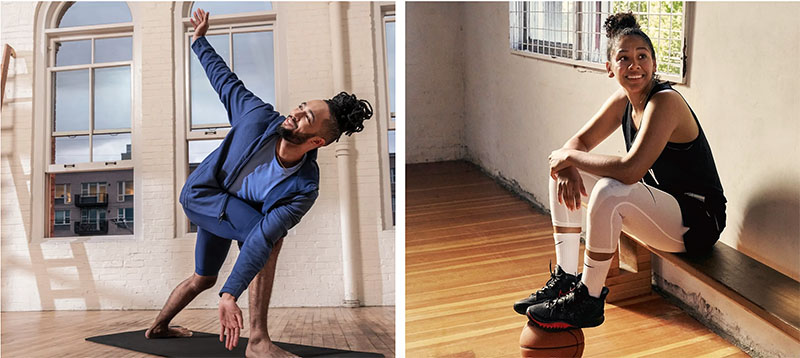 North America Revenues Return To Positive Growth
In North America, sales for Nike Brand in the quarter rose 0.6 percent to $4.0 billion and gained 1 percent on a currency-neutral basis. The latest quarter included non-comparable items in the prior year, such as the Hurley sale and its NFL licensed business transition to Fanatics. EBIT grew 16.9 percent to $ 1.02 billion.
"Q2 provided more clear evidence on the state of our marketplace transformation and shift in channel mix," said CFO Matt Friend.
Wholesale revenues were down 14 percent, and traffic in Nike-owned stores remaining well below prior-year levels, but more than 100 percent growth in Nike Digital led to the sales improvement in the quarter. Nike Digital now represents nearly 25 percent of its North American business.
In Q2, the Member Days event in North America drove records for weekly member metrics and engagement, with robust Nike Digital performance in Women's, Apparel, and sub-$100 product – all areas Nike has targeted for growth.
Within wholesale, Friend said Nike continued to shift the marketplace towards differentiated retail by narrowing its distribution base and has now reduced the number of undifferentiated accounts in North America by roughly 30 percent over the last three years. Friend said, "And in Q2, as we managed product supply in response to the pandemic, we took further steps toward account and channel consolidation by re-prioritizing product allocations to benefit our strategic partners and Nike Direct. As a result, undifferentiated wholesale revenue declined at an even faster rate compared to total wholesale."
Friend added, "Looking forward, over the next two years, we will more aggressively accelerate change with larger undifferentiated accounts, as we and our strategic partners together re-profile the shape of the marketplace and recapture short-term demand dislocation.
In the Q&A session, Donahoe said Nike would be "more aggressive in adjusting our plans" with wholesalers. He said, "As we look forward, we are going to be more aggressive with larger undifferentiated customers that we have been working with. And we're working closely with our strategic wholesale partners on a city-by-city, mall-by-mall, street-by-street basis to work together to determine how we're going to recapture that demand. And that's absolutely our plan because we believe the longer term, as we've said before, we believe that a premium, consistent experience for consumers across the marketplace connected to digital is the type of market foundation that we think we need as a premium brand to create and to be the foundation for long-term growth in the North America marketplace."
Greater China's Sales Jump 19 Percent
Sales in Greater China for Nike Brand in the quarter were $2.3 billion, up 24.4 percent on a reported basis and 19 percent on a currency-neutral basis. EBIT ran up 28 percent to $660 million.
The region marked its first $2 billion quarter with Singles Day driving significant growth of over half a billion dollars in digital demand. The region marked its first $2 billion quarter with Singles Day driving significant growth of over half a billion dollars in digital demand.
"To fulfill the record level of orders, we implemented several initiatives to maximize flexibility and responsiveness in our supply chain," said Friend. "From enabling multi-node network fulfillment to employing robot delivery and green packaging, the Greater China team was prepared to deliver on elevated consumer expectations. And it paid off as we shipped out all units within 48 hours and delivered nearly half with same day or next day delivery."
Year-over-year growth in traffic was also seen in its Nike-owned stores to mark its first positive quarterly gain since the start of the pandemic all while continuing to expand conversion rates versus the prior year.
EMEA's Sales Climb 17 Percent
EMEA's revenues for Nike Brand were up 16.6 percent to $2.96 billion and gained 12 percent on a currency-neutral basis. EBIT gained 28.4 percent to $891 million.
Despite a resurgence of COVID-19 and lockdown restrictions in November, EMEA continued to drive momentum in Q2 through strong weekly sales growth and higher full-price sales. Nike Direct grew 25 percent on a currency-neutral basis, and wholesale increased 6 percent in the quarter, led by strong double-digit strategic partner growth in JD Sports and Zalando, partially offset by double-digit declines in undifferentiated wholesale. Nike Digital grew nearly 100 percent, driven by Cyber Week that broke records across revenue and member engagement.
In its Nike-owned stores, virtual-expert sessions piloted in Niketown London drove increases in conversion and basket size with plans to scale this capability across EMEA. Digital queuing and additional self-checkout options also supported the gains. Nike's Express Lane quick-turn program drove significant growth in Q2, increasing more than 30 percent versus the prior year, and Friend said the program's flexibility would help manage inventories amid uncertainties due to the pandemic. He said, "We lowered futures bookings for holiday and leveraged Express Lane to replenish inventory on a significantly shorter lead time and responding to current retail trends. And with the recent lockdown measures announced this week, we will be agile and manage ongoing uncertainty by leveraging our operational playbook."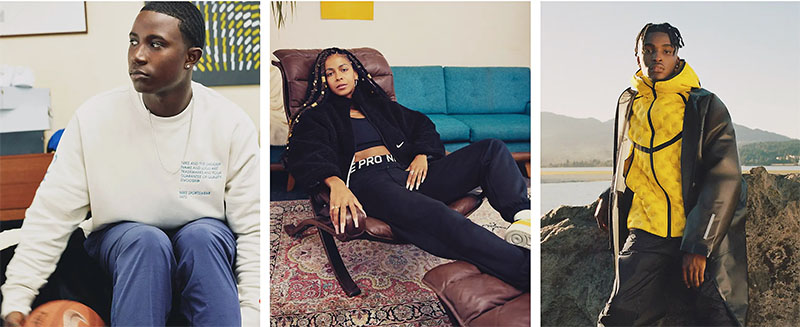 APLA Sees Flat Sales
APLA (Asia Pacific & Latin America) sales for Nike Brand inched up 0.2 percent to $1.47 billion and advanced 5 percent on a currency-neutral basis. EBIT increased 12.5 percent to $424 million.
Nike Digital grew more than 90 percent on a currency-neutral basis with the help of the local Nike.com launch in Mexico and through key digital partnerships across Mexico, Japan and Southeast Asia. The first Nike Unite store opened globally in Korea, and this generated the highest revenue in the first ten days of any Nike store opening. Said Friend "Nearly 90 percent of transactions were linked to a member, and it's indicative of the broader engagement we are seeing across the geography and the strength of our membership offense."
In December, Nike successfully transitioned its business in Brazil to a strategic distributor model in partnership with Grupo SBF, the largest sporting goods retailer in Brazil and across Latin America; however, Friend said Nike and Grupo Axo have mutually agreed to terminate the sale and purchase agreement for the transition of Nike's business in Argentina, Chile and Uruguay. Said Friend, "We will continue to own and operate the businesses in this region in the near-term while we assess future prospects to move to a distributor model in all three countries."
At Converse, reported sales were down 0.8 percent to $476 million while currency-neutral sales declined 4 percent. EBIT was off 3.3 percent to $87 million. Double-digit growth in digital and growth in Asia was more than offset by declines in Europe and North America primarily due to tighter supply and strategic distribution shifts.
In the quarter, gross margin decreased 90 basis points to 43.1 percent, primarily driven by higher promotional activity to reduce excess inventory resulting from COVID-19 impacts and restructuring-related costs for its previously announced reorganization, both partially offset by favorable full-price product margins.
SG&A expenses decreased 2 percent to $3.3 billion. Demand creation or marketing expense was $729 million, down 17 percent due primarily to lower marketing spend on brand and sports events resulting from COVID-19, slightly offset by continued investments in digital marketing to support higher digital demand.
Operating overhead expense increased 4 percent to $2.5 billion primarily due to approximately $135 million of restructuring-related costs and continued investments in digital capabilities to support the Consumer Direct Acceleration strategy. These costs were offset by disciplined expense management.
Inventories declined 2 percent versus the prior year and have returned to healthy levels globally.
Women's Growth Outpaces Overall Growth
Elaborating on innovation, Donahoe said LeBron 18 and the Kyrie 7 "sold incredibly well." Women's grew faster than overall growth and its women's (M) Maternity collection saw 100-percent sell-through of tights in the first two days. Said Donahoe, "Due to high consumer demand for our new maternity wear, we're bringing more units into the marketplace and rolling out more content and inspiration for women pre- and post-partum on our activity apps. This is a great example of how we start with product and then scale further through engagement to deepen our connection with consumers."
Supporting inclusivity efforts, Nike continued to expand its size offerings, including now having more than 100 styles of extended-sized apparel in women across Nike and Jordan. Extended sizing was launched in Nike's Kids business in North America in the quarter with a plan to increase to 25 percent its Kids assortment next summer. Sustainability also remains a focus with the wide majority of Nike's new ACG apparel collection containing more than 90 percent recycled materials.
In coming quarters, new innovations include new women's product in Jordan Brand, a new running style designed to help reduce injury and Nike's first performance shoe in its sustainable footwear platform.
Brand Engagement Expands
Donahoe noted that Nike generated over 7 billion brand impressions across social platforms globally in the latest quarter, growing awareness for NIKE Running Club, NIKE Training Club and SNKRS, its app for limited-edition online drops. Earlier this year, Running Club and Training Club, which provides workouts, became free to use after formerly using a subscription model.
Nike also improved its reach via executions such as "Never Too Far Down," which was YouTube's top ad during 2020. The overall touchpoints led to over 400 million social engagements in the quarter. Nike, Donahoe said, is "creating dialogue and opportunities for action" to support further engagement.
The quarter marked the launch of SNKRS Live, Nike's first-ever product drop via livestreaming that sold out in under two minutes.
Nike also hosted its first Member Days, which offered members globally first access to rewards for activity and personalized exclusives across stores and digital. The event reached over 60 million members across 25 countries, supporting higher conversion for the quarter. Said Donahoe, "What we know is more engaged consumers buy more."
Faster Recovery Than Expected
Friend said Nike is "recovering faster" than expected. He said, 'Consumer engagement with our Brands continues to grow in frequency and depth, through the power of our product franchises and fresh storytelling delivered through improved digital and physical experiences."
Among the accomplishments Friend cited was reducing inventories to "a healthy and normalized level" at the quarter's end and its third straight quarter of roughly 80 percent online growth. Digital penetration moved past the 30 percent milestone reached in the fiscal first quarter. The online growth was helped by improving product availability through search optimization, moving inventory across marketplace channels, and increasing digital fulfillment capacity through scale and automation. He also cited the benefits of cost containment efforts and commitment to innovation.
Friend said, "Despite the short-term uncertainty, we are managing the business and making decisions for the long-term. Consumer interest in sport, fitness, health and wellness has never been greater and Nike's market opportunity is as large as ever."
Outlook Raised
Looking ahead, Nike increased its full-year outlook and now expects low-teens growth for its full fiscal year. Previously, Nike predicted high single-digits to low double-digits. Said Friend, "In the second half, we will continue to take a cautious approach to supply and demand to maintain healthy marketplace inventory amidst continued uncertainty and to ensure that we set a strong foundation for growth and profitability in fiscal year 2022 and beyond."
Gross margins are expected to expand up to fifty basis points versus the prior year, including 35 basis points of foreign exchange headwinds. Gross margins previously had been expected to be flat. Friend said the improved margin outlook reflected the stronger than planned return to normalized inventory levels and lower than expected markdown activity across its portfolio. Quarterly sequential improvement is expected, with Q3 gross margin expansion to be roughly flat versus the prior year.
For the full year, SG&A is expected to grow low-single-digits driven by increased variable costs associated with its improved revenue outlook, as well as amplified investments in marketing. Across gross margin and SG&A, approximately $315 million of nonrecurring execution costs associated with simplifying its organizational structure, of which approximately $220 million dollars was incurred in the first half of this fiscal year, is expected.
Friend said Nike plans to accelerate investment levels from the first half to "capitalize on the relative speed of our recovery and our financial strength."
Marketing as a percent of revenue is expected to gradually increase versus recent quarters in part to reflect the return of many sporting events but to fund "significant growth opportunities" in women's, apparel, digital and Jordan Brand.
Further investments in the second half will support its "digital-first supply chain" with a new regional service center recently opened in Los Angeles to support peak holiday demand. Personalization, dynamic pricing and adding RFID capabilities to EMEA stores are other investment priorities. The pace of store openings will increase with an additional 30 set to open in the second half of this fiscal year and even more in fiscal 2022, supporting accelerated growth in women's, digital and apparel. In the second quarter, openings included two Nike Live and six Nike Unite, Nike's next-generation factory store concept.
Photos courtesy Nike