Marking the company's second tech acquisition in a month, Nike Inc. announced the acquisition of Invertex Ltd., an Israeli-based firm that that delivers measure-to-fit footwear solutions.
Terms were not disclosed.
The acquisition promises to move Nike further down the road of being able to offer more personalization and customization to consumers and also helps resolve the complexities of finding the correct shoe size online.
Invertex first gained attention in April 2017 when it closed a $2 million seed funding round to help commercialize the company's omni-channel scan-to-fit shopping solutions for footwear brands and retailers. The round was led by Jerusalem-based equity crowdfunding VC OurCrowd. Permoda, an international leading retail & fashion group, also participated in the round, together with other prominent angel investors.
"Our mobile applications instantly capture and analyzes a person's anatomy in detailed three dimensions," Invertex said on its Crunchbase page. "This provides our clients with the capacity to tailor their existing products to their customers' specific needs or create new, fully-customized product lines.
Last September at Shop.org, Invertex officially launched ScanMat, a device that combines advanced 3D-digitization and deep-learning technologies to scan feet to "achieve accuracy recommendations at unprecedented levels."
Once a customer has been scanned, a profile is created and sent either via SMS or e-mail in seconds. Customers can then scan any shoe in the store and be notified of the correct size, alongside recommendations of other items that will fit. For retailers, the device takes minimal space in the store to help make it scalable.
Customers can also scan their feet via ScanMat at home when deployed via a retailer app.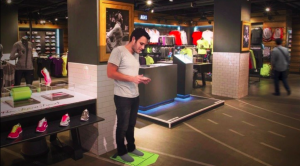 At the time of the launch of ScanMat, Invertex said that inaccurate fit and lack of confidence remain two of the biggest pain points to buying footwear online. Only 8 percent of shoes are sold online in the U.S. due these fit concerns, the firm noted. Moreover, about 35 percent of shoes bought online are returned, and the technology promises to reduce that rate.
Said CEO of Invertex David Bleicher last September, "Alongside providing consumers with the confidence of knowing products will fit, retailers can expect their customers with scanned profiles to visit their e-commerce sites more frequently, incur dramatic increase in conversion rates and up to 50 percent reduction in return rates. Plus, the data collected by our technology, which already incorporates thousands of feet and shoe models creates a valued resource for retailers across core areas, from advertising and planning to D&D and customer care. "
Nike is expected to keep the technology in-house or at least limited to its retail partners. In a press release, Nike didn't explore the potential applications of the technology other than to say Invertex will strengthen its digital technology platforms.
"The acquisition of Invertex will deepen our bench of digital talent and further our capabilities in computer vision and artificial intelligence as we create the most compelling Nike Consumer Experience at every touchpoint," said Adam Sussman, Nike's chief digital officer.
Invertex's Bleicher said, "Nike's connection to and understanding of their consumer is unsurpassed, and we look forward to joining their team to help drive the Consumer Direct Offense."
In a note, Jim Duffy, an analyst at Stifel, said Nike's acquisition of Invertex strengthens efforts to connect with consumers personally and leverage one-to-one connections at scale to drive demand.
He noted that at Nike's October 2017 Investor Day, the company called on sales from digital channels–both owned retailer and through third-party retailer sites–to increase at a 15 percent five-year CAGR.
"Onboarding Invertex's people and capabilities complement Nike's organic investments behind competence in digital and customization of consumer interactions," wrote Duffy. "Near-term, we view Invertex as aligned with Nike's strategy to enhance consumer connections and gather related data insights as a source of competitive distinction. Longer-term, we see this as a stepping stone to drive advanced manufacturing methodologies where 3D images of a consumer's foot are used to produce custom fitted products on demand."
As Stifel has noted in past reports, Nike stands to benefit from being able to form stronger relationships with consumers, shorten lead-times by making product on-demand and minimize markdowns and returns.
Duffy added, "In addition to becoming a further source of competitive advantage, with better margins and less working capital in the model, we see this driving improving return characteristics for the business."
The Invertex announcement follows the March 22 announcement of Nike's acquisition of Zodiac, a consumer data and analytics company based in New York City and Philadelphia.
Building off of research from professors at Wharton School of Business, Zodiac, formerly known as CLV Metrics (for Customer Lifetime Value), provides estimates of future spending by customers who buy from retailers. The company has reportedly ceased its partnerships with retailers following the acquisition. Roberto Torres wrote for Technical.ly Philly, "Following the acquisition, the company terminated its relationship with all clients—a list that has included ModCloth, American Apparel and Dressbarn—and will offer its services solely to Nike as a standalone division."
On its third-quarter conference call also on March 22, Mark Parker, Nike's CEO, said the company would be continually looking to build its digital capabilities in-house, but would be also be "acquiring capabilities to accelerate our strategy." He said Zodiac would particularly be used to further engagement and optimize the potential spend of the then 100 million NikePlus members.
"We've been working with Zodiac for the past several months, using their proprietary algorithms and models, and I'd say we're just extremely excited about how we can more fully leverage those capabilities to accelerate some of the key pillars of our strategy," said Parker. "And one of the areas that I think I'd particularly call out is how they can help us power up our Nike Membership to better leverage the data there, to capture demand signals in our key cities and help to inform our Express Lane."
Part of the 2x Speed initiative, Express Lane, focuses on speeding turnaround times. The goal of the program is to reduce lead times to less than six months, product updates to less than 90 days and product fulfillment to two days.
Andy Champion, CFO, added that the Zodiac acquisition builds on aggressive investments internally to support its digital offense. He said, '"We already have made significant investments in building our Nike Membership team and data and analytics capabilities, and are fortunate to have some great talent that's joined our company over the past several years, and bringing on teams like that at Zodiac and some other teams that we've been in discussion with are additive."
Nike's digital business grew 18 percent on a currency-neutral basis globally in the third quarter, driven by the expansion of its NikePlus membership and the success of SNKRS and its other apps.
Stifel's Duffy said the Invertex acquisition on top of Zodiac is helping further Nike's goal of bringing more personalization at scale. Wrote Duffy, "Among established brands we believe Nike's global brand resonance and financial resources position the company to distinguish itself in an environment where consumers increasingly demand personalized service."
Nike first began looking outside for digital help with the company's 2016 acquisition of Virgin Mega, a small digital design start-up that sat within Richard Branson's massive Virgin empire. Based in New York City, Virgin MEGA changed the company's name to s23NYC and has supported the development of Nike's popular SNKRS app by helping add new features such as SNKRS Stash and Stash Spots, as well as the app's AR Camera feature.
At a keynote session last month at Shoptalk in Las Vegas, Sussman, Nike's first digital officer, said newer technologies such as covert analysis, segmentation, machine learning and agile development are accelerating consumer connections for Nike and taking personalization to another level. He said Nike digital is "about serving up athletes with technology and data in new ways that feels personal and special."
Photos courtesy Nike, Invertex