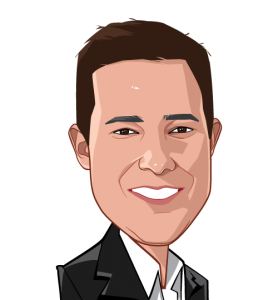 At a keynote session at Shoptalk in Las Vegas, Adam Sussman, Nike's chief digital officer, discussed the brand's digital transformation and how Nike is tailoring its approaches to best connect with three distinct customer segments: the Weekend Runner, Style Shopper and Dedicated Sneakerhead.
At the start of his presentation, Sussman related how Nike has always been a business "built on relationships." He recounted how co-founder Phil Knight and his early hires started by selling shoes to individual runners out of a van in the seventies.
Said Sussman, "Employees would write down athletes' sizes and individual needs on personal index cards and these connections we knew were deep and special. Eventually these individual interactions would inspire a company pledge, and that is to serve all athletes personally. The promise proved compelling and the company, Nike, began to grow."
Sussman is the brand's first chief digital officer. Prior to joining Nike in early 2016, he held multiple positions in the interactive gaming and entertainment industries, including EA Mobile and Disney Interactive.
Today, Nike connects with hundreds of millions of athletes in more than 190 countries across six continents. But Sussman said emerging technologies are still "enabling us to deliver on our co-founder's vision" around personal connections, with mobile in particular allowing the brand to "scale it all over the world."
For Nike, serving athletes personally still starts with sports. Said Sussman, "You see Lebron on a fast break or cross your first finish line and you feel something. It inspires you to pick up a ball and train harder or lace up your running shoes for a longer run, to deepen your connection to the culture of sports. Because we know when someone buys a pair of new running shoes, they're not just buying footwear; they're buying potential in themselves. They're buying to be more active. They're buying because they're looking to us to help them be their best. We believe in creating life-long relationships with consumers that deliver real value and magical moments that only Nike can create, tailored to them."
But newer technologies are helping take personalization to another level. Among the new capabilities Nike is leveraging to accelerate consumer connections is covert analysis, segmentation, machine learning and agile development. Embracing digital technology has required a "companywide mentality shift" for Nike to become more data-driven. Sussman stated, "We've always been great at the arts, now we're bringing more of the science."
The change involved a greater push to drive "more two-way" interactions than the past and solving the challenge of serving "our consumers in a way that's both distinct to Nike and unique to each person."
As a result, Sussman decided its Nike Plus membership experience would have to be about relationships and "ultimately create the feeling of love between the brand and our most engaged consumers." Nike has more than 100 million Nike Plus members, with a goal to triple that number over the next five years.
Sussman said that the more Nike knows about the company's members, the easier it is to "celebrate them and reward them better. And today we understand our member-base in large segments at scale while still communicating with them individually."
He also said Nike Plus members are fully leveraging its elevated platforms and experiences, and that users spend four times more on average than regular shoppers.
"It delivers incredible value and they are more engaged," Sussman said about the program. "We deliver the exact right product, experience and storytelling–it makes a tremendous difference."
Sussman then described three customer segments Nike targets and different lifestyle-targeted outreach it makes available to each.
The "Weekend Runner" is a 30-year-old woman from Boston, Brook, with her first half marathon coming up in a few months, said Sussman. As an active user of the Nike Run Club app, the company has a significant amount of data on her training regimen, including pace, as well as her achievements. The brand encourages  her to share her successes with her friends through the Nike Run Club app.
For extra motivation, Nike recently introduced Audio Guided Runs, which allows users to hear guidance, motivation and inspiration directly through in-ear audio from Nike's coaches as well as elite athletes like Mo Farah and entertainers such as Kevin Hart. The pep talks run across long to recovery runs, as well as other workouts.
Sussman said that by learning about their mileage and running habits, Nike is able to "suggest to them the perfect shoe which we reserve for them in their size."
In another case, identifying members of Nike Run Club who run early in the morning or late at night might also lead to a recommendation for a Nike Flash Jacket, which is reflective and visible in low light. Said Sussman, "They can pick it up at their local store or buy it directly from their home. And this feels unique and special to them, yet it is powered by algorithmic automation and served personally at scale, and those members engage twice as often to drive real growth."
The second customer segment, the "Style Shopper," is defined as a 26-year-old woman from Los Angeles, Alex, who wants to be on-trend before, during and after workouts. An avid user of the Nike app, she explores a wide range of product and storytelling tailored to her interests while sharing content with friends for the "most premium, personal, curated shopping experience." She can also see how her favorite athletes and icons style an item she's interested in, and the interaction again drives purchase recommendation.
Said Sussman, "What's truly great about the Nike app experience is we use everything they share with us. Their stated interests, previous purchases, browsing history and more power our proprietary algorithm to deliver the best product recommendations for each of them."
Among newer functions is Reserved For You, which automatically reserves select products for customers in the correct size and invites them to buy. Reserve For You conversion rates are up to 40 times that of tradition targeting, Sussman noted.
At the store level, the Nike app will soon be able to tell users as soon as they walk inside a store whether the shoe they ran in earlier in the day is in stock and in their size. Any product scanned with the app can also trigger an associate to bring the style out of the stockroom. The item can then be paid through the app to avoid using the checkout line. As Nike gets to know its users better, invitations to events and for services will follow, such as inviting someone with a passion for apparel to an exclusive after-hour shopping experience with an expert stylist.
One feature for both Nike app and Nike Run Club app users introduced last fall is Experts On Demand, which enables members through a chat session to have a conversation with an expert in a specific sport or style to gain a personalized recommendation. A ten-time marathoner, for instance, may help someone find a running shoe tailored to their goals and budget. The image of the individual appears in the chat. Said Sussman, "We draw on it all our experts, our consumer service team, our store associates and the science of automation, and it's working. Nike Experts On Demand has led to double-digit conversion in the week after members tried it out."
Members can also book a one-on-one session inside a store at many of its locations or arrange a conversation with an expert on the phone. Said Sussman, "These are the connections that accomplish one of our greatest missions, to make you feel like you're a part of something bigger, and for our athletes nothing motivates more than your coaches, your friends, your heroes all pushing you towards your goal. After all, the finish line inspires for a moment. The community inspires for a lifetime."
Finally, the "Dedicated Sneakerhead" is a male from New York, Chris, who "has had an eye for sneakers since he was a little kid" but may have also had poor experiences in the past securing coveted Nike launches. Sussman said, "Today there are tens of millions of sneakerheads around the world and the culture of sneakers is growing every day, a vast population of deeply passionate consumers who are always looking to buy our latest. And yet for years we weren't serving our sneakerheads like Chris personally."
He said Chris "loved the sneaker game, the hunt to grab their favorite shoes amidst intense demand, and yet sometimes that love was rewarded with bad experiences."
The problems included long waits overnight in lines and missing out on shoes due to scalpers.
Nike moved to gamify the sneaker-hunt experience with the SNKRS app, where sneakerheads explore and share "the best of Nike footwear."
"But basic functionality isn't enough," added Sussman. "We need to add experiences that reimagined what 'launch' could be, that elevates the game beyond consumers' expectations and consumers are responding. SNKRS has now become our highest annual spend app per month, with monthly active users growing 300 percent in the last 12 months alone."
Among the experiences, SNKR Stash enables sneakerheads to go on a citywide treasure hunt for virtual "Stash Spots," where they can purchase the products via mobile. Nike plans to enhance the experience with Stash Squad, now in development, which allows fans in areas remote from a treasure hunt to join a "squad," watch the event via livestream and receive the product if their squad leader wins.
Sussman also noted that while many of these SNKRS experiences involve "intimate experiences" with individuals, Nike "also prides itself on making big moments bigger" via the larger stage. For instance, after Justin Timberlake finished his performance at the recent Super Bowl wearing a pair of "white/cement" Air Jordan 3s worn by Michael Jordan during the 1988 NBA Dunk Contest, the style became available on the brand's SNKRS app and sold out in seconds. Added Sussman, "For the hundreds of thousands who missed out, we notified them when the next highly-coveted MJ3 would be come out and sell-through on those were 100 percent."
Sussman summed up his presentation by noting that ultimately, Nike digital is "about serving up athletes with technology and data in new ways that feels personal and special." Nike's message continues to encourage consumers to "dream a little bigger" but to "expect something more" when it comes to interactions.
Said Sussman, "At Nike, we like to say our only competition is our own potential. We know the world's sports and shopping are always going to evolve, but Nike is staying right where we belong, out in front serving consumers one-to-one personally, no matter where they are."
Photos courtes Nike/Shoptalk