Nike CEO Mark Parker said, "I've seen iconic athletes leave it all on the track. But I've never seen anything like what we saw today. Today, millions of people around the world watched as running history was written."
Writer: Tom Ryan
Kenyan runner Eliud Kipchoge made a spirited attempt early Saturday to become the first human to run a marathon in under two hours as part of Nike's Breaking2 project, but missed out by 25 seconds.
Kipchoge finished his marathon in 2 hours and 25 seconds, beating Dennis Kimetto's world record of 2:02:57 set by fellow Kenyan Dennis Kimetto in Berlin in 2014. The time will not enter the record books largely due to the use of a non-compliant system of pacemaking. Kipchoge's performance was 2:40 better than his own personal best of 2:03:05.
The feat even drew praise from Nike's global rival, Adidas. In a tweet, Adidas said: "Congratulations @EliudKipchoge on such a courageous run." Adidas also has its own 'Sub2' project, supported by a new shoe.
Considered the best marathon runner in the world, Kipchoge broke his personal best of 2:03:05 set at the London Marathon last year.
Among the others competing in the controlled race was Eritrean Zersenay Tadese, who finished with a time of 2:06:51, beating his personal best by 3:50. Ethiopian Lelisa Desisa crossed the line with a time of 2:14:10.
Beyond the world-record challenge, the move attracted controversy after Nike paid the athletes to skip the prestigious London and Berlin marathons so they could attempt the feat on May 6 at the Monza Formula One racetrack at the Autodromo Nazionale Monza outside Milan, Italy.
Nike also drew attention due to its ambition goal to design the ideal product and create the perfect conditions to tackle the feat.
Those conditions started with the Monza Formula One racetrack. Nike wrote, "It's the perfect place to test everything we've learned."
The three runners also ran behind an arrow-head formation of pacemaker to reduce drag while a car beaming a green line on the road behind it showed their current pace, elapsed race time and projected finish time. The sub-two hour mark required a pace below four minutes and 35 seconds per mile.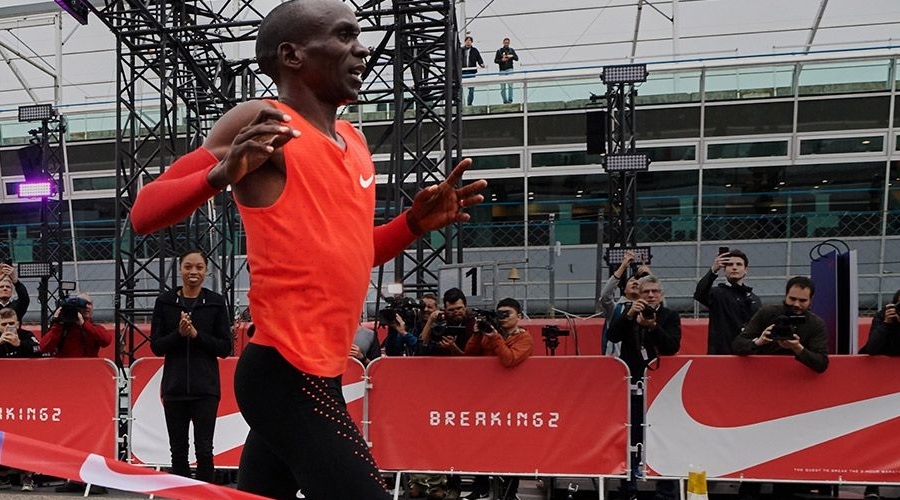 The participants also were given a pair of custom-made Nike Zoom Vaporfly Elite shoes as well specially made running shirts, shorts, and arm sleeves designed with comfort and temperature control in mind. The Zoom Vaporfly Elite is the first Nike shoe to its ultra-light ZoomX midsole cushion, which works in tandem with a "unidirectional carbon plate with a specific geometry that enhances the propulsive sensation in each stride." The shoe promises to make runners four percent more efficient.
Nike also worked with athletes to perfect their hydration and nutrition strategies on race day. Skin temperatures and sweat rates were monitored. A critical temperature reading is the difference between the body's internal core temperature and skin temperature, known as the temperature gradient.
"We're looking at what core body temperature does in relation to skin temperature and we want those two numbers to be as far apart as possible," Brad Wilkins Director of the NXT Generation Research team in the Nike Sports Research Lab, had said. "That means that the gradient, the temperature gradient, from the core to your skin is really high."
Other tests, like muscle imaging, showed how much sugar was in the muscle of the athletes and how much water each individual runner has lost through sweat to support fluid strategies.
Kipchoge, Desisa and Tadese had a personalized race-day hydration strategy that will help them offset fluid losses from sweating and maintain ideal cardiovascular performance needed to keep their record-breaking pace. At each lap (every 2.4 kilometers) a moped handoff delivered their specific bottles that contained a customized carbohydrate fluid mixture.
Nike will be showing a stream of the race its Breaking2 Facebook page for up to one week after the event ends. The journey of the Breaking2 program will conclude later this summer with a feature-length documentary produced in partnership with National Geographic.
The Breaking2 project was held on the 63rd anniversary of Roger Bannister breaking the four-minute mile in 1954.
"I've been part of many races over my career at Nike. I've seen the magic of gold shoes and swift suits. I've seen iconic athletes leave it all on the track," Nike CEO Mark Parker said. "But I've never seen anything like what we saw today.
"Today, millions of people around the world watched as running history was written."
Photos and video courtesy Nike