By Eric Smith
Nike Inc. didn't escape the fiscal third quarter entirely unscathed, and headwinds remain globally in Q4 and beyond, but the company managed to evade a revenue and earnings plunge thanks to the playbook it deployed as the coronavirus spread across China in recent months.
While the footwear and apparel giant took some expected hits to its top and bottom lines during the period ended February 29, its ability to withstand the worst of the coronavirus impact during the period was nothing short of remarkable.
"Over the last quarter, Nike delivered 7 percent currency-neutral revenue growth, despite the material impact from COVID-19 in China," John Donahoe, the Beaverton, OR-based company's president and CEO, told analysts on Tuesday afternoon's earnings call. "This performance reflects the strong business momentum we had in Q3 across all of our geographies and categories."
Donahoe attributed much of the quarter's success to the team's execution of its so-called playbook, which he detailed on the call. Specifically, that playbook was applied to the way Nike handled the coronavirus outbreak in China, where the pandemic began.
"When COVID-19 began to aggressively spread across China in late January, our top priority was to protect the health and safety of our teammates and our consumers," Donahoe said. "We immediately began closing stores. And as of 45 days ago, we had closed more than 5,000 stores in Greater China, while the remaining open doors were operating with severely reduced hours. Not surprisingly, retail volume in China plummeted. But we acted quickly and decisively, leveraging our diverse sourcing base and digital capabilities to manage the business with flexibility, and shifting our inventory to serve consumer digital demand."
Despite a revenue dip in China, the company's efforts paid off there, and about 30 days ago, Nike was able to "gradually reopen stores in China," Donahoe said.
"People got back to work, and retail traffic began improving significantly," he added. "Today, nearly 80 percent of our stores in China have reopened with more coming back online every day. In fact, just last week, we reopened our first store in the Wuhan area. And the results are encouraging. We are now seeing double-digit increases in retail traffic week-over-week with some stores having already returned to prior-year levels.
Not only was Nike aggressive in closing stores in China as soon as the coronavirus began spreading, but the company also focused energy on engaging customers digitally—both through its training network and with e-commerce sales—and ramping up marketing efforts along the way.
Donahoe said Nike Training Club workouts in China saw an "extraordinary rise in signup and engagement" and weekly active users for Nike activity apps increased 80 percent during the quarter. That engagement translated into digital sales on Nike's e-commerce app.
"As a result, our digital business in China grew more than 30 percent and maintained strong momentum throughout this challenging period, a powerful statement of Nike's agile problem-solving in times of disruption," Donahoe said.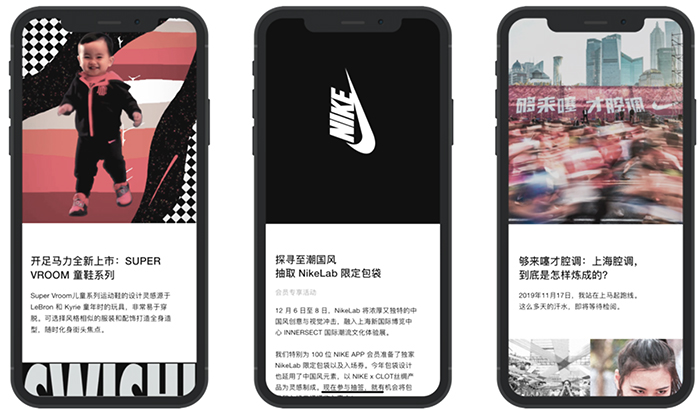 Now, Nike is taking its Chinese playbook across the globe. The company's approach there provided a blueprint as the outbreak spreads beyond China, where the situation has mostly subsided.
"We're seeing the other side of the crisis in China," Donahoe said. "And due to the resilience and creativity of our team in China, we now have a playbook that we can use elsewhere. In addition to Greater China, we've applied that playbook in Japan and South Korea over the past two months, and we're seeing early momentum in those markets as well. And with COVID-19 now spreading across Europe and the U.S., we are applying the same playbook. We have prioritized the health and safety of our teammates, and we've closed our stores."
Donahoe gave credit for Nike's response to the crisis in China to Angela Dong, head of the company's Greater China region, along with "her talented team of more than 1,600." Donahoe said he and Dong spoke recently about the "positive sentiment consumers in China are feeling for Nike."
"I can't overstate how impressed I am," Donahoe said. "It's become quite clear to me that when Nike says we are a brand of China, for China, it's really true. And it's no surprise to see the business already rebounding, given the depth of our connection, and the incredible strength of our local leadership team."
Nike has begun enacting some of these measures in North America. The company last weekend released a new advertising campaign to express the importance of social distancing during this time, "Play inside, play for the world."
The campaign promotes the brand's workout app and comes as the brand announced that programming on its Nike Training Club app is now accessible to users free of charge. The subscription-based service includes studio-style workouts, training programs and tips from the athletic giant's master trainers.
Nike, its top leadership and the Nike Foundation also said last week they are committing more than $15 million to COVID-19 response efforts.
Nike is still scripting its coronavirus playbook, but the success in China is proof of concept for the company. Analysts took note of the way the company executed it and the corresponding benefits.
"China business recovery trends are encouraging, and Nike can apply the China playbook to other regions," Jim Duffy of Stifel wrote in a note to investors. "Nike is as well-equipped to deal with the crisis as any in our universe and has a thoughtful strategy for how to capitalize on the circumstances for the long-term. Dislocation from the crisis, however, will impact earnings power visibility into F21 and global economic fallout could impede the revenue and earnings rebound in F22."
Jon Komp of Baird, in his note to clients, echoed those comments but added that the situation could differ here and elsewhere around the world as nations differ in their response to the coronavirus pandemic.
"While China stores began to come back online quickly, (few weeks), the timing of other markets globally reopening is a key unknown," he wrote. "Once stores start reopening, NKE expressed confidence in returning to growth by repeating the 'playbook' of engaging digitally and remaining nimble with marketing. NKE already is applying some of the strategies for digital (including providing 90-day Nike Training Club premium in the U.S., altering major brand campaigns for more nimble digital-focused efforts), but at this point has little line of site to the duration of current closures."
Shares of Nike (NKE) were up double digits on Tuesday and low-double digits in midday trading Wednesday. The company's stock closed the day up $6.68, or 9.2 percent, to $79.01. NKE has lost about 20 percent in value in the past month.
Photos courtesy Nike, Quartz