New Era's partnership with Repreve will mark the first time the headwear brand has come out with a fully-recycled team-licensed cap.
Writer: Thomas J. Ryan
New Era Cap partnered with Repreve to come out with its first-ever NBA cap made of plastic bottles. Each hat is made using four recycled plastic bottles.
The eco-friendly caps will launch exclusively with the Portland Trail Blazers, coinciding with NBA Green Week. They'll be sold at Rip City Clothing Company at the Moda Center during Trail Blazers games on April 6 and April 8, and will retail for $30.
In 2009, New Era came out with the 59Fifty Recycled Cotton collection that featured a blend of 74 percent recycled cotton and 26 percent acrylic. The Recycled logo appeared on the side of the hat. But the Repreve partnership will mark the first time New Era has come out with a fully recycled, team-licensed cap.
The soda-bottle alliance also stands out because Repreve, a Unifi brand, offers enhanced transparency through its proprietary U Trust verification program. As part of the U Trust program, Unifi uses Fiberprint technology, a tool allowing Unifi to analyze fabrics and products for the Fiberprint signature and certify the level of Repreve fiber content.
"Not only does New Era Cap value environmental consciousness, but consumers are also increasingly looking for products with a transparent sustainability story," said Mark Maidment, VP, creative for New Era Cap. "Through its U Trust program, Unifi helps us deliver a trustworthy, environmentally responsible cap."
"The Trail Blazers' commitment to sustainability is longstanding, and places us among the leaders in all of professional sports, with initiatives ranging from food recovery and energy efficiency to composting and balancing our water use," added Christa Stout, Trail Blazers VP of social responsibility. "Key to that success is committed partners in all of our initiatives who support our focus on impacting kids and families where they live, learn and play. We're thrilled to join with New Era Cap and Unifi in this cool and authentic partnership."
For Repreve, the New Era partnership builds on a collaboration announced in February with seven professional sports teams to spread environmental responsibility messages to crowds and to launch the Repreve Ultimate Sports Fan Experience. The latter is a sweepstakes series consisting of once-in-a-lifetime experiences with multiple franchises, including the Dallas Mavericks, Portland Trail Blazers, Boston Bruins, Detroit Red Wings, Anaheim Ducks, Minnesota Wild and New Jersey Devils. As part of the sweepstakes, winners will receive a variety of unique prizes, including on-court/ice passes, VIP tickets, pregame bench access, locker room tours, autographed team goods and player meet and greets. In addition, each stadium will carry recycling messaging.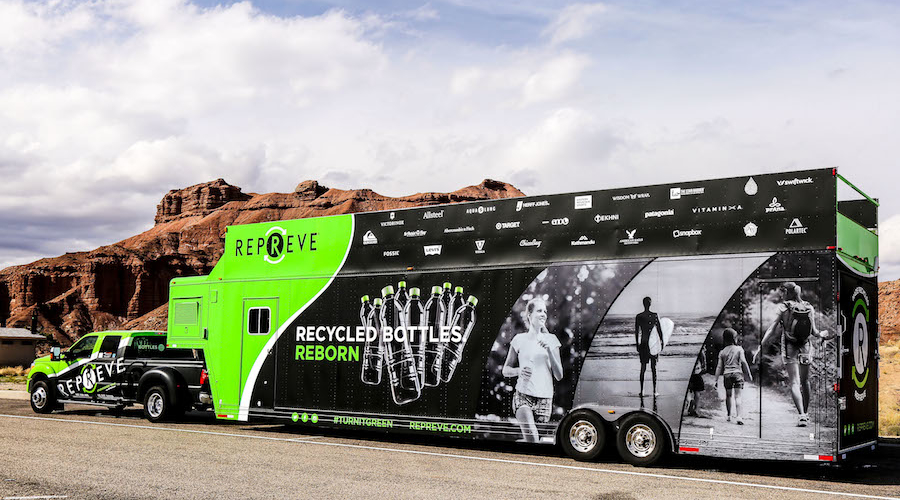 Unifi's national Repreve #TurnItGreen mobile tour will make stops at the Moda Center before the April 6 and April 8 games. The #TurnItGreen tour includes a custom-designed, interactive trailer that travels the nation to educate the public about the importance of recycling and showcase the high-quality Repreve-based products that can be made when fans recycle their plastic bottles.
Said Jay Hertwig, VP of global brand sales, marketing and product development for Unifi. "Unifi is proud to be associated with New Era Cap through its officially licensed hats for the Trail Blazers, and we look forward to potential future collaborations."
Photos courtesy Repreve