New Balance Foundation announced it has confirmed the second round of funding as part of its pledge earlier this year to donate $2 million in non-profit grants in response to the COVID-19 pandemic.
Adding to the New Balance Foundation's initial distribution of $500,000, select organizations from the Foundation's network of more than 60 grantees recently received a combined total of $1.25 million in New Balance Foundation COVID-19 grants.
The grants provide emergency and supplemental support to organizations including human service agencies providing food, shelter and aid to underserved populations; youth-serving agencies helping families with food, counseling, physical activity, and virtual learning; and health organizations and cultural institutions.
"New Balance Foundation believes it is vital to support our existing non-profit organizations, many of whom are truly on the front lines of the ongoing public health crisis as they strive to meet the needs of their communities," said Anne Davis, managing trustee New Balance Foundation. "We want to make a difference for the most vulnerable populations affected by the pandemic and help sustain the non-profits who further our mission of improving the health and well-being of youth and families through physical activity, nutrition and academic achievement."
The organizations below who received COVID-19-related grant funding totaling $1.25 million are as follows: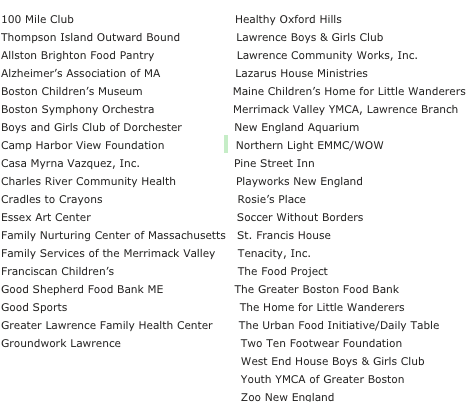 "New Balance Foundation was among the first partners to announce significant support of our COVID-19 response. We were less than a week into the situation grappling with our new realities when the news about the Foundation's grant came in—it was a relief to know that New Balance, our longtime and dedicated partner, was alongside us on the journey. With New Balance Foundation's generous contributions, we have been able to purchase food by the tractor-trailer load, pack and distribute emergency boxes to food pantries across the state and, ultimately, help many of our neighbors who are struggling with hunger," said Kristen Miale, president, Good Shepherd Food Bank in Maine.
"New Balance Foundation has long been an essential partner in our work across Lawrence. Time and again, when the community faces a challenge, New Balance Foundation steps up to meet it. We are honored that New Balance Foundation can count on us as a partner in the work we do. Their recent grant to Groundwork, targeting the food insecurity caused by the Coronavirus pandemic,  has been critical to providing fresh food to struggling families and helps expand food access during a time of great need, demonstrating, yet again, their unwavering commitment to the city of Lawrence," said Heather McMann, Executive Director, Groundwork Lawrence in Lawrence, MA.
"These funds will enable us to provide more than 7500 meals each week to children and families experiencing food insecurity. Our grocery boxes, delivered safely to homes around Boston, provide fresh fruits and vegetables, lean proteins and whole grains- enough to make at least 20 meals per week (family of 2) up to 80 meals (family of 8). Thanks to the support from the New Balance Foundation, we can continue our commitment to support healthy living which is needed now more than ever," said Andrea Howard, Executive Director, West End House in Allston-Brighton, MA.
In March, New Balance Foundation announced the $2 Million commitment and allocated the first round of funding to:
Global Giving, the largest global crowdfunding community connecting nonprofits, donors and companies in nearly every country, received $200,000 to support immediate and long-term relief and recovery in vulnerable communities worldwide;
No Kid Hungry, which sends emergency grants to food banks and local community groups across the United States as well as feeding kids in the hardest-hit communities and ensuring families know how to find food while schools are closed so children can eat three meals a day, received $100,000; and
The Boston Resiliency Fund, Groundwork Lawrence, Good Shepherd Food Bank in Maine, and the St. Louis Area Foodbank each received a $50,000 New Balance Foundation grant reflecting the regional communities where New Balance associates live and work.
The $2 million commitment is in addition to the approximately $7 million in New Balance Foundation grants that were already planned as part of the Foundation's regular annual giving for 2020. New Balance Foundation will announce an additional $250,000 in COVID-19 related grants later this year.
As an American Red Cross Disaster Responder Partner since 2012, the New Balance Foundation's annual donation of $500,000 is also helping support emergency assistance and blood donation efforts related to COVID-19.
From an initial $31,000 grant-making investment in 1981, New Balance Foundation contributions reached a $100 million milestone in 2019 in funding to high-impact, long-term, sustainable initiatives. New Balance Foundation investments focus on research-driven, long-term, collaborative relationships that prevent and treat childhood obesity. The Foundation currently grants to many national and local non-profit organizations including Boston Children's Hospital, Good Sports, Harlem Lacrosse, Rising New York Road Runners, local Boys & Girls Clubs, among others. Visit here for more information.
Photo courtesy New Balance Foundation