NBA Commissioner Adam Silver said on Saturday that the league will likely lose "hundreds of millions of dollars" in lost sponsorships and broadcast revenue from its standoff with the Chinese government after an executive last year tweeted his support for Hong Kong's protesters.
Houston Rockets General Manager's Daryl Morey tweet in early October, shown below right, supporting the protesters in Hong Kong enraged the Beijing government. Chinese sponsors cut ties with the Rockets, who haven't appeared on the country's top streaming platform this season, and NBA games still haven't returned to China Central Television (CCTV), the state-run television broadcaster.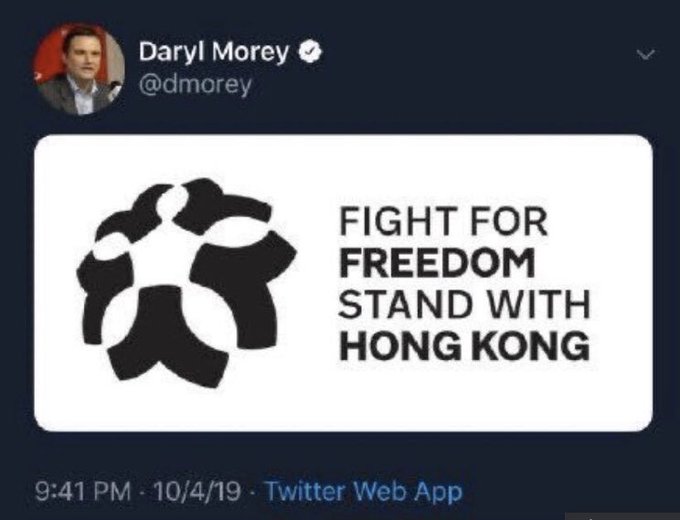 "I think that the magnitude of the loss will be in the hundreds of millions of dollars. Certainly probably less than $400 million, maybe even less than that," Silver said.
Silver said that the NBA's overall financial health was sound; however, the league informed its 30 teams last month that salary cap projections for the 2020/21 season have decreased from $116 million to $115 million in the wake of the China controversy.
Silver said he believed CCTV would resume airing games "at some point in the future." The network used to show NBA games three days a week, with one to two games per day. Tencent,  the streaming network that signed a reported $1.5 billion deal to carry games through 2024/25, eliminated its NBA subscription that had broadcast every game. Tencent is still showing an average of three games nightly for free, as it has in the past.
One encouraging sign of a potential thaw in the NBA/China conflict is that Tencent streamed all events around this weekend's All-Star Game in Chicago. Silver also said the league was discussing playing more preseason games in China next fall and that U.S.A. Basketball could play an exhibition game there before the Tokyo Olympics. The NBA has also given financial assistance for the coronavirus outbreak.
"We are not pressing them," Silver said, referring to the Chinese government. "It's a decision that's outside of certainly our control, and I will say, I'm often not sure exactly where that decision lies. I think that our view as the league is we should continue doing the things that we've done in the past."
Lead photo courtesy NBA