Established in 1967 by Irv Davies, the inventor of the Floater Coat, Mustang Survival has been creating lifesaving solutions for more than 54 years. Headquartered in Burnaby, B.C., Canada, it has more than 250 employees in the U.S. and Canada and recently acquired Ocean Rodeo and MTI to its brand portfolio.
SGB Executive caught up with Josh Horoshok, recreation division vice-president, to discuss its growth, acquiring companies when most are downsizing and introducing its offshore safety role into new markets.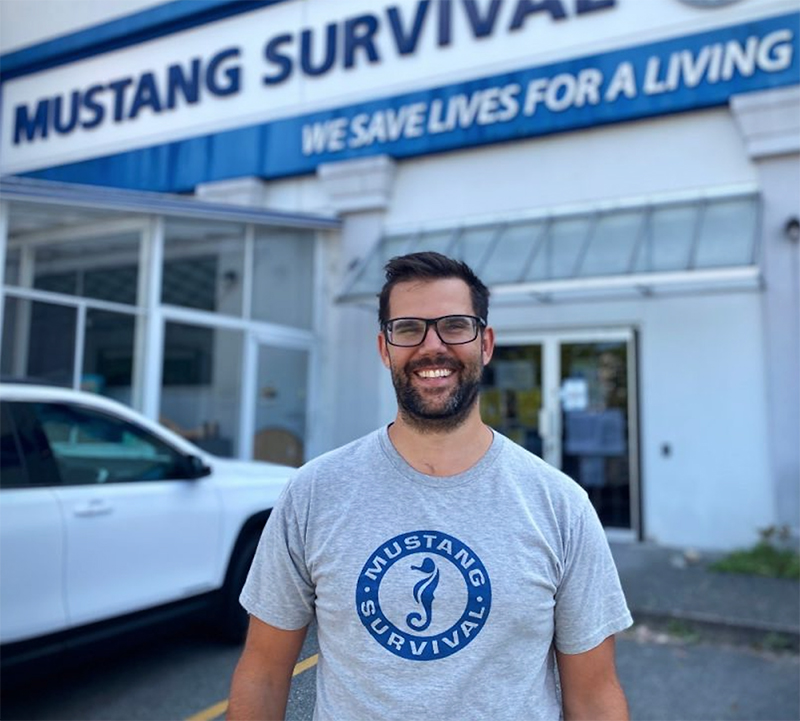 Mustang Survival recently acquired MTI and Ocean Rodeo. Why the acquisitions? When the Wing Group acquired us in 2019, we were fortunate to join an ownership group that was keen to invest in the growth of Mustang Survival. Our strategy on the recreation side is to grow within our key activities of sailing, paddling and fishing. We plan to do that through product development and keep an eye out for acquisitions of brands that will help us accelerate our growth plan.
What do the brands bring to your overall business model? MTI and Ocean Rodeo are two brands with quality product lines that added to our existing portfolio. MTI added a big gap in foam flotation and accelerated our product development in that space. Ocean Rodeo's dry wear business gave us interesting patterns and innovations to integrate within our line, which will help to accelerate our dry suit product line.
Are there synergies Mustang brings to these brands? The design team will review each product line and make the necessary adjustments to MTI and Ocean Rodeo's line to align it with Mustang Survival's design, materials and construction values. The intention is that, eventually, all product lines will be integrated under the Mustang Survival brand.
How easy was it to jump from the military/survival sector to the rec paddler/consumer market? We've been in the outdoor industry for 54 years, but we had indeed been focused on the professional survival sector until the last five years. In terms of product construction, it's been aligned from the start. We build products for the most demanding professional user— Coast Guard, Search and Rescue and Navy Seals. These users are badass and beat up their gear daily.
Vancouver, BC, where our headquarters is located, is a hub for the outdoor industry. Arc'teryx, MEC and LuluLemon are here, so there's a high degree of talent within the industry that understands the paddler/consumer market. Getting connected to users and having users design and build the gear has been relatively easy. The crux has been getting involved in the community, especially during COVID. 
We're looking forward to partnering with paddling events, ambassadors and generally connecting with the grassroots outdoor community more.
Where do you see the paddlesports market heading? COVID has seen paddlesports boom. We feel the way to keep it going is to offer users the support and education needed to stay with paddlesports once COVID ends and the lure of other ways to spend dollars compete.
You made the acquisitions during the pandemic. Did that affect anything? The most significant advantage was that we zigged when everyone was zagging. We immediately jumped onto PPE and built medical gowns in our Canadian manufacturing center, keeping cash flow going while everyone cut spending and ramped down. Our ownership group didn't shy away from mergers and acquisitions during COVID and kept moving on its recreational strategy. It would have been easy to ramp down, but we were confident in our brand and strategy and kept the pace of growing up during COVID.
How was your business during the pandemic? Any supply-side or labor issues? The PPE project was huge and allowed us to keep humming during those initial months of uncertainty. Once the outdoor boom was fully on, we felt the supply crunch. We seem to be in the same boat as the rest of the industry—chasing capacity, material lead times and shipping challenges. We've been able to be agile enough for the most part, but keeping up with demand is a challenge. But it's a good problem to have compared to those early days of COVID uncertainty.
Any new technologies or products consumers can expect to see? We're excited to keep pushing the limits of marine apparel. We feel that there has been some stagnant thinking in paddling, fishing and sailing gear, and we are excited to bring some fresh thinking to market. On the PFD side, we continue to push the limits of what's possible from inflatable solutions—lighter, more comfortable and easier to use.
Photos courtesy Mustang Survival