Wal-Mart on Monday launched a new online store dedicated to higher-end outdoor brands with the help of Moosejaw, the outdoor specialist acquired by the discouter giant in early 2017.
The "Premium Outdoor Store curated by Moosejaw" microsite marks the first time Walmart created an online store on its flagship site for one of its recently acquired specialty retilers, which also includes Bonobos and Modcloth.
In an interview with SGB Executive, Eoin Comerford, general manager of Outdoor, Walmart's U.S. e-commerce and CEO of Moosejaw, said Wal-Mart's "whole strategy" in acquiring several specialty e-tailers was to bring a "wider assortment" to the Walmart.com platform. A curated website distinct from the Moosejaw.com website was eventually seen as the best path for both businesses.
Said Comerford, "As we looked at the strategy we really felt that this was the right way to do it in creating a destination site curated by Moosejaw. Not just creating a Moosejaw store, we already have a Moosejaw store. This is really creating a destination where we can bring the best brands from Moosejaw, from other specialty retailers, from brands that go direct to consumer and bring them all together in one place on the Walmart platform."
The initial brand lineup on the Premium Outdoor Store site runs nearly 50 brands, and includes Craghoppers, Deuter, First Ascent by Eddie Bauer, Gramicci, Jack Wolfskin, KLYMIT, LEKI, Stonewear and Tentsile. A full range of Moosejaw-branded clothing, jackets and gear is also available.
But the lineup is a far cry from the more than 400 brands featured on Moosejaw.com and it's missing many of Moosejaw's top brands, including Prana, Columbia, Merrell, Arc'teryx, Patagonia, The North Face, Marmot, Keen, La Sportiva, Scarpa and Salomon.
Confusing matters is the fact that some of the outdoor industry's premier brands are available for purchase from third-party sellers on Walmart.com through the retailer's online marketplace. Marmot, for example, has some items available for sale through third-party sites such as Outlet core, Onaiana and TCH Apparel but not directliy for sale from Wal-Mart. But the majority of outdoor's big names haven't been sold in any way across the Wal-mart online platform.
Comerford nonetheless said he was "very pleased" with the initial mix of brands that went live on Wal-Mart's Premium Outdoor Store site in the launch while indicating that more brands are in the pipeline to arrive, and Moosejaw received calls on Monday from other brands inquiring about potentially joining the site. Said Comerford, "It's an ongoing conversation that we're having with all the brands across our portfolio."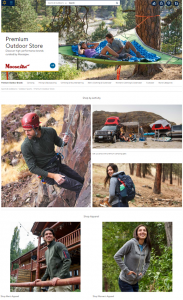 Comerford said the relaunch of Walmart.com in April in particular helped bring some outdoor brands on board with the launch. The updated site features less of a transactional and more of a lifestyle positioning. The upgrades include a clean and modern design, making it easy for customers to browse and shop. A list of top category sellers also helps customers discover what's trending.
Comerford noted that the Moosejaw-curated site leveraged the learnings from Walmart's partnership with Lord & Taylor, the department store chain, to brought a premium fashion experience. The Premium Outdoor Store site, he said, is essentially "taking that new lifestyle driven aspirational approach and applying it to outdoor."
Comerford added, "So really the new site, look and feel that we introduced was a real game-changer because what brands saw in the conversation about the Premium Outdoor Store was a new way for them to reach a new audience but in a very brand-friendly way. If you look at the experience that we've built out for a number of the brands, it tells the brand story; it uses the brand's imagery and really is a way to partner and get their message out there curated by and managed by a trusted retail partner in Moosejaw. So we were really pleased with the reaction that we've seen from many of the outdoor brands who might not have been interested in the previous iteration of Walmart.com, which was a little bit more transactional, to this new look and new feel that really takes the platform to a whole new realm."
For Moosejaw.com and Moosejaw's 10 stores, a primary benefit is getting the Moosejaw name in front of the "many millions of visitors" to Walmart.com daily in a positive way. Said Comerford, "It's really all about exposure. It gets the Moosejaw name in front of more people. As much as we'd like to think that everyone knows what Moosejaw is, that's not the case. So getting our name in front of people as the curator of a premium outdoor experience is a good message."
A side benefit is being able to offer Moosejaw's traditional vendor partners a sales venue that's "something a little different" to Moosejaw.com. Said Comerford, "We can go to our own brands we work with and say, "Hey listen, not only can we help you build your brand on Moosejaw.com or in our physical brick & mortar retail, but here we have this premium experience with really a ton of exposure that we will manage for you to make sure that it's exactly the brand experience you want to have."
While Moosejaw's broader mix will likely stand out as a differentiator even as Wal-Mart's outdoor store adds more vendors, also helping Moosejaw stand out is the brand's irreverent "Moosejaw Madness" stance that won't be translated to Walmart.com's site.
Moosejaw's "Madness" includes its goofy Test Lab Videos, as well selling bumper stickers that list French kissing among core competencies alongside climbing, mountaineering and backpacking or in-store quirks such as cashiers cooking s'mores at the checkout counter.
Overall, Comerford said that the merger with Wal-Mart has been beneficial in both supporting the brand's positioning as well as providing the platform for growth.
"It's really been great," stated Comerford. "The Wal-Mart team has been very cognizant of 'Moosejaw staying Moosejaw' and keeping our culture, which is incredible. But then great thing is they've translated it into growth."
The first half for Moosejaw has generated "some of the highest growth" the company has ever seen, in part due to enhancements brought on by the acquisition.
For instance, Moosejaw has been able to leverage Wal-Mart's scale to offer two-day delivery (free on orders over $49.00). Previously, Moosejaw relied on free economy shipping. Said Comerford, "So it's six to 10 days versus two days. Obviously customers love that."
Moosejaw's rewards program under Wal-Mart's ownership has been enhanced to make it significantly easier to use. That's driven a 50 percent hike in redemption rate, a sign of growth in repeat customers. Moosejaw's website has also become "noticeably faster' with upgrades under Wal-Mart's infrastructure and "we're continuing to invest in our online experience. So it's really brought a lot to the table to help supercharge Moosejaw."
Looking ahead, expect to see more advancements as Moosejaw benefits from Wal-Mart's aggressive investments online and in the overall digital experience. As note in a blog entry announcing the initiative, Moosejaw is one of the partners with Store No 8, Walmart's technology incubator, and has been testing how virtual reality can enhance the outdoor shopping experience online. Said Comerford, "We are definitely at the bleeding edge of retail technology."
Wal-Mart doubled its commitment to online retailing with the acquisition of Jet.com for $3 billion in cash in September 2016. The comapny has since acquired a number of niche online boutiques, including Moosejaw as well as men's apparel company Bonobos, women's fashion and accessories company ModCloth and online footwear shop Shoebuy.com. The Jet.com acquisition included Hayneedle, an online seller of home furnishings. Moosejaw was acquired in February 2017 for $51 million.
A Wal-Mart spokesperson told SGB that Wal-Mart has no plans at this time to open other themed destination sites curated by its other smaller niche sites.
Photos courtesy Wal-Mart