Modell's Sporting Goods Inc., after nearly six months in bankruptcy proceedings, filed its Chapter 11 liquidation plan that calls for unsecured creditors, including trade vendors with claims, to recover less than one percent of their claims.
The disclosure statement, filed September 18 with the U.S. District Court for the District of New Jersey, also provided a summation of the New York City-based chain's bankruptcy reorganization efforts that were halted with the emergence of COVID-19.
Modell's entered bankruptcy proceedings with a plan to liquidate all of its 134 stores while continuing to explore a recapitalization of its business through a sale of some, or all, of its assets or equity investments to revive the failed business. The coronavirus pandemic not only challenged its efforts to find a suitable investor but delayed the liquidation sale. And because sporting goods stores are not deemed essential businesses, state directives shuttered the company's stores shortly after the bankruptcy filing date, effectively preventing the liquidation sales from proceeding.
Modell's disclosure plan indicated that administrative claims of $4.8 million would be paid in full. Full recoveries are also set for holders of secured tax claims, priority tax claims, other secured claims, and other priority claims.
As of the petition date, unsecured claims against Modell's were in excess of $100 million, according to the plan document. The claims included accrued and unpaid trade and other unsecured debts incurred in the ordinary course of business, unpaid amounts owed to vendors and claims for unpaid rent and other obligations under its leases.
Unsecured claims also included a $6.8 million loan from Mitchell Modell, CEO and owner of the retail chain, in June 2019 to help overcome a liquidity crisis at that time. Modell took ownership of the company in April 2019.
Modell's was also jointly liable with Henry Modell & Company to make quarterly contributions to its pension plan that was underfunded by $25.8 million. The pension claim is being treated as an unsecured claim.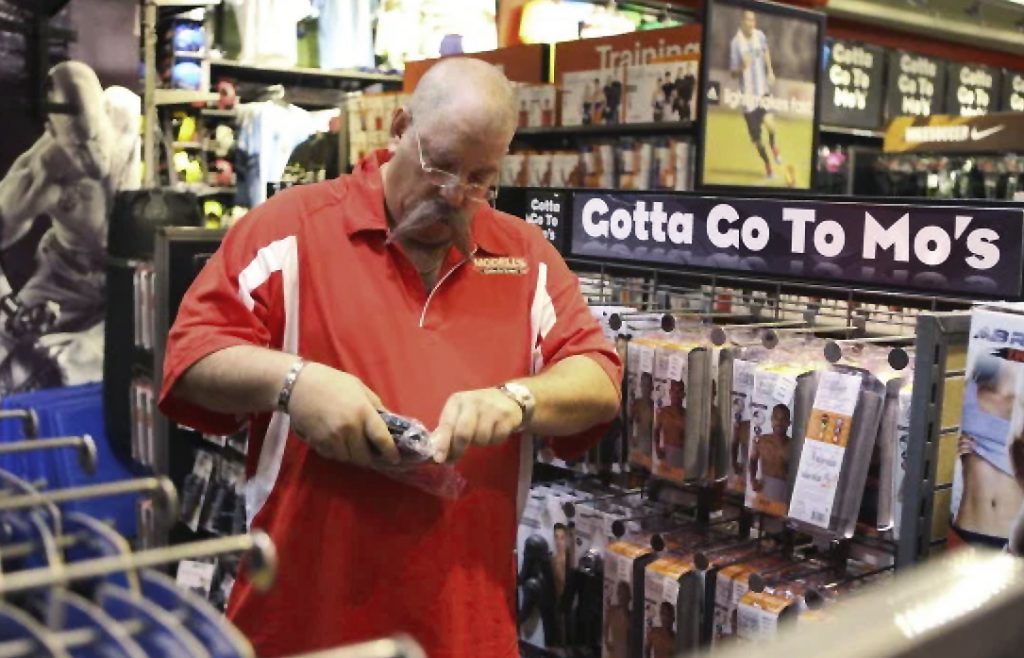 The Path To Liquidation
Modell's bankruptcy and subsequent liquidation follow several years of "Diminished Operating Performance" amid a challenging commercial environment, according to the disclosure statement. The challenges for Modell's were exacerbated by increased competition from big-box and specialty sporting goods retailers, declining participation in team sports among youth and teens and a shift in customer preference away from physical retail stores toward online-only stores.
According to the disclosure statement, Modell's was "heavily dependent on in-store traffic, which declined in recent years." Modell's financial conditions were also "weighed down by a store footprint that is disproportionate to market demands."
Complicating matters, the Northeastern states, where Modell's operated, experienced unseasonably warmer weather than expected in December 2019 and January 2020, causing a decrease in cold-weather apparel and footwear sales.
The success of regional sports teams "also significantly influenced" Modell's sales, and sales were impacted by a lack of success by teams in New York where most of the company's stores were located.
Outside weak sales overall, Modell's never fully recovered after vendors demanded more favorable terms, including reduced payment schedules or cash in advance and reduced customary trade credit, following rumors of a potential bankruptcy sparked by an article in the Wall Street Journal published in February 2019.
The article detailed Modell's missed payments in February and March rents on most of its stores and significantly curtailed payments to the majority of its vendors due to liquidity challenges. According to court filings, the liquidity challenges were partly due to general underperformance but also because of higher than expected costs to move into a new distribution center.
Modell's, subsequently, in early 2019, suffered a disruption in its inventory position which impacted its retail location of needed merchandise for several months that negatively affected its financial performance. The $6.2 million loan by Mitchell Modell helped shore up credit, and Modell's in early 2019 was also able to obtain rent deferrals, re-negotiate many of its store leases and secured improved payment terms from vendors. Yet Modell's continued to miss sales targets in the back-half of 2019 that caused "another strain on liquidity."
Sales Process Unsuccessful
In January 2020, Modell's retained RBC Capital Markets (RBC) to explore a sales process. RBC had been retained in January 2019 to explore a sale, but the process ended by the summer after Mitchell Modell's investment and as trade credit stabilized.
After January 29, 2020, RBC contacted 14 strategic buyers, some of which who were also contacted in early 2019. Negotiations with a potential bidder on a going concern sale were ongoing before the bankruptcy filing but were "ultimately unsuccessful."
Reports at the time identified JackRabbit, which acquired Maine-based Olympia Sports in October 2019, as a prospective bidder.
The filing also noted that the Mitchell Modell, in the final weeks before the bankruptcy, was able to secure additional rent concessions from certain of its landlords to support an out-of-court restructuring but "lacked sufficient liquidity to execute on a business plan that would be acceptable to their vendors."
In the weeks leading up to the bankruptcy filing, prepetition lenders increased discretionary reserves further constraining already tightening liquidity. By the date of the bankruptcy filing, prepetition lenders had imposed incremental reserves of $18 million. As a result, Modell's availability, under the credit agreement, "was reduced to a mere $9.589 million and deprived the debtors of sufficient liquidity to continue to operate in the ordinary course of business."
Modell's began liquidation sales in mid-March, but sales in its stores were soon postponed as the coronavirus pandemic began ramping up. In late June, going-out-of-business sales at its remaining 104 locations resumed. Proceeds largely supported payouts under the disclosure plan.
On August 10, Retail Ecommerce Ventures, led by digital entrepreneurs, Dr. Alex Mehr and Tai Lopez, acquired Modell's intellectual property and other assets related to the e-commerce business for $3.64 million. Modell's had drawn two bids at a bankruptcy auction for those assets.
Modell's also retained A&G Realty Partners to sell its leasehold interests but was only able to sell the lease to its location at 531 86th Street, Brooklyn, NY for $217,604, over the objection of the landlord.
Other information included in the disclosure plan:
Founded in 1889, Modell's was America's oldest family-owned and operated retailer of sporting goods, athletic footwear, active apparel, and licensed fan gear;
For the fiscal year ending February 2020, Modell's had gross sales totaling approximately $490 million;
As of the petition date, Modell's balance sheet reflected approximately $220 million in assets and approximately $288 million in liabilities; and
As of the petition date, Modell's employed approximately 3,623 employees, comprised of approximately 341 full-time employees and 3,282 hourly employees.
Photos courtesy Modell's