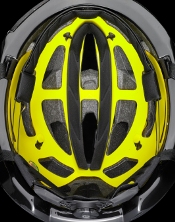 MIPS AB said its patented Multi-directional Impact Protection System will be available from 14 new bike helmet brands next season.
MIPS will be available in mountain, road and commuter models from newly signed partners including Bern, Bontrager, Kellys, Limar, Louis Garneau, MSC Bikes, Specialized, and Zero rh+.
"As the conversations and awareness of head trauma injuries have elevated recently, so has the awareness of the benefits of MIPS," says Johan Thiel, MIPS CEO. "This summer we've seen our partner helmets sell through at retail better than ever before, and we expect consumer demand to continue to rise in 2016 with the addition of leading cycling brands offering MIPS."
MIPS is currently available in 95 helmets from over 40 brands, and will feature in 180 additional models for 2016.
Helmets are currently tested by dropping them vertically onto a flat surface; however, most impacts are angled and expose the brain to large rotational violence causing strain in the brain tissue. The brain is sensitive to strain.
MIPS designs mimic the safety systems already existing in the human head by dissipating some of the rotational violence and allowing a relative movement between the helmet and the head. The combination of the brain's own protection and MIPS can provide better protection from angled impacts, the company claims.
MIPS AB was founded by five specialists in the biomechanical field from the Royal Institute of Technology (KTH) and has extensive technological and medical expertise focused on preventing head injuries. MIPS was founded in 2001 and is based in Stockholm, Sweden.