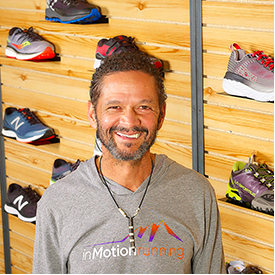 Renowned physical therapist and co-founder of Boulder Running Company Mark Plaatjes announced the opening of In Motion Running, a new locally owned running specialty store that will integrate running shoes, apparel and accessories with a full-service physical therapy practice.
Located in the Market Square Shopping Center at 1830 30th Street in central Boulder, In Motion Running will focus on customer service, shoe-fitting, advanced running gait analysis and inspiration and guidance for all levels of runners. With a renowned physical therapy and massage clinic onsite, it can help runners rehabilitate from minor aches and pains to major injuries with sports massage, dry needling and ultrasound treatments.
Plaatjes is longtime Boulder resident and business owner who won the marathon at the 1993 IAAF World Championships and graced the cover of Runner's World 25 years ago this month.
"The mission of In Motion Running is to serve the Boulder running community in every way we can," Plaatjes said. "Owning running store is not about selling shoes and gear. It's about inspiring runners to enjoy running and achieve new goals, immersing in the local running community and helping each and every customer become the healthiest runner or walker they possibly can. That is accomplished by understanding each runner's unique movement patterns, helping them strengthen their body and improve their mechanics for running, fixing any ailments and, of course, properly fitting them into the right shoes for the type of running they do."
The newly redesigned 5,000-square foot space will feature road running and trail running shoes from 10 leading brands, plus a wide range of apparel, accessories and nutrition and hydration products. In Motion Running will also offer a variety of fun runs, training groups, yoga sessions and various other in-store events all aimed at serving and celebrating the Boulder running community.
Plaatjes is a prominent physical therapist with a sophisticated understanding of how the human body moves, how to fix common and complex running injuries and how to fit runners into the best possible running shoes. As the longtime owner of In Motion Rehabilitation and previously an owner running other running retail stores, he has helped keep both recreational world-class athletes on the path of happy, healthy running in Boulder for more than 25 years.
After retiring as a world-class runner in the mid-1990s, Plaatjes became the first running retail store owner to examine runner's gaits using a treadmill, video cameras and expert, anatomically based insights. Many stores followed that practice, but curtailed that type of analysis as running shoes, running gait research and technology changed. In 2019, In Motion Running will be using a state-of-the-art force-plate treadmill to offer advanced personal gait data typically only available in a laboratory setting
"Early in my career when I started doing gait analysis, I realized there were no running stores doing anything specifically to help runners find the right running shoes for them," Plaatjes said. "That's why I wanted to get into the running retail business in the first place."
"You can't just put a runner in a shoe and ask them if it feels comfortable. You have to understand each individual runner's mechanics, how they move, how they run, where they run, their foot shape, how the surface of their foot interacts with the interior of a shoe and synthesize all of that and come up with some proper options for that particular runner. Now more than ever it's important to fit runners into the right shoes, and that's one of the reasons I was inspired to open In Motion Running."
While Plaatjes is the owner and founder of the store and clinic, it will truly be a family affair. His wife, Shirley, is the PT clinic's resident certified massage therapist, while daughters Luz Plaatjes (apparel buyer), Camille (assistant accessories and apparel buyer) and Gene (bookkeeping assistant) will also serve key roles. The experienced staff also includes manager Tammi Pham, footwear buyer Greg Weich, inventory manager Lauri Mizener, clinic manager Marcy Roschke and shoe-fit expert Stephen Sanchez.
In Motion Running will host numerous in-store events, including local athlete nights, Thursday evening fun run and Monday night pub runs, and produce articles, videos and podcasts about training, injury prevention, racing, recovery and more. The store will also sponsor local races, get behind local school programs and support local athletes, Plaatjes said.
"Running is a sport that is all about community, and we want In Motion Running to be a hub of the amazing Boulder running community," Plaatjes said. "Boulder is one of the world's special places when it comes to running, and we want to embrace the local community and celebrate the shared passion of running that Boulder exudes."
Image courtesy Motion Running