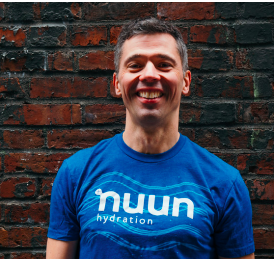 Kevin Rutherford, president and chief eternal optimist of Nuun and Company, will share some secrets about creating a dynamic workplace culture in a keynote address at the 2019 Running USA Industry Conference.
"Culture is where strategy lives," said Rutherford. "Are you challenging your people enough to foster your unique culture and bring it to life through your brand, events, and services?"
Rutherford joined Nuun in 2013 bringing an impactful 18-year CPG leadership background. Previously, he was president and CEO of Mrs. Meyer's Clean Day, director of marketing for Kashi, and a senior brand manager at Miller Brewing and SC Johnson.
Rutherford strongly believes culture is your competitive advantage and has demonstrated this philosophy as both Nuun and Mrs. Meyer's Clean Day were named to Outside Magazine's Best Places to Work list under his leadership.
"With the speed of change in the marketplace, how do you stay on pace?" asked Rutherford. "Culture can be your change agent and strategic advantage. As leaders we have the ability to foster our teams not only to keep up, but to stay ahead."
"We're excited to welcome Kevin back as to open the conference for 2019," said Christine Bowen, Running USA vice president of programming, partnerships and operations. "His practical approach to smart business management is a perfect fit for our audience, who appreciate concrete takeaways applicable to the endurance space."
Set for Feb. 10-12 in San Juan, Puerto Rico, the 2019 Industry Conference is powered by the ACTIVE Network. Conference prices increase on November 15, 2018. Register soon as the conference price increases on November 15, 2018.
Questions about travel to Puerto Rico? It's easy and affordable. Find all the details and answers to your questions on our Puerto Rico 411 page.
Since its origins as a small gathering of Running USA's founders in Southern California in 2004, the Running USA annual conference has been held in Los Angeles, San Diego, Savannah, Houston, San Antonio, Orlando, New Orleans and now San Juan, Puerto Rico. Register here.
Running USA is a tax-exempt, not-for-profit organization devoted to improving the status and experience of distance running and racing in the United States through collective marketing and promotions, information and communications within the industry and to the national media, services to events and industry members, and the development of American world class stars.
Image courtesy Running USA