By Thomas J. Ryan 
Lululemon Athletica, at its first analyst day in five years and first under new CEO Calvin McDonald, unveiled a five-year growth plan to double its men's and digital businesses and quadruple its international business. Surprises include its planned expansion of fitness accessories, including rollers and training gloves, and its entry into the footwear category.
Lululemon currently offers a selection of sneakers from Los Angeles-based lifestyle sneaker company, Athletic Propulsion Labs (APL). Prices range from $140 to $200 for APL's trainers and slip-ons. Lululemon plans to make footwear in-house.
"We tested and we learned a lot on footwear and what we learned is: The guest resonates with us selling footwear," McDonald said Wednesday in New York City. "We've identified white space that we can create within the footwear category, and we will be in footwear."
More details on its footwear entry were promised to arrive later this year. McDonald stated, "We are looking to do it ourselves and we'll share more at a later date."
Overall, Lululemon's strategic plan calls for annual revenue growth in the low-teens for the next five years, operating income growth topping revenue growth, EPS growth matching or exceeding operating income growth, capital expenditures of 6 percent to 8 percent of revenues, and annual square footage growth in the low double-digits.
Lululemon said its core women's business and its "agile" store formats in North America will also remain focus areas and are expected to generate revenue growth in the low double-digits annually for the next five years.
The company's "Power of Three" strategic plan that's expected to drive revenue growth over the next five years includes:
Product innovation | Lululemon expects to more than double the size of its men's revenues by 2023 and to continue to expand in the women's and accessories businesses. It also plans to continue its product collaborations, expand its popular office|travel|commute category, and pursue new opportunities such as self-care.
Omni experiences | The company expects to more than double its digital revenues by 2023. It will focus on offering integrated experiences across channels designed to "inspire, provoke and celebrate guests who live a healthy and mindful lifestyle" across multiple experiences, including events, new store formats and its new loyalty membership program.
Market expansion | The company plans to quadruple its international revenues by 2023, with expansion across China, the APAC and EMEA regions continued areas of focus. Lululemon also believes that considerable growth potential remains in both the U.S. and Canada.
The updated new growth plan follows a record 2018 for the chain during which its net revenue rose 24 percent to $3.3 billion and same-store sales surged 18 percent. It also arrives after the retailer exceeded three of its 2020 financial targets in 2018, two years ahead of schedule. These include achieving an operating margin of 21.5 percent, a gross margin of just over 55 percent and having e-commerce penetration reach 26 percent.
"We really are in the early innings of our full potential," said McDonald, who joined Lululemon team as CEO last August after Laurent Potdevin was ousted amid misconduct allegations. He came from LVMH's beauty retailer Sephora, where he was head of the Americas region.
"It's now been nine months since I joined Lululemon … And the one word that kept resonating in any market I've [traveled to] was the opportunity that still rests ahead for Lululemon in both North America, in any international market, in our stores," McDonald told analysts. "There's a huge opportunity for us to build upon where we are today."
Expanding men's is seen as a significant opportunity and the category remains on track to reach $1 billion in annual sales by 2020.
"We have very low brand awareness with men," admitted McDonald. "The opportunity to just be known. And therefore, to have them consider us, choose us, to see the product and assortments that we offer them for their needs within both 'sweat' and 'to & from' is significant."
But the further opportunity is "also being understood" by men as a brand for both genders. He added, "Who is a Lululemon? What does it stand for? Why is it different? What does it mean by the Science of Feel? And why is it the right brand for me?"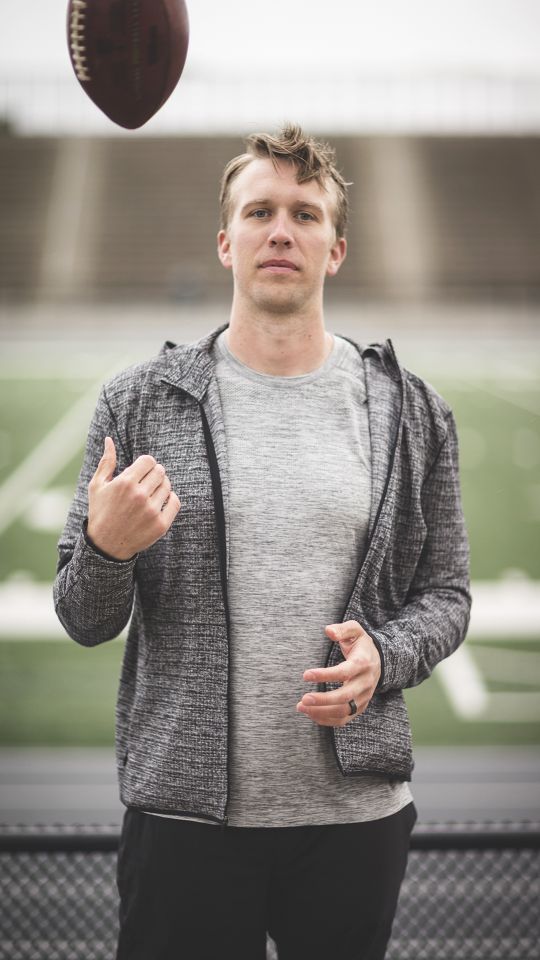 Chief Product Officer Sun Chloe said, "We are really trying to get over the idea that Lululemon is a woman's brand." Lululemon recently signed an endorsement deal with former Eagles quarterback Nick Foles, shown left, to become its first men's ambassador.
To better reach men, Lululemon will be adding more items designed specifically for them, like better-fitting running shirts, instead of just building on previous women's lines. A new running line, Fast and Free, containing thermal-regulation properties will particularly target men. The line will include split shorts and singlets.
The push into menswear comes as Nike has begun targeting Lululemon's core female audience with the launch of its own line of yoga wear at the end of last year.
In other newer areas, Lululemon will expand accessories, including placing an emphasis on purses, as well as equipment such as fitness rollers and training gloves. The lower price points on typical accessory items are expected to help bring younger consumers to Lululemon and support give-giving opportunities.
Lululemon will also roll out its Selfcare range to 50 stores this June after a successful test at select stores last year. The test included a deodorant, dry shampoo, and lip balm.
At the store level, McDonald said Lululemon is planning to invest more "in creating dynamic experiential moments" for customers. In July, a 25,000-square-foot store will open in Chicago's Lincoln Park. The store will have yoga studios, meditation spaces, juice, and food. By 2023, about 10 percent of Lululemon's total brick-and-mortar fleet will be considered "experiential" like the Chicago store, the CEO said.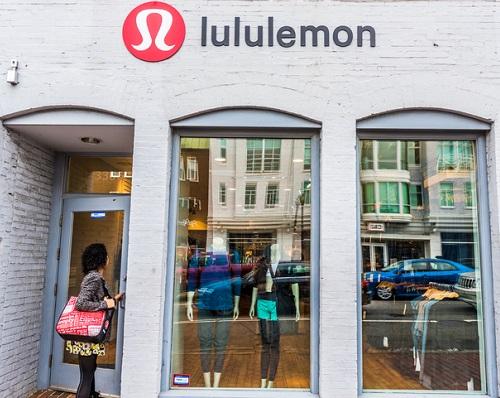 Overall, Lululemon plans to open up to 50 stores in total this year, including up to 30 stores in international markets. The retailer operates 440 locations globally, including 285 in the U.S.
Expansion abroad will focus on China and other Asian markets and Europe. Revenues from China are expected to exceed those from Europe, Australia, and New Zealand combined by 2023, said Stuart Haselden, COO, at the event. That potential comes from the country's level of urbanization, as well as its number of online users and millennials.
To help boost online sales, Lululemon said it plans to take its buy online, pick up its in-store option from 35 stores currently to its entire fleet in North America by the upcoming back-to-school season. It's also growing its online assortment to be double what it sells in stores.
The company's first loyalty program is being piloted with plans to roll out across North America. Members pay an annual fee for perks including expedited shipping, workout classes, exclusive products, and a personal development curriculum. Celeste Burgoyne, EVP of Americas Retail, noted that the loyalty program is expected to boost digital revenues but is also proving to be a strong vehicle for acquiring new customers.
Photos courtesy Lululemon