By Thomas J. Ryan
Lululemon Athletica's acquisition of in-home fitness company Mirror for $500 million relies on a bet that more people are going to be pivoting to exercise inside their homes.
Launched 2018 by Brynn Putnam, a former dancer with the New York City Ballet and Lululemon ambassador, Mirror sells a $1,500 interactive, wall-mounted device that streams live and pre-recorded classes. Ongoing subscription fees come to $39 per month (for up to six people in a household). Personal training sessions from boxing to boot camp to yoga and meditation run an additional $40 each.
While taking classes like cardio workouts, yoga and boxing, customers can see key metrics like heartbeats-per-minute (or BPM) and calories burned. The device, which is controlled by an app on the user's mobile device, comes with fitness bands, a stand and Bluetooth heart-rate monitor.
Mirror is seen as a competitor to other at-home workout equipment makers including Peloton. Many former gym users have flocked to these devices during the coronavirus pandemic, with fitness studios forced to shut to curb the spread of COVID-19.
Lululemon, with nearly 500 stores globally, is expected to significantly raise awareness for Mirror. The acquisition will also further expand the content creation partnership between the two brands and also help Lululemon and Lululemon's ambassadors reach new customers.
The acquisition will be the first for Lululemon. It follows a $1 million investment that the yoga-inspired athletic and athleisure brand made in Mirror in mid-2019, and Mirror has raised $72 million from investors to date. Last year's Lululemon deal also involved a content agreement between the two companies whereby various fitness and yoga classes by Lululemon ambassadors were offered on the Mirror platform.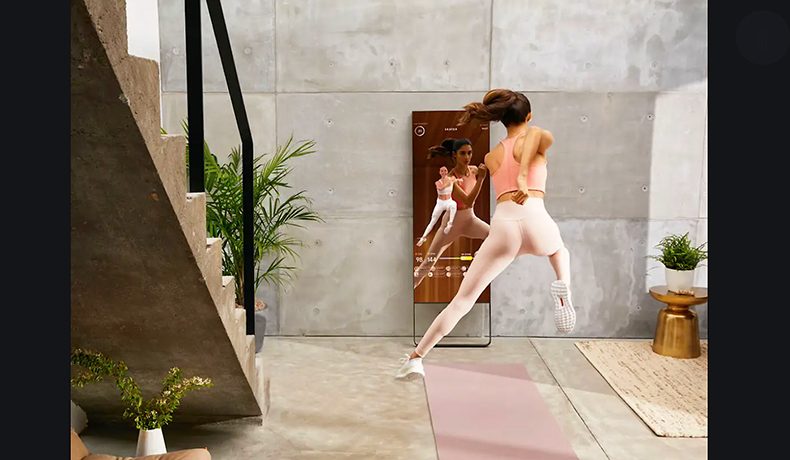 On a conference call with analysts, Lululemon CEO Calvin McDonald said the acquisition fits into the brand's five-year vision and strategy laid out last year at its Analyst Day to "integrate both digital and physical experiences." At the time, Lululemon introduced its Sweatlife customer acquisition and retention strategy built on three pillars — Sweat, Grow and Connect — that seeks to help people reach their fitness goals and become their best selves through meditation, restoration and recovery and by creating bonds with others to strengthen a sense of community.
"The acquisition of Mirror is an exciting opportunity to build upon that vision, enhance our digital and interactive capabilities and deepen our roots in the Sweatlife," said McDonald.
McDonald said Mirror remains at the early stages of its growth lifecycle and has "grown incredibly fast in just two years with so much runway ahead, given the expanding home fitness market." Lululemon sees Mirror competing in the $500 billion market for global physical activity, a rapidly-growing subset of the $3 trillion market for global wellness.
Mirror's member demographic is split half between female and male offering 70-plus new classes per week and 40-plus types of classes. Currently, just 10 percent of U.S. consumers are familiar with Mirror "so the potential around driving awareness and consideration is significant," said McDonald.
Outlining the benefits to both sides, McDonald said Lululemon brings to Mirror:
Access to Lululemon's large, growing and loyal guests;
the ability to leverage distribution channels to scale growth;
marketing channels that will lower guest acquisition costs;
expanded talent for content through Lululemon's ambassador community;
a reduction of barriers given Lululemon's strong brand credibility; and
lead generation from Lululemon's most-engaged guests.
For Lululemon, Mirror provides:
The capacity to expand and innovate its Omni-guest experiences;
a platform to enhance and scale guest offerings;
the potential to accelerate the monetization of the home fitness opportunity;
an immediate revenue stream with a path to profitability;
the ability to amplify Lululemon's ambassadors and overall community engagement; and
the ability to establish product integration opportunities.
For Lululemon, Mirror builds on the brand's Power of Three growth plan which includes driving the business through Omni-guest experiences, according to McDonald. Pre-COVID-19, 64 percent of its customers utilized an at-home fitness option. During the pandemic, 75 percent of Lululemon's customers utilized an at-home fitness option, and 86 percent indicated they plan to use an at-home fitness option post-COVID-19.
"Digital content is changing, and studio and trainer models for ambassadors are changing," said McDonald. "With Mirror, we have more opportunities online with experiences that create a community feel through the digital environment."
The business is expected to generate $100 million in revenues this year and is projected to either break even, or be slightly profitable, in 2021. Following the closing of the deal expected in the second quarter, Mirror will run as a standalone company within Lululemon, and Putnam will continue as Mirror's CEO.
Putnam said in a statement, "We are thrilled to officially become a part of the Lululemon family. As part of Lululemon, Mirror can further strengthen its position and accelerate its growth by leveraging Lululemon's deep relationships with its guests, ambassadors and communities as well as the company's infrastructure, including its store network and e-commerce channels, to acquire new users."
In a note, Stifel's Jim Duffy said he believes the Mirror acquisition will enhance Lululemon's existing digital ecosystem and improve its direct dialogue with new and existing consumers. Duffy wrote, "While there is a 50 percent crossover between Mirror and Lululemon customers, we believe LULU's learnings over the life of the 1-year relationship gave management confidence in the transaction (in addition to Mirror CEO Brynn Putnam being a prior ambassador). In our eyes, LULU's engagement with its devout customers is already best-in-line class, including efforts throughout the COVID-19 pandemic to remain connected (through its Community Carries On effort and offering online classes), and the acquisition will hopefully only further improve digital competencies."
Susan Anderson, at B. Riley FBR, is confident Lululemon will be able to utilize its brand power to help drive Mirror sales and also drive Mirror users to purchase Lululemon apparel. In a note, she said the Mirror's $1,495 initial cost is significantly lower than Peloton (bikes starting at $2,245). She also estimates that Mirror will have in the range of 60k to 80k subscribers by fiscal year end, well below expectations of 1.04 to 1.05 million paid subscribers for Peloton by the end of FY20. She believes this provides Mirror with "the opportunity to substantially grow."
In a note, Sam Poser, at Susquehanna, wrote that the acquisition adds another way for Lululemon to personally engage with customers and provides opportunities for personal interactive commerce for consumers as well. As far as driving apparel purchases, Poser highlighted the benefit of trainers wearing Lululemon in Mirror sessions. The analyst added that although Lululemon's management hasn't commented, he's confident that Lululemon will find a path to sell Lululemon product directly the Mirror sold platform.
Wrote Poser, "It is unclear if MIRROR's mirror will have the capability of superimposing Lululemon product on one's reflection so customers can view what they look like in an outfit from home. We know the technology exists to superimpose such images, but are unsure if MIRROR's technology has or can be updated to provide such a service. If such an update exists and is available, and we believe it is, it would be a game changer and place LULU far ahead of most every brand and retailer out there."
Photos courtesy Mirror