The U.S. performance running market has turned a corner during the COVID-19 pandemic. Dollar sales rebounded in mid-May and in the week ending June 20 grew by 30 percent compared to last year – the highest sales gain in a given week since the start of 2020, according to The NPD Group.
For the last five weeks, performance running shoe sales have been trending positively compared to last year and averaged 11 percent sales growth during this time.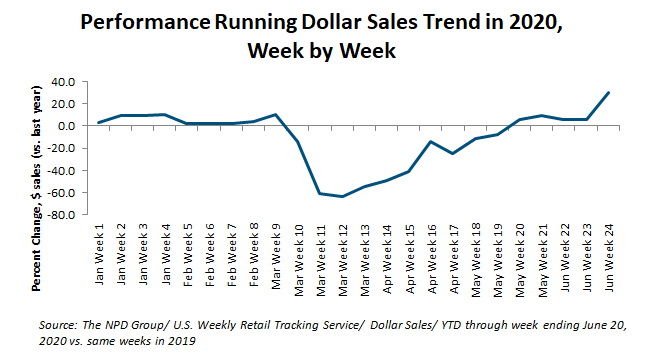 NPD said brands with strong niche focus on performance running have consistently outperformed the market during these weeks. Brooks, Hoka One One and On Running have all shown double- and triple-digit growth for the past five weekly time periods.
"We are seeing a renewed interest in and commitment to health and fitness take hold, and I expect performance running will be a real beneficiary in today's COVID-19 world. With sales declining on an annual basis and athleisure becoming the driving force in footwear, it has been a mixed bag for the performance running footwear market; however, the current environment could work in its favor," said Matt Powell, NPD's sports industry advisor. "We should see running benefit in the COVID-19 recession as this market has typically performed well during recession. In addition, consumer inclination towards more practical purchasing and social distancing bodes well for the continuation of a positive running trend."
Photo courtesy Trail Sisters/Heidi Kumm, Graph courtesy NPD