Kohl's Inc. warned that back-to-school was off to a slow start and a promotional climate is expected for holiday selling. However, the middle-market chain expects to gain significant market share as COVID-19 causes competitors to close and accelerates trends toward casualization and active lifestyles.
"COVID has accelerated important movements that have been underway for some time," said Michelle Gass, CEO, shown above, on a conference call with analysts. "Customers are adopting more active and casual lifestyles, and they're shopping more digitally."
Active Expands Over 70 Percent Online In Q2
Kohl's provided its outlook while reporting second-quarter results revealing a loss on an adjusted basis, but both sales and earnings were better than Wall Street's targets.
In the second quarter ended August 1, active was among the outperforming categories, with sales increasing more than 70 percent digitally.
"We leveraged our three key national brand partnerships and Nike, Under Armour and Adidas to deliver solid results in active apparel," said Jill Timm, CFO, on the call. "We also saw a really strong demand for Champion, a brand that we expanded last year, and we'll continue to lean into in the future."
Also an active, Kohl's investment in building out its assortment of inclusive sizes, is paying off with "significant" growth in the second quarter, driven by the launches of Under Armour and Adidas plus sizes earlier this year and Under Armour big & tall last fall.
Looking ahead, Gass said Kohl's will build on the strong trend around active and casualization to drive market share as competitors such as JC Penney filed for bankruptcy, and others such as Stein Mart and Stage Stores undergo liquidation. She said Kohl's remains focused on driving the active business, long an emphasis for the chain, through its key national brand partners Nike, Adidas and Under Armour. The retailer will also lean further into athleisure through both its existing brands, as well as the expansion of Champion.
"We will also dedicate more space to active, and we are introducing new casual brands like Lands' End and Toms shoes," said Gass. The introduction of Lands' End and Toms to Kohl's selling floors was announced earlier this year.
Overall, Gass said Kohl's has always been known as a casual destination "and we will take full advantage of growing customer trends living their life more casually. Today, more consumers are working from home, adopting flexible work schedules and are dressing more comfortably and casually. We believe these trends will carry on beyond COVID."
She added, "As a result, we are optimizing and evolving our assortment to reflect these trends, and we will build our strength as a casual destination by providing more options to drive even greater relevancy."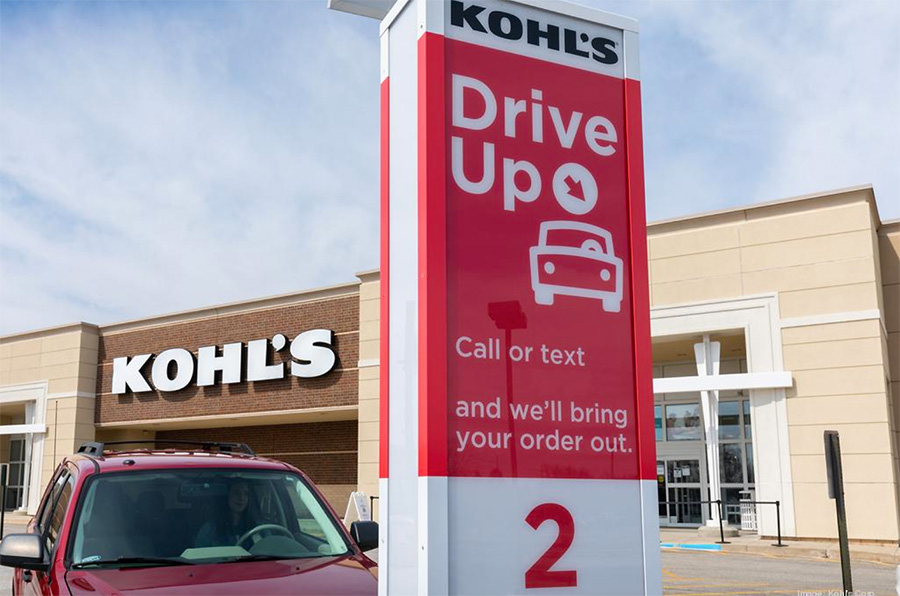 Home And Children Categories Outperform In Q2
Overall sales in the second quarter ended August 1 fell 23.1 percent to $3.41 billion from $4.43 billion, exceeding Wall Street's consensus target of $3.09 billion. The decline was caused by Kohl's stores operating with approximately 25 percent fewer days than last year and with limited hours since reopening.  Store productivity for reopened stores in the quarter was approximately 75 percent. Kohl's is not reporting comparable sales due to store closures.
Online sales jumped 58 percent, representing 41 percent of sales in the quarter versus 20 percent last year.
Gaas said the company's broad investments in site functionality, personalization and site shopability "were crucial in our ability to capitalize on growth in the current environment." Bringing digital search in house last fall, along with investments in machine learning, is helping drive improved search results and media buying.
At the store level,  the launch of curbside pickup "has been particularly successful and will be an important capability this holiday season," the CEO added. She said reopened stores performing operating at 75 percent productivity isn't surprising given the ongoing "fear" about in-store shopping and reduced hours. She also said stores are playing a bigger role supporting the online business with customer pick-up accounting for 15 percent of digital demand. Inventory from stores also fulfilled nearly 50 percent of digital sales orders.
Among other categories outperforming, home increased double-digits overall and over 90 percent digitally. Strong demand was seen for cookware, food preparation and kitchen electric, as well as bedding, furniture and décor. Children's performed above the company average with double-digit growth in toys and solid demand for baby gear and sleepwear. Softness was seen in apparel such as men's and women's dress attire.
By month, May was the most challenging period in the quarter as a majority of Kohl's stores were closed for most of the month. A strong rebound was seen in June as the vast majority of stores reopened, and digital's momentum continued. However, Kohl's saw sales deceleration in July as COVID-19 concerns heightened in areas of the U.S. where cases had escalated. Gass also said Kohl's saw a softer start to the back-to-school selling season attributing it to increased uncertainty around kids returning to school.
She said that while back-to-school selling had started slower than expected, much of the assortment for back-to-school is its core product, such as basic, active and denim, that could sell year-round.
Gross margin in the quarter eroded 569 basis points to 33.1 percent from 38.8 percent. Approximately 295 basis points related to the increased promotional activity and the lower-margin home category that continues to outperform. The remaining 275 basis points related to higher shipping costs due to increasing digital sales penetration.
SG&A expenses were down 17.3 percent to $1.05 billion a year ago, primarily due to lower store payroll marketing and credit expenses. As a percent of sales, SG&A increased to 30.8 percent of sales from 28.6 percent a year ago.
Kohl's achieved positive adjusted EBITDA of more than $200 million, operating cash flow of more than $250 million, and ended the quarter with $2.4 billion in cash, up from $2 million at the end of the first quarter and $625 million a year ago. The improvement in cash flow reflected disciplined management of expenses, including lower capital expenditures, and tighter inventory control.
Inventories were down 26.2 percent, driven by lower inventory receipts during the quarter and its ability to work through existing inventory as stores reopened. Timm said, "As we look to the balance of the year, we will continue to manage inventory tightly with the opportunity to chase into demand."
Kohl's reported a net profit of $47 million, or 30 cents a share, in the quarter, down 80.5 percent from $241 million, or 1.51 a year ago. The latest period benefited from a sale-leaseback transaction for two of its 14 distribution centers that also helped improve its cash position. Excluding the gain on sale of real estate as well as COVID-19 impairments, the loss on an adjusted basis was $39 million, or 25 cents a share, against earnings of $247 million, or $1.55 a year ago. Wall Street, on average, was expecting a consensus loss of 88 cents.
Conservative Planning For Holiday
Looking ahead, Gass said the retailer continues to plan conservatively for the balance of the year. She said, "It's important to remember that we are still operating in the midst of a pandemic. Consumer behavior has been profoundly altered given safety and spending concerns, and we don't expect this to change in the near term."
Turning her attention to the holiday season, she said Kohl's will close on Thanksgiving Day to allow employees to be home with their families. Kohl's expects customers to get ahead of their holiday shopping and increasingly leverage its digital and omnichannel capabilities.
Said Gass, "We are making adjustments to drive and capture anticipated early holiday demand, beginning in October, across all of our channels. We have a compelling holiday assortment that speaks to how our customers are living today. We will emphasize cozy and comfort, our home category and kids' toys.  We feel really good about the content and relevance of our key holiday items as well as our ability to chase demand."
Photos courtesy Kohl's