By Eugene Buchanan
When Shelley and Andrew Dunbar purchased Colorado-based Neptune Mountaineering out of bankruptcy in early 2017, they already had their hands full. For the previous 20 years, they had also been running the North American distribution for Australia-based outdoor brand Sea to Summit. With the sale of that business back to Sea to Summit this past spring, they're now focusing their full attention on retail — and the results are showing.
Located at 633 South Broadway in Boulder, Neptune Mountaineering was founded by Gary Neptune in 1973 and acquired by Backwoods in 2013. The Dunbars purchased it out of bankruptcy in 2017.
"We were on the other side as a vendor with Sea to Summit, and we couldn't stand the idea of it going out of business," Shelley said. "We bought it almost as a community service. It was never our goal to become retailers. But, we said, 'Let's do it and prove that, if done right, specialty retail can work as a viable business.'
"We didn't buy it to run like your typical mom-and-pop store," she added, adding they've invested heavily in remodeling the 17,000-square-foot specialty retail space."We didn't want to be working there too much. But now that we no longer have Sea to Summit, we're starting to become more involved."
In addition to the remodel, they launched a new web site last December with the retail fruits of their labor now being reaped. "Until now, we've always been a 99.5 percent brick & mortar store," she said, saying online orders comprised only about 5 percent of their business.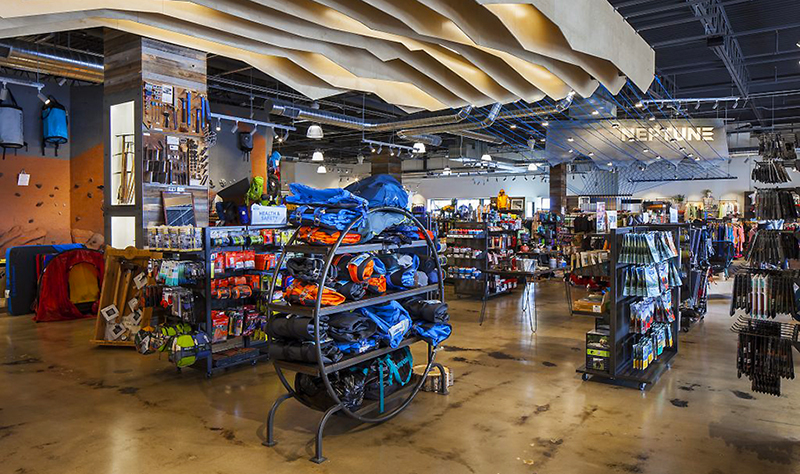 When the store closed for COVID-19 this spring, they began "frantically uploading product onto the website." With zero marketing whatsoever, online orders surged and now make up about 15 percent of their total sales.
That's not to say things haven't been rough with the COVID-19 crisis. But they've always put their employees and customers first. They closed the store on March 23, a few days before the stay-at-home order was issued and reopened May 14, staying closed for nearly seven weeks. "Call us nervous Nellies, but we felt it was the right thing to do for our employees," Shelley said.
While that gave them some time to dive deeper into their online offerings, it also had consequences. "We definitely had to put some roles on hold and absorb them, like shipping and receiving," she said. "We just weren't able to receive products for a while."
While they knew online sales might pick up during the shutdown, they didn't expect the same results from the store. "We're very surprised at how strong sales have been on the brick & mortar side," she said. "We're probably up 20 percent over this same time last year."
They've realized these gains all while staying serious about safety, requiring customers to distance, wear masks and use a hand-sanitation station in the front of the store. "We're trying to keep the number of people down in the store," she said, adding that they've halved their workforce and only allow 10 customers in the store at a time. "And yet our sales are still up.
"But it's tough to see people waiting outside," she added. "Will customers eventually get fed up with that? And I don't see things changing for a while."
Still, she admitted one silver lining of COVID-19 has been people's desire to get outside. "People don't want to fly somewhere where they have to be quarantined," she said. "They're more likely to go camping and try to get away from people. As long as people can get outside, our business should be okay."
To that end, products like camping stoves and fuel and freeze-dried backpacking fare have been moving especially well. "We're having a hard time keeping those items in stock," she said. Other hot-sellers include bouldering crash pads ("We can't order them fast enough"); guidebooks ("people are looking for places they can go"); and, during the shutdown, home-training products like fingerboards, Pocket Monkeys and climbing holds. "Those have tapered off now that people can get outside but for a while, they were booming," she added. "A lot of people who used to climb are getting back into it and upgrading their old gear."
And these customers are coming into the store to do so — for its product selection, customer service and feeling of community. "We have a lot of loyalty among our customers," she said. "But you have to have a space that people want to be in. A lot of people come in and say, "Wow, this store has such a great vibe."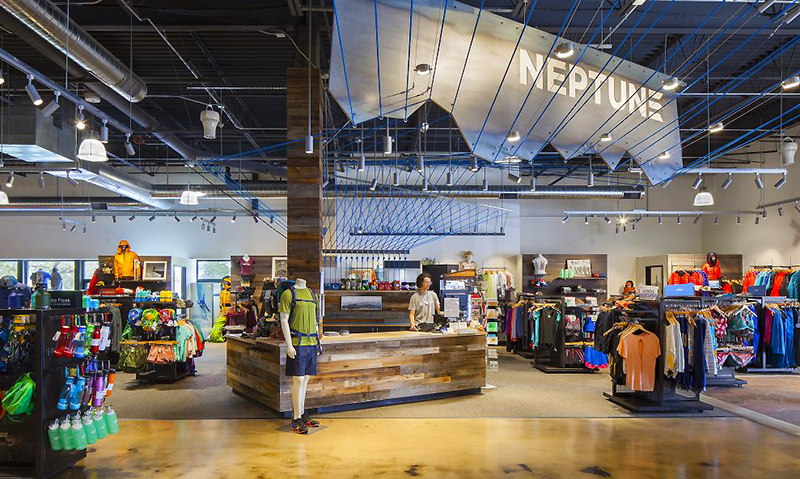 A lot of this is due to things they won't find in other stores. Foremost among them is an in-store mountaineering museum, curated by none other than store founder Gary Neptune. Included among the exhibits are a signed boot from Sir Edmund Hillary's first ascent of Mount Everest and a blackened, frostbitten toe inside a transparent medical jar donated by climber Malcolm Daly.
Customers will also find the newly opened Neptune Lab, an interactive experience featuring an assortment of handpicked products that have launched through crowdfunding.
"Crowdfunding is rich with products well-suited to a specialty outdoor retailer, but there's a huge barrier to entry for inventors to get their products to retail," Shelley said. "This lets our customers see and sample the latest, most exciting gear that they can't find elsewhere." Now entering its third round of brands this summer, that space has been taken over by a range of new products from Peak Designs.
But like the fast-moving gear on their shelves, nothing lasts forever; the Dunbars admit they're slowly getting ready to hand off the retail reins and head back to Andrew's native Australia where he first began working for Sea to Summit.
"We're ready to move on and go out and have some fun," Shelley said. "The next move is to look for a buyer for Neptune. But it has to be the right one."
Having done everything right as a retailer while building up one of the niche's most loyal customer bases, it shouldn't be too hard.
Photos courtesy Nepture Mountaineering