While Under Armour received overwhelming attention from the media and Wall Street for its running shoe "launch" this past year, another iconic athletic brand is making inroads into the running shoe market while flying under the radar. The primary difference in the way the two brands entered the running has to do with the slow, measured approach taken by K-Swiss Chief Executive Steven Nichols as he works to build on a performance platform for future growth.
Founded in 1966, K-Swiss may be best known for its signature leather model tennis shoe, its "Classic" that made its debut at Wimbledon the same year as the brand's inception. Over time, the "Classic" has evolved from a high-performance shoe into a casual, lifestyle shoe. In 2008, K-Swiss reclassified its footwear products into two product categories – lifestyle and performance.
"We're the newest addition to specialty running," says Mark Sheehan, director of performance running for K-Swiss. Sheehan, who has created running products for Nike, Reebok and Puma, says K-Swiss has "points of difference" that sets it apart from competitors. "We have attractive story lines that can be told at the retail level to make people say, 'Wow. K-Swiss does know how to make running shoes," he says.
In order to quickly establish credibility with consumers and specialty running retailers, K-Swiss signed a long-term licensing and sponsorship agreement with World Triathlon Corporation, owner of the Ironman triathlon brand. Under the agreement, K-Swiss will be the exclusive footwear and apparel provider of a collection of co-branded K-Swiss/Ironman performance/lifestyle footwear and apparel.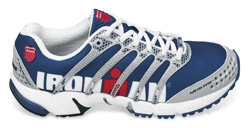 Andy Giancola, director of sponsorship/licensing for Ironman, says K-Swiss needs a brand like Ironman to help it segue more smoothly into the performance running market. Ironman, he adds, gives K-Swiss credibility within the performance running market and helps validate the brand's running products. "When somebody associates the Ironman attributes with a product, they think durable, performance, best in class, authentic, dream fulfillment and leadership," Giancola says. "That's what draws people to the brand."
"We saw the partnership as an opportunity to create interesting product that would be immediately worn by athletes," he continues. "We want to be a performance running company. That's our long-term goal. Our short-term strategy was to create a product that would enhance a triathlete's ability to perform and then learn from their insights and apply that into a longer-term approach to running product."
Sheehan adds that while K-Swiss doesn't necessarily expect huge growth in the first or second year, the brand does expect to establish and maintain a prolonged presence in the performance running market. "Our association with Ironman as the official footwear and apparel sponsor should (assure) the retailer and the consumer that we're not going away," Sheehan says. "This is a marathon, not a sprint."
Addressing K-Swiss' entry into performance running, Matt Powell, chief retail analyst at The SportsOneSource Group, says K-Swiss' the transition is interesting since it counters the fashion approach that has traditionally been the brand's "bread and butter." "They have always had very creditable technical tennis product, but they made their name and money on fashion," suggests Powell. He notes that he has also seen a marked shift away from true performance footwear to a more fashion-driven business. K-Swiss, he says, may find itself chasing a shrinking marketplace.
In entering a market dominated by other specialty brands, K-Swiss has had to overcome a credibility gap with Ironman participants. Traditionally, says Giancola, K-Swiss has been tabbed as lifestyle or tennis brand. However, Giancola maintains he has yet to hear one negative comment from triathletes who have tried the shoe on. The extensive research K-Swiss has conducted has validated the product, he adds, and Ironman triathletes have been "amazed" by the shoes. "It's not just that (K-Swiss is) sponsoring athletes, but they are getting (athletes) involved in the design process," Giancola says.
Sheehan acknowledges the initial skepticism within the triathlete audience. "At the first ten Ironman events, I saw a puzzled look across their face," he says. "The next comment that comes is 'K-Swiss makes running shoes?'"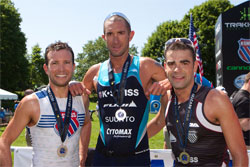 "It's the first question mark," he admits, "but once they get our shoe on their foot, all those questions go away very quickly."
The K-Swiss/Ironman product will initially be sold through online distribution channels, on-site at the events, and ultimately through strategic performance retail partners.
Looking to future performance running footwear models, Sheehan expects a carryover effect from success in Ironman competition. "We have a sincere belief that there is a halo effect down the road," he says. "Our intention is to be able to become a full on running company. We will create product that will meet the needs of every specific runner in the marketplace."
In addition to building awareness of the brand's entrance into performance running, K-Swiss has created a technology platform to differentiate the product from existing players in the market. In February 2009, K-Swiss launched miSOUL technology in its performance running footwear. With its interchangeable midsoles, or "miSOULS," the Run 1 miSOUL is the only running shoe that easily transitions from a neutral cushioned shoe to a lightweight race/trainer to a stability shoe in a matter of seconds. The shoe also allows runners to address stability issues on one foot without affecting the other foot. Previously, only an expensive orthotic could accomplish this.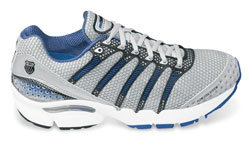 In Running Network's Spring 2009 review of running footwear from all competitive brands, the K-Swiss miSOUL running shoe won "Best New Shoe" based on the wear testing and review of independent wear testers. Running Network represents twenty-four regional and national specialty running magazines and web sites in North America.
"We knew it was important to have a technology story," Sheehan says. "We wanted to tell a story no one has ever told before. It's a new way of thinking about making running product."
MiSOUL technology allows runners to customize their shoes based on their workout with inserts that allow the runner to go from a 12.5 oz. training shoe to a less-than-11 oz. fast-paced running shoe. K-Swiss plans to introduce additional inserts later to provide runners with more customization options.
Sheehan says K-Swiss' technology story bridges the gap from a triathlon-specific running shoe to a full range of complementary running product by simply changing the inserts within the scope of a single chassis. MiSOUL technology, says Sheehan, is something K-Swiss is going to "hang its hat on for quite a while."
Sheehan adds that K-Swiss is taking the "long view" in developing additional technology features and product attributes. "We're learning as we go," he says. "…we are fine-tuning our ability to create, design, develop and produce product that can enhance an athlete's ability to perform. We can learn from others and take our time to develop a hybrid technology that we think can really stand for what K-Swiss is all about going forward."
The consistent growth rate of running participation and the purchasing power of running and multisport enthusiasts has made the performance-running segment attractive for new competitors and while the move into running may be difficult for any one brand, SportsOneSource's Powell says a brand that proves its long-term commitment to retailers can make the transition a success.
"In order to establish a beachhead in performance running, a brand needs to look at it as a 5-year plan, before even moderate success can be achieved," Powell says Sheehan understands there's a lot more work to be done before the success of the endeavor can be measured. "…our biggest task has less to do with product and more to do with building the mindset that it takes to be a running company in this highly competitive market," he says "As long as we continue to make good product and keep telling our story, people will discover us. My job is to make us the most sought-after running company."