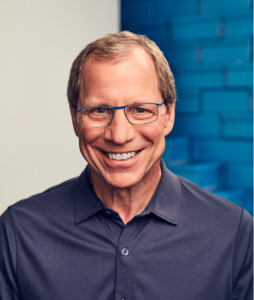 In October, Brooks Running Co. reported a whopping 29-percent increase in global revenue in the first nine months of this year, driven by a 32-percent increase in global footwear sales.
The gain marked an acceleration for the brand, owned by owned by Berkshire Hathaway, from the 11 percent increase seen in third-quarter of 2017 in what at the time marked a return to growth for Brooks. Like many others in the active lifestyle space, Brooks had been hurt by challenges inside the run specialty channel in recent years as well as outside the channel, including the liquidation of The Sports Authority.
Beyond growth, the report showed that Brooks is again gaining major share, helped by continued explosive growth for its franchise icons, the Ghost and Adrenaline GTS, as well as a healthy response to new models.
According to POS data, Brooks grew its total U.S. adult performance running footwear market dollar share to 12.4 percent year to date through August 2018, moving into the No. 2 position within the category. In the 12 months ending August 2018, the brand also gained 4.4 share points in the $100 and above (average selling price) segment of the adult running performance running footwear category, making it the No. 1 brand with 23 percent dollar share (rolling year ending August 2018).
Here, Brooks Running CEO Jim Weber discusses Brooks' return to strong double-digit growth, the recovering run specialty channel, the challenges around potential tariffs  and what's ahead for Brooks in 2019.
Can you elaborate on what drove the gains so far this year? Our recent success has been driven by 32 percent growth in global footwear sales through Q3. Franchise products like the Ghost and Adrenaline GTS, which are up 52 percent and 32 percent respectively (YTD) and new footwear models that launched in the last 18 months including the Revel, Levitate, Bedlam and Ricochet are resonating with customers and achieving strong sales in their inaugural year. Internationally, our EMEA region saw 27 percent revenue growth year-to-date led by the DACH region while APLA sustained the upward trajectory that began in early 2018, reporting a 25 percent increase in year-to-date revenue led by Australia.
The Ghost and Adrenaline GTS stood out and I think they drove your sales last year. What's unique about these models? Or did you do something special this year to drum up interest? The Ghost and Adrenaline GTS are franchise models that are trusted and have delivered time and again for runners. They're currently the No. 1 and 2 models sold in specialty run and with good reason: both provide exceptional fit, feel, and ride that runners demand. In 2016 we made the strategic decision to double down on performance and have invested in delivering new technologies and experiences for runners which can be seen in the Ghost and Adrenaline GTS. Updates this year to both shoes include incorporating our new DNA LOFT foam that delivers our softest running experience ever, and in the Adrenaline GTS 19, we introduce our updated GuideRails support system to provide smart support and to allow runners to stay within their natural habitual joint motion path.
Where are the trends in footwear now and where are they heading? Runners continue to seek distinct experiences from their footwear that deliver on fit, feel, and ride. Gone are the days when a shoe can be good; runners now need a shoe to be excellent for their very specific needs, and that's a trend we're seeing by way of how runners shop. Brooks is using new materials, manufacturing methods and technology to deliver the best experience possible to all runners.
How is the apparel side doing? The performance running apparel market is facing several challenges with runners shopping in evolving ways and trends moving quickly. Brooks is seeing success and will show growth in 2018, especially within categories like sports bras, shorts, and jackets, but with the market shrinking overall, we know we must do more to drive traffic at retail and continue to deliver product that resonates with runners. In 2018 we introduced a new shop-in-shop program at 30 key retail locations across the U.S. and Canada. Through this unique with retailers, we're able to tell head-to-toe stories that are resonating with runners.
What's the next step for the shop-in-shop program? We launched in August with 30 retailers and, based on the success of the program, are expanding to roughly 70 doors by the end of 2019. We've seen huge success with bras, shorts, and accessories through our shop in shop. We will continue to expand this program as we invest in telling stories around our bras, shorts and outerwear—three essential pieces for runners.
Brooks has been partnering with HP Inc. and Superfeet to come out with the first performance running shoe created based on an individual's unique biomechanics. Can you provide an update on the customization initiative? In December, we will introduce our first personalized running shoe—Genesys—as a beta research release to select wear-testers who will be responsible for testing and providing feedback about their experience. The insights gleamed from this research will inform the creation of the first commercially available personalized shoe—built for runners; by runners.
Brooks' statement on results for the nine months indicates that the performance running category "continues to face headwinds." Can you give us an update on how the run specialty world is doing? We're seeing the run specialty channel stabilize after the slowdown of the past few years. After declining in 2015 and 2016, run participation grew 7.1 percent in 2017 to more than 50 million participants (SFIA) and we know that the retailers that have been able to provide unique experiences and community to their customers are returning to growth. Figuring out digital consumer behavior and the interaction between online and in store shopping will be key. We see increasing numbers of retailers add a larger online component and social channels to their business to meet the needs of their customers.
You recently said on CNBC that Brooks was considering exiting production in China for Vietnam. Can you elaborate on the thinking behind this decision? The current tariff proposal presents a really unsettling picture. Tariffs are muddying a lot of water and we're trying to navigate through it like everyone else. There are essentially three options for our brand, however, none of them are great solutions. We could raise prices, but we likely won't do this because our competitors also won't for various reasons. We could eat the cost, but that means that any benefit we would have gotten from the recent tax reform will be gone and the tariff on a running shoe from China will be at a staggering 45 percent. Lastly, we could move China production to another country. We're are going to assess a move of our production out of China but it will be at great cost and disruption to our people.  Given the success of our products, our goal is to minimize change wherever we can.   We're working closely with our partners on the retail side as well as on the manufacturing side to keep everyone informed and make sure we're doing what's right for runners, our partners and for our people.
Can you share any exciting launches or programs (product or marketing) that you have planned for 2019? On the product side, we're excited about the introduction of the Adrenaline GTS 19 that features our new DNA LOFT foam as well as our updated GuideRails support system. That shoe, which launched this month but is part of our spring 2019 line, showcases how Brooks is delivering innovative new technologies for the runner. With regards to campaigns, we'll have fun, inspiring stories to share with runners mid-year 2019.
Images courtesy Brooks