By Teresa Hartford
<span style="color: #999999;">In the last 15 years, Jim Lamancusa has worked for fast-growing startups in Boulder, CO. The first was with Eco-Products, makers of compostable cups, plates and napkins for the foodservice industry, and growing the business from $1M to $75M in five years before being acquired. Jim then went on to Good Belly, maker of a probiotic juice drink, as VP of Sales and Marketing for five years, which was his introduction to the grocery industry, far different from food service.  
An avid outdoorsman, Jim was recruited by Dynafit as their VP of Marketing and stayed with the brand for five years. He had an opportunity to work for another startup in Boulder, CO, Eco Vessel, and stayed on for another year, before launching his tea brand, Cusa.
Always an avid tea drinker, and having studied and lived in Asia for two years after college teaching English with his wife, together, they fell in love with tea even more and with the Asian tea culture.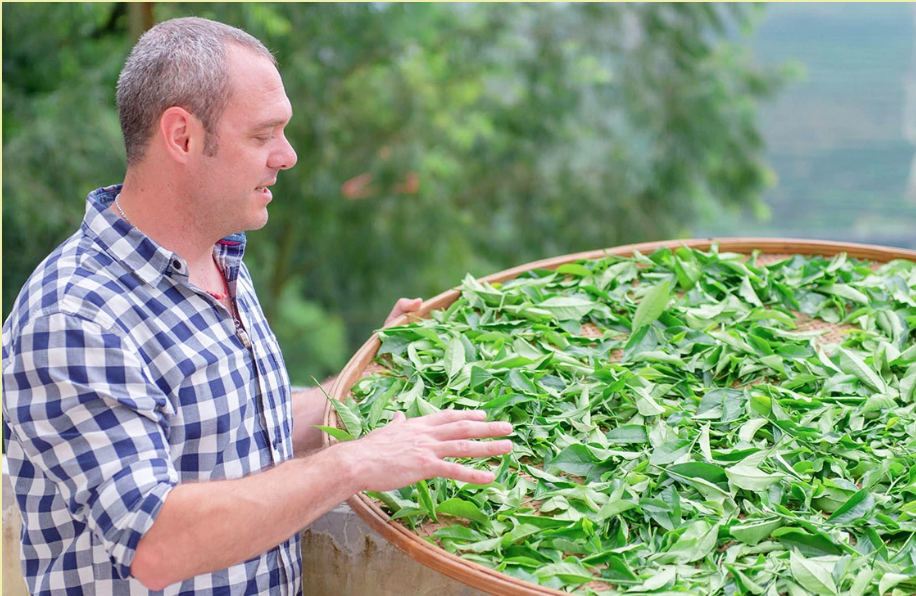 In 2016, Jim was on a backpacking trip with friends, having returned to to the States, all coffee drinkers, except Jim, and while they were busting out their Starbucks VIA instant coffee, Jim was wrestling with soggy tea bags and tea liquid that had spilled out all over his clothes.
What should have been a frustration for Jim was, instead, a light bulb moment. He asked 'Why hasn't anyone made Starbucks VIA for tea?' After the trip, he researched instant teas and found makers like Lipton and Nestea, but the top four ingredients were maltodextrins, sugar, artificial flavoring, and preservatives—tea was the fifth ingredient—and the taste didn't resemble the taste of the excellent loose leaf tea he favored. He saw an opening and an opportunity in the market for someone to come out with a premium instant tea and with his business background, he dove right in. 
Fast forward, Jim found a food scientist in Boulder, CO, who happened to be the former VP of R&D for Starbucks and who had developed Starbucks VIA. He thought he had a slamdunk, but the technology did not work for tea. Several weeks later, watching his wife put on her rose eye cream, he wondered how the cream was infused with rose petals and researched the manufacturer and found that when adding botanical extract to the cream, they do not use heat the mixture and the same extraction process could be used for tea.
Collaborating with an Asian cosmetics manufacturer, located next to an organic tea farm, (sourcing became easy), Jim spent two months modifying the company's machinery for processing tea. After receiving food safety certification, Jim made his first batch of instant tea, and it tasted exactly like a fresh cup made by brewing tea leaves. 
The technology has 22 patents on it, so this isn't something that someone else could come in and do easily. There are two main steps to processing, according to Jim. "One, the tea leaves are brewed in cold water, so there's no flavor degradation (real fruit and spices are added for the flavored teas), and when the water comes to room temperature, it is pressurized to 500psi's and left for 6-to-8 hours. In that time, the tea (fruit and spices if used) steeps perfectly into the room temperature water. At the end of the steeping cycle, the tea leaves are strained out (with or without the fruit and spices) and composted to use as fertilizer for the soil at the organic tea farm." 
The liquid tea that's left behind goes "into a 30-foot x 8-foot diameter vacuum dehydrator and runs through an evaporative dehydration process and above the liquid tea, they pump in zero percent humidity air. The water in the tea rapidly evaporates into the air above it with no loss of flavor, aroma or antioxidants leaving tea crystals behind. The crystals are ground into a powder, packaged into 'tea sticks,' and never see the light of day until the customer opens a 'stick' and adds hot or cold water where the tea rehydrates into a fresh cup of tea."
For on-the-go tea drinkers, "the product solves a lot of potential problems if you're looking for ready access to great-tasting tea," said Jim.  The tea sticks are compact ( 3/4″ x 4 1/4″), stow easily, are vacuum-sealed to prevent moisture in the air from corrupting the product, and won't blow up and spew tea powder all over you. All you need is a hot or cold water source to make a cup of tea.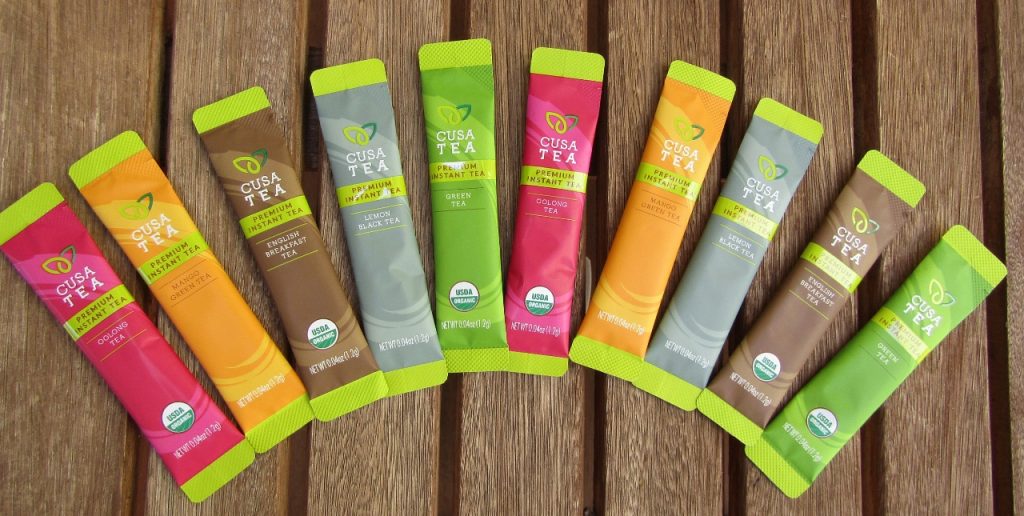 <span style="color: #a19f9f;">Cusa Tea won two silver and two bronze medals against premium loose-leaf and bagged tea brands at this year's Global Tea Championship. "Our product is unique, and we are a category disruptor. It's a product that solves the needs of many customers for its portability," said Jim.
Last year Cosa grew 600-percent with anticipated growth in 2019 of over 300-percent. There are challenges, however, in the instant beverage market. "Customers are biased. It's hard to get them to try an instant product because most don't taste like the real thing. It's a challenge to find unique ways for customers to try our product, but once they do, the repeat rate is high," he said.
In May of this year, Cosa launched a free sample program on their website. For just $2.95 (the cost of shipping and handling), customers can try a sample pack of a variety teas that include Organic English Breakfast, Organic Green Tea, Organic Oolong Tea, Lemon Black Tea, Mango Green Tea, Chai, Peach Green Tea and a coupon for half off your first order. Click here to get your sample pack. "We've had over 20,000 people place orders with a repeat purchase rate of 30- to 40-percent."
Cusa shows at Outdoor Retailer and is doing very well in the big box grocery stores like Sprouts and King Soopers. In 2020, they will be in Whole Foods nationwide, and on November 10, you will find Cusa Tea in Vitamin Shoppe stores across the country. You can also purchase their products on Amazon.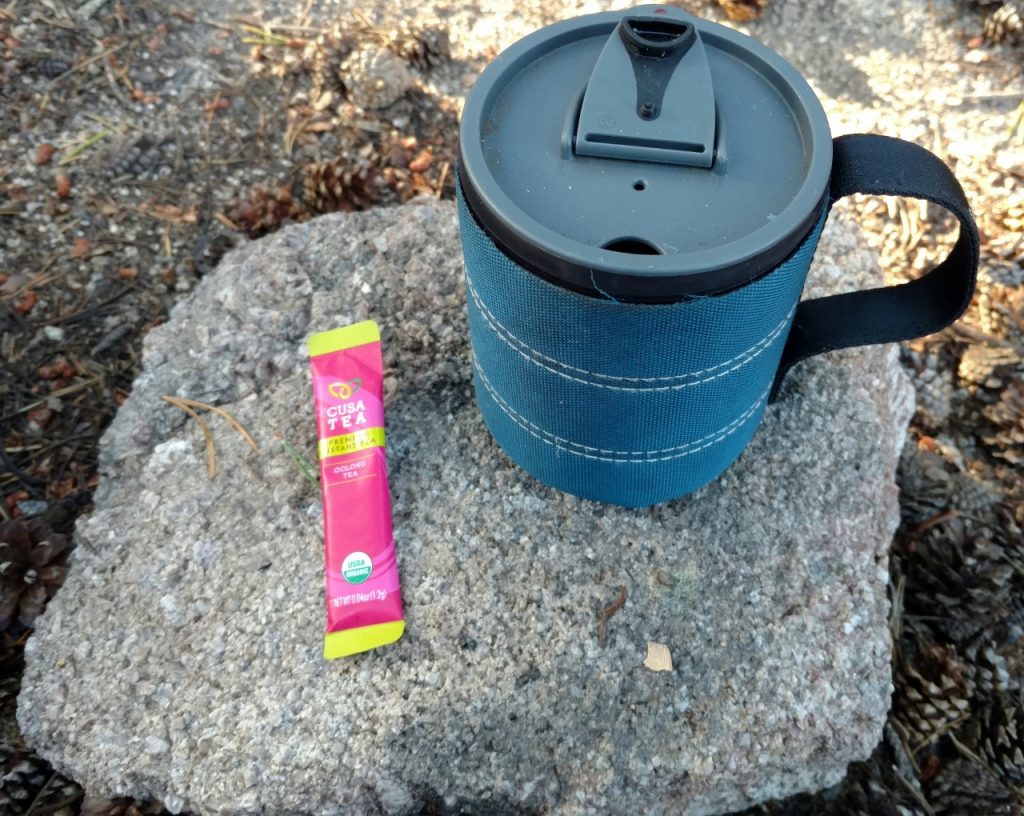 Cusa is also in REI and 50 other specialty outdoor retailers. "Specialty outdoor retailers are fighting with e-tailers to stay on top of their business. If you look at a retailer like REI, they have excellent food and beverage assortments. Customers will shop there, and the margins are fantastic (retailers can make 50-percent margin stocking Cusa), but you have to train the customer that, instead of going to the grocery store, they can come to your store and shop for their incidental food needs. I see that as a big opportunity because customers are not going to price check Cusa Tea on Amazon. They're going to grab and go. Retailers could increase their average cart by $5 or $10, which is significant over the course of the year, by leveraging food and beverage sales at the register. It's low hanging fruit," said Jim.
In 2019, just three years after starting the brand, Cusa is a leader in instant teas because Jim innovated a stagnant category. "It's either been loose tea or bagged. You can put different flavors in it and put a different logo on the box but, when you come down to it, it's the same stuff. With Cusa, you need only hot or cold water, and you have great tasting tea no matter where you are, and anywhere you are in the world. From the time you want a cup of tea until the time you are drinking it, it takes seconds," stated Jim.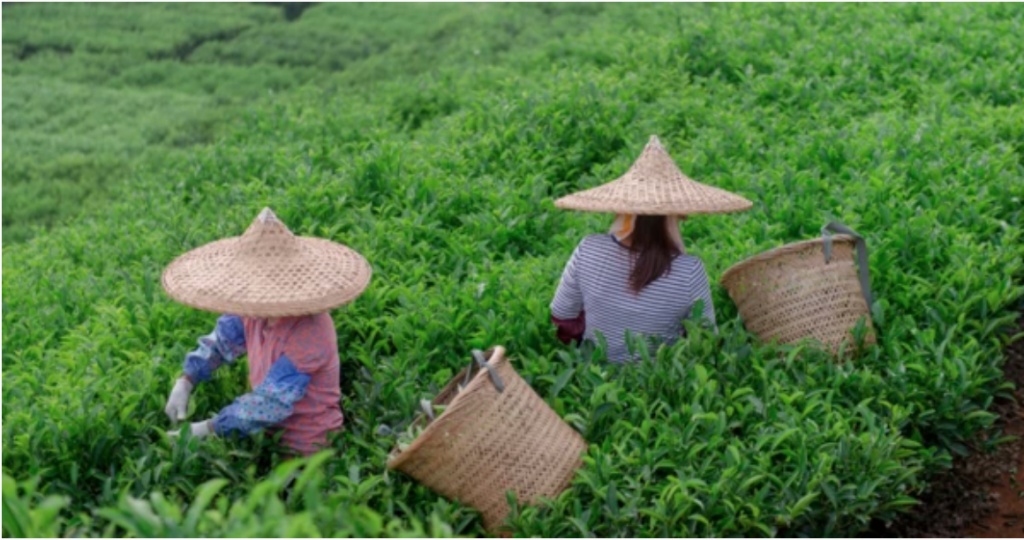 From a sustainability perspective, Jim said "the most impactful action item for Cusa is regenerative agriculture—composting the tea after brewing. On top of that, Cusa packaging is 100-percent recyclable, and the tea stick packs are less an environmental footprint when compared to other tea brands that have an outer bag for the tea, the actual tea bag, the staple to hold the tea string, paper around the tea and the tea itself. There's so much waste. We use just one stick pack to do the same thing, and we're working on a compostable film for the stick."
The technology platform has been so successful that Jim plans to launch Cusa Coffee in Q1 2020, and he's also looking at adding other beverage categories to the Cusa brand without added sugars and preservatives. 
Photos courtesy Cusa Tea