Blundstone was born in Tasmania in 1870, and despite growing to become one of the world's most recognizable boot brands, the company remains Tasmanian with the core of its DNA and operations in Hobart, Tasmania—Australia's island state.

We sat down with Joe Carfora, Blundstone's global product and design director, pictured left, at ORWM to talk about Blundstone's DNA, the future of the brand and celebrating the brand's 150 years in 2020.
Is Blundstone still using the same leather tanning process as in 1870, the year the brand was founded?  Yes. Blundstone works with Eco Tanners. We have leathers, suede, colored leathers, tumbled leathers, rustic leathers. All the boots are unisex, except there is a women's-specific series with a more narrow toe box and higher shaft. There is also specific detailing on the women's boot that sets it apart from others.
The detailing that sets it apart… is it stitching, width of the boot?  The women's series has an eyelet detailing around the core and for the new women's heeled boot, it is more fitting to a women's foot, with a more narrow foot and heel area. The design follows our Chelsea-style shoe.
We are trying to keep the styling of the heeled women's boot as close to our brand's DNA as possible. That was a challenge for us. We feel we have been very successful. Certainly our end-users would have told us straight away if it was or it wasn't, and the response has been fantastic.
In your core collections, you have patterns and colors in your leathers. Will that also be available for the women's boot styles?  Eventually we will go down that path. We are testing the waters in this area first, and we will see how that works before we start moving into color in the elastics.
In the next two to five years, do you see more changes or introductions coming from Blundstone to appeal to the local market?  Yes, definitely. We currently are in 55 countries, and the growth that we are getting out of those markets has been fantastic.
Where is your heaviest buy-in? Canada is very strong for us. Isreal is excellent for us. Italy is doing really well; they understand and they love leather.
Which Blundstone collection represents the brand the best? No doubt the Classics, which is our original, and is a real drawing card for most markets. It's not our number-one item as such, but as a collection it's very strong.
If you look at the trends, some of our best-selling boots tend to be a little bit more whatever the trend is in the markets. So at the moment that whole pre-worn, distressed look… you'll find our leathers in that category sell extremely well. Our rustic brown leather is our number-one item. Our Classics tend to stick with the classic leathers…  the black, the stout browns. We keep those as original as possible.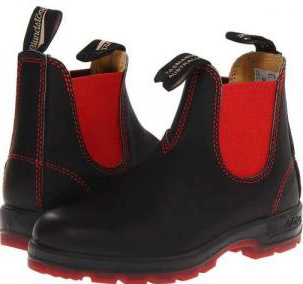 Will Blundstone be seen anytime on the Paris runways, blinged out? Actually we have had a couple invitations from fashion brands to do this. Last year was the first time we actually were on London's catwalk. It was unbelievable for the first time!
Here is the merging of Fashion + Outdoor. It's getting stronger. Is Blundstone going to be responding to that merger? Certainly! It's been fantastic because we haven't chosen to be fashionable, but the consumer says they see Blundstone as fashionable.
Streetwear and high fashion have merged together. Yeah, they have.
Couture fashion no longer has the elitest persona it once held. No, you're right.
Combine high fashion with a Blundstone boot on the catwalk, that's fashion.  Yeah, exactly! That's what's happening. That's what we've found. We haven't particularly changed our styling to chase that. They have actually chosen to chase us. You can't buy that.
We have had quite a few celebrities that have come to us. In February last year, David Beckham was wearing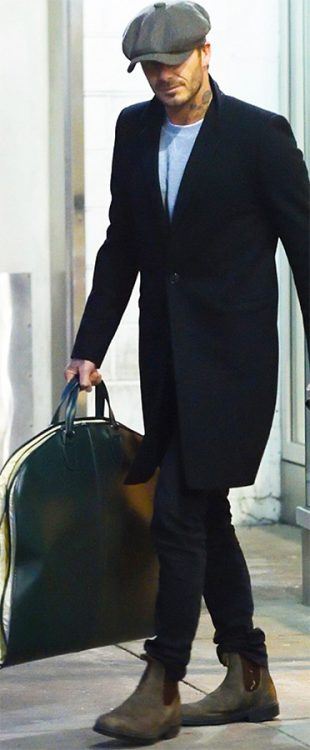 Blundstone in NYC and the coverage that we got was tremendous. We had calls from Japan and Germany wanting the product that he had on. It was very good!
Tell us about the leather and tanneries that Blundstone sources? There is no doubt that we are now starting to work closely with our tanneries to get more exclusive types of materials for our use. If you look at our leathers, we use very high-grade leathers in the thickness of our leathers versus what some of the other brands use. It's one of the keys that we see as quality and that sets us apart. We use roughly between 1.8 to 2.4mm thickness. In most other brands, they tend to work between the 1.2 to 1.6mm range. So the durability is greater in the leather thickness we use.
The other key factor in our range is that we have a very strong "safety" business… for workwear [boots]. So that balances it out. And we try to use some of our safety technology into some of our casual footwear. So the comfort foot bedding that you will find in our Safety workwear boot is actually the same material that we use in our other collections. The footbed feels like a pillow. You have all the cushioning that a worker would have in our safety boot, but in an everyday type of product.
So you are getting the workhorse technology in a fashion shoe? Yes, that's part of what I am trying to do with our DNA. It is to keep it consistent across the whole range.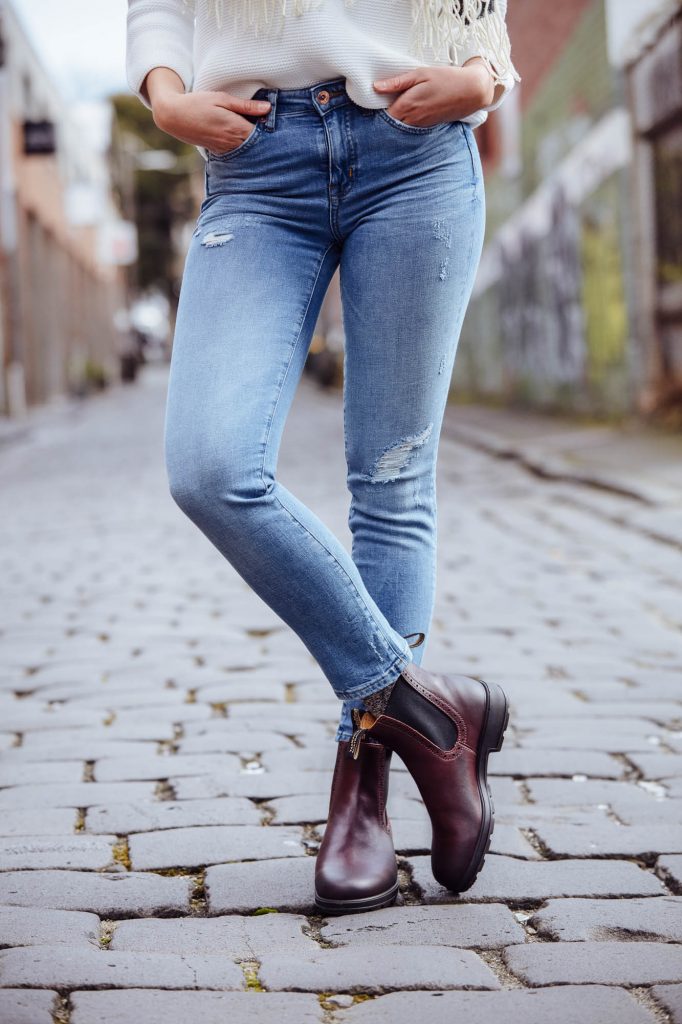 When you are talking about the design of a Blundstone boot for a woman versus a man's shoe, are the principals the same or does Blundstone change the pattern?  No. You have to tweak it. This is the first time in Blundstone's history that the brand has introduced a women's heeled boot.
The brand is going to turn 150 years old in 2020 and this is the first time we have actually changed our production out of the last 60 years to make a women's heeled boot… 150 years in the making!
Stayed tuned. We have big plans for 2020, for our anniversary year.
Photos courtesy Blundstone