Wolverine World Wide raised its guidance for 2021 as its two largest brands, Saucony and Merrell, both returned to robust sales growth in the first quarter, overall online growth accelerated and wholesale backlogs continued strong for the second half.
On a conference call with analysts, Blake Krueger, chairman and CEO, said e-commerce led the way, growing 83.6 percent and accelerating from the 32 percent gain seen in the fourth quarter. Merrell was up nearly 25 percent year-over-year while Saucony grew nearly 60 percent in the first quarter. Both brands also easily beat 2019 first-quarter levels with Saucony up over 75 percent.
Other highlights called out by Krueger include Wolverine's international business, which was up 40 percent with every region growing over 35 percent. He added, "Our DTC channels are outpacing the market and our wholesale order book is very healthy. As we look to the rest of the year, demand for our brands is very strong."
Sales Climb 16 Percent
In the quarter ended April 3, revenue increased 16.3 percent to $510.7 million and gained 14.3 percent on a currency-neutral basis. Results were about flat with Wall Street's consensus target of $512 million. The growth came despite a meaningful shift of wholesale shipments shifting into the second quarter.
On an adjusted basis excluding non-recurring items, earnings improved 44.4 percent to $33.3 million, or 40 cents a share, from $23 million, or 28 cents, a year ago. Adjusted earnings matched Wall Street's consensus target. Net earnings after non-recurring items reached $38.5 million, or 45 cents per share, against $13 million, or 16 cents, a year ago.
Adjusted gross margin improved 290 basis points versus the prior year to 44.3 percent due to continued e-commerce expansion and favorable wholesale product mix.
Adjusted SG&A expenses of $174.4 million in the quarter were about $23 million higher than last year primarily due to the higher mix of DTC revenue, $8 million of additional investment in digital e-commerce marketing and more normalized incentive compensation costs. As a percent of sales, adjusted SG&A expenses were reduced to 34.1 percent from 34.5 percent. First-quarter adjusted operating margin was 10.2 percent, an improvement of 330 basis points over last year.
Sales in the Wolverine Boston Group increased 10.3 percent to $200.9 million and advanced 8.2 percent on a currency-neutral basis. The Wolverine Boston Group consists of Sperry, Saucony, Keds and the Kids' footwear business, which includes the Stride Rite licensed business, as well as Kids' footwear offerings from Saucony, Sperry, Keds, Merrell, Hush Puppies, and Cat.
Sales at Wolverine Michigan Group grew 20.1 percent to $297.7 million and expanded 18.2 percent on a currency-neutral basis. The Wolverine Michigan Group includes Merrell, Cat, Wolverine, Chaco, Hush Puppies, Bates, Harley-Davidson, and Hytest.
Saucony's Sales Surge Nearly 60 Percent
Among its major brands, Saucony's nearly 60 percent growth reflected strong gains across regions, led by North America and EMEA. Operating margins for the brand expanded nearly 800 basis points. Saucony.com revenue increased by over 150 percent, driven by compelling digital storytelling and impactful product launches.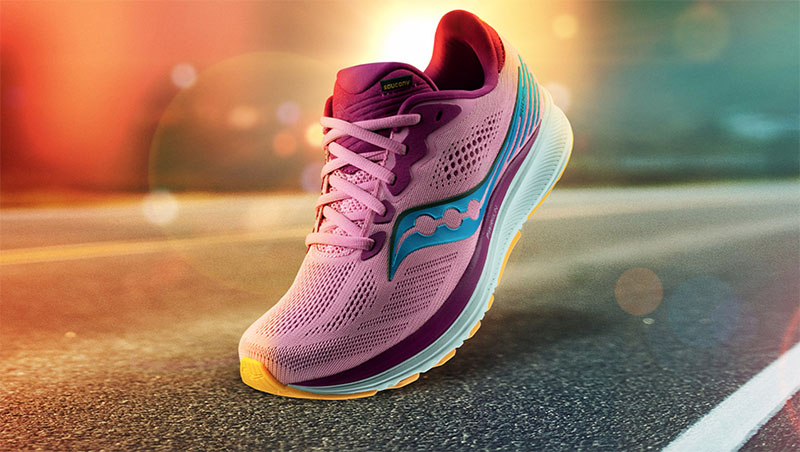 Saucony's road running category nearly doubled in Q1 with successful launches. The new Guide 14 and Kinvara 12 drove significant growth with the Guide more than doubling year over year. New colors and collection packs supported "excellent" sell-through for the Endorphin series. The trail running business grew with the successful launch of the Peregrine 11.
Krueger said, "New product launches are fueling momentum in the brand's technical product category with existing runners and with the many new enthusiasts in the sport."
Saucony Originals, the brand's heritage lifestyle sneaker business, also grew double digits in Q1, leveraging its Italian product design and marketing hub to build on its recent success in Europe. The new Jazz Court, a sneaker with 100 percent natural materials and thermoplastic, launched at the end of Q1, drove significant buzz on social media and quickly became the brand's top-selling product on saucony.com.
Said Krueger, "Looking ahead, Saucony will continue its steady introduction of new product launches. Both the new Ride 14 and Freedom 4 launched within the last few weeks and are off to a fast start over the next several months. The brands will also roll out the next generation of all three models of the endorphin collection: the Pro, the Speed and the Shift, which has quickly become one of its largest franchises. The brand will also introduce the new Triumph 19, a follow-up to the award-winning predecessor.  The momentum in the Saucony business continues to accelerate across both its performance and lifestyle offerings."
Merrell's Sales Grow Nearly 25 Percent
Merrell's growth of nearly 25 percent also reflects increases across all regions, led by especially strong performance in EMEA. North America grew double-digits, including DTC with Merrill.com up approximately 135 percent and Merrill stores comping up 30 percent.
Krueger noted that Merrell kicked off its Future 40 campaign at the start of the quarter, celebrating the brand's 40th anniversary. The campaign was marked by a significant partnership with Big Brothers Big Sisters of America that supports access to the outdoors for nearly 200,000 youths.
"Merrill continues to focus on cultivating well-established product franchises, as well as delivering innovation across new product introductions," said Krueger.
Merrell's performance footwear grew by nearly 30 percent in the quarter with a boost from the continued success of its "faster and lighter" footwear range for the trail. Building on the success of the Moab, the launch of the new Mob Speed and Moab Flight exceeded sell-through expectations, including selling out on Merrell.com and helping to drive "very strong" double-digit growth for the Moab franchise overall.
Merrell's Antora 2 and Nova 2 trail runners also continued to perform "exceptionally well" in the quarter. Merrell has a steady stream of new performance offerings scheduled for the remainder of the year.
Merrell's lifestyle business grew approximately 20 percent in the quarter, driven by the growth of the classic Jungle Moc and newer Hydro Moc which more than tripled year over year. Merrell plans to continue to leverage the easy-on-off trend throughout 2021 with new products in the Hydro Moc, Hot Moc and Jungle Moc franchises.
Said Krueger, "Merrell is well positioned with both its outdoor performance and lifestyle businesses and we expect the brand's growth will continue to accelerate going forward."
Wolverine's work business, which represented almost 20 percent of revenue in Q1, also delivered significant growth, led by gains of nearly 30 percent for the flagship Wolverine brand and of more than 30 percent for Cat, as well as strong contributions from a couple of the smaller brands. Said Krueger, "We are the market share leader in the U.S. work boot category, which is currently trending with consumers, and has been an important consistent performer for the company over time. We expect growth in this category to accelerate in Q2."
Sperry Q1 Revenues Decline 10 Percent
Sperry's sales were down 10 percent but showed sequential improvement despite more than $10 million of expected revenue shifting into the second quarter. Sperry.com's sales grew 40 percent and Sperry stores grew more than 20 percent.
"The brand's full-price business remains very healthy with gross margin expanded nearly 500 basis points in Q1," said Krueger, "Looking ahead, Sperry is back on the growth path for the remainder of the year. Sperry possesses unique elasticity across genders, product categories and price points."
Krueger said Sperry's new Float collection, an injected version of the boat shoe aimed at younger consumers, launched at the end of the quarter and quickly became Sperry.com's best-selling product introduction in several years. Seasonal drops, including the Cozy Float this fall, will support the launch. Sperry also plans to capitalize on the easy-on-off trend with the launch of the new Moc Cider collection later this summer, and leverage collaborations with several product capsules planned with fashion and entertainment stars such as John Legend and Rebecca Minkoff.
Wolverine's overall inventory at the end of the quarter was down 20.8 percent versus the prior year. Mike Stornant, SVP and CFO, said, "Our global sourcing team continues to adjust to the supply chain headwinds impacting our industry. Our inventory position has improved nicely in the second quarter, allowing us to fill nearly all of the orders that shifted from Q1 into Q2."
2021 Guidance Raised
Looking ahead, Wolverine now expects revenue in the range of $2.24 billion to $2.3 billion, or growth of 25 percent to 28 percent versus the prior year, exceeding 2019 revenue at the high end of the range. Previously, revenue was projected in the range of $219 billion to $2,250 million, representing growth of 22 percent to 26 percent and approaching 2019 revenue at the high end of the range.
Reported EPS is now expected to be in the range of $1.70 to $1.85 and adjusted EPS are now expected to be in the range of $1.95 to $2.10. Previously, EPS was expected in the range of $1.75 to $1.90, and adjusted EPS in the range of $1.90 to $2.05.
Photos courtesy Merrell, Saucony