Led by Merrell and Saucony, Wolverine Worldwide's second-quarter results came in well above Wall Street estimates. Wolverine officials now expect the current year to show "meaningful" over 2020 and 2019 as many of its categories are trending.
In the quarter ended July 3, revenue jumped 81.0 percent to $631.9 million, topping Wall Street's consensus estimate of $573 million. On a constant-currency basis, revenue was up 77.7 percent.
Direct-to-consumer (DTC) revenue rose 17.5 percent versus the prior year and up 68.8 percent versus 2019. Owned e-commerce revenue was down 2.7 percent versus the prior year and up 90.7 percent versus 2019. Owned stores revenue surged 380.5 percent versus the prior year and up 19.2 percent versus 2019.
Wolverine Michigan Group sales reached $354.4 million, up 59.8 percent on a currency-neutral basis and ahead 63.0 percent on a reported basis. The Wolverine Michigan Group includes Merrell, Cat, Wolverine, Chaco, Hush Puppies, Bates, Harley-Davidson, and Hytest.
Wolverine Boston Group achieved $258 million, up 106.9 percent on a currency-neutral basis and 110.6 percent on a reported basis. The Wolverine Boston Group consists of Sperry, Saucony, Keds and the Kids' footwear business, which includes the Stride Rite licensed business and Kids' footwear offerings from Saucony, Sperry, Keds, Merrell, Hush Puppies, and Cat.
While Merrell, Saucony and Sperry were its strongest performers, nearly all brands in the company's portfolio delivered substantial growth, and all regions saw healthy growth, with the U.S. and EMEA meaningfully beating expectations.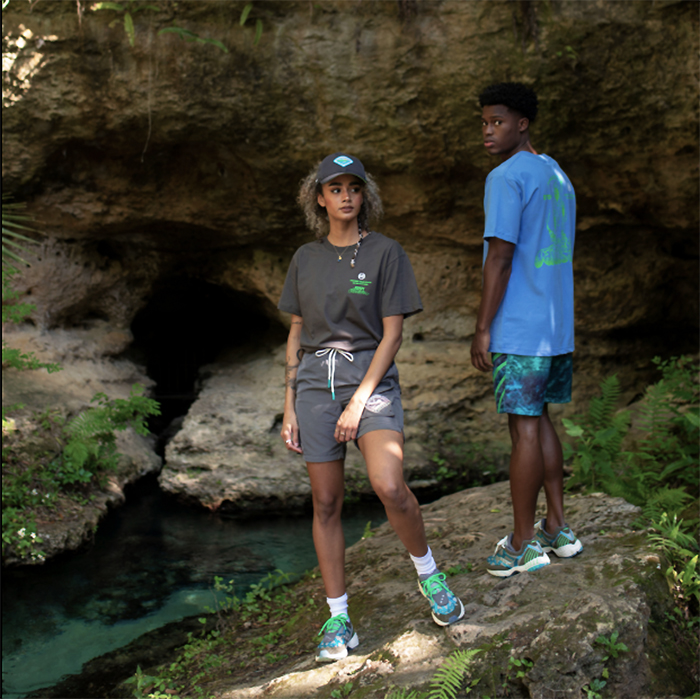 Order Backlog At Historically High Levels
On a conference call with analysts, Blake Krueger, chairman and CEO, said second-quarter revenues were a record high and significantly exceeded internal expectations. Said Krueger, "Our order backlog remains at historically high levels, and momentum in the business continues to accelerate."
He said the company's "proactive approach" to COVID-19-related supply chain headwinds, including factory shutdowns in Vietnam, helped support the quarter's performance and confidence in its higher outlook.
Krueger said Wolverine's brand portfolio strategy and international distribution base are fueling accelerated momentum. Approximately two-thirds of its brand revenue is now positioned in performance product categories like hiking, running and work, and that are tightly aligned with today's consumer trends.
At the same time, Wolverine is benefiting due to its strong DTC-focused global distribution model. Year-to-date, its DTC e-commerce business has more than doubled in revenue relative to 2019, and DTC stores are up nearly 20 percent versus 2019. Together with the DTC channels operated by distributor partners worldwide, about one-third of its global revenue is generated through DTC, "enabling enhanced brand shopping experiences, a wealth of direct consumer insights and data in a more efficient business model," said Krueger.
Krueger expects the accelerated momentum to continue for the foreseeable future as changing consumer behaviors due to the pandemic have significantly bolstered demand for performance product categories.
"The underlying trends are long-term in nature, existed prior to the impact of the pandemic, and are expected by industry and consumer trend experts to persist," said Krueger. "Consumers have become increasingly focused on health and wellness over the last several years, and running, hiking and the outdoors have served as primary activations in this mindset."
He noted that participation in running in the U.S. had increased every year over the last five years by a mid-single-digit CAGR. Surveys also show a significant majority of new runners intend to continue running in the future.
Participation in the outdoors, and hiking in particular, has also increased every year during the same period, up by a high-single-digit CAGR even before last year's 16 percent spike, adding nearly 21 million new hikers in the U.S. Said Krueger, "During spring and summer, National Parks are shattering attendance records. People are continuing to get outside, and this renewed interest in the outdoors is expected to continue into the future, especially as consumers begin to travel again."
The work category has also shown strong growth over the last several years, supported by healthy macro industry conditions and a workwear fashion tailwind. Krueger noted that according to the Bureau of Labor Statistics, warehousing jobs have more than doubled since 2005, and construction companies are expected to hire hundreds of thousands of additional workers this year. Looking ahead, the passage of the major infrastructure plan in the U.S. would further boost momentum in the work category.
Said Krueger, "Our brands are capitalizing on these fundamental trends, and we expect continued strong consumer demand over the long term, especially for Saucony, Merrell, Wolverine, our work brands, and Sperry, which will launch products in the active sports category next spring. 
These trends, and our visibility into future demand, give us the confidence to increase our outlook for this year and plan for double-digit growth in 2022."
Merrill Surges 88 Percent
Merrell's revenue grew 88 percent year over year and nearly 30 percent compared to 2019. Merrell's DTC sales were up nearly 40 percent, according to Brendan Hoffman, president. The brand's dot.com sales were up mid-single digits and is up more than 150 percent versus 2019. Merrell's stores are up significantly year over year, led by gains of almost 180 percent in the U.S.
"Merrell continues to focus on cultivating its well-established product franchises, while delivering innovation through key new products," said Hoffman.
Merrell's performance category more than doubled in Q2, driven in large part by the launch of the all new Moab Speed and Moab Flight, which build on the success of the Moab hiker and the brand's vision of "faster lighter footwear for the trail." Both models sold out on Merrell.com. The Antora 2 and Nova 2 for trail runners also continued to perform well, more than tripling year over year.
Merrell's lifestyle business grew strong double digits during Q2 as the iconic Jungle Moc nearly doubled year over year and the newer Hydro Moc more than tripled. Merrell also introduced the 1TRL capsule collection on Merrell.com to strong success. Hoffman said, "This collection is focused on younger, fashion-forward consumers, demanding authentic outdoor influence style."
Hoffman added, "Merrell is generating significant brand heat and consumer interest and the brand's slate of  product and marketing stories for the back half of the year are poised to fuel continued strong growth over both last year and 2019.  Looking ahead, Merrell possesses a substantial growth opportunity globally, particularly in EMEA, where revenue nearly doubled in Q2, and in Asia Pacific. Outdoor's trending around the world in both performance and fashion and Merrell is capitalizing on its heritage and brand positioning."
Saucony Revenues Jump 129 Percent
Saucony's Q2 revenueS grew 129 percent over 2020 and 65 percent versus 2019. Saucony com was up over 20 percent despite comping against the nearly tripling of the business last year, resulting in more than 250 percent growth versus 2019.
Said Hoffman, "All regions contributed triple digit growth year over year. Saucony's incredible momentum continues to be fueled by product design and innovation."
The road running category more than doubled in Q2, propelled by the launch of the new Ride 14, Endorphin Pro 2 and Endorphin Speed 2 ranges. Said Hoffman, "The innovative Endorphin collection continues to generate heat in the marketplace and deliver substantial growth for the brand."
Saucony's trail running business more than tripled in the quarter and Saucony Originals, the brand's heritage lifestyle sneaker business, grew at "very strong" double digits.
After the quarter's end, Saucony launched the Triumph 19 and also introduced the Endorphin Shift 2 to "rave reviews." The Endorphin franchise was extended into trail running with the Endorphin Trail.
Looking forward, Asia Pacific remains a big opportunity for Saucony with the region almost tripling in Q2. Saucony's stores and core technical product are performing well in China as the brand's joint venture there begins to ramp up. Saucony's EMEA sales more than doubled in Q2 and also represents "a meaningful growth opportunity in both performance and lifestyle. Said Hoffman, "Saucony's runway for growth remains significant."
The company's work business accounted for nearly 20 percent of total revenue in the second quarter and continued to deliver strong growth. The Wolverine brand is up over 70 percent, Cat grew nearly 50 percent, and strong contributions were seen from smaller work brands.
With the continued growth of Merrill, Saucony, Wolverine and other work brands, the company's overall performance business almost doubled in the quarter versus 2020 and expanded nearly 40 percent over 2019.
Sperry Delivers Triple-Digit Growth
The Sperry brand rebounded year over year in Q2 with triple digit growth. The brand's DTC business is up nearly 50 percent in the quarter, driven by Sperry stores. The brands full-price business continues to perform well with gross margin expanding well over 400 basis points in the quarter. The new Float injected boat-shot range vaulted into Sperry's  top-selling styles, expanding price tiers for the brand and reaching a younger consumer.
Hoffman said the boat category has shown positive growth, particularly in men's, and Sperry gained market share in the key category. He added, "From a fashion standpoint there are clear indications that we are at the forefront of a boat shoe trend."
Looking forward, Sperry anticipates accelerated growth in its performance, active and athleisure business. In Spring 2022, a new Sperry Sports collection launches to tap into active trends. Collaborations with Rowing Blazers, Netflix's Outer Banks, Good Humor, John Legend and Rebecca Minkoff are also drawing heat to the brand. Sperry will look to leverage the easy-on-off trend with the launch of the Mock Cider the Cozy Flat to extend the Float franchise to the fall/winter season. Said Hoffman, "We expect continued strong year over year growth from Sperry in the back half of the year."
Earnings Top Wall Street Targets
Reported gross margin in the second quarter improved to 42.8 percent from 42.2 percent in the prior year. Adjusted gross margin improved 230 basis points to 44.5 percent due to a favorable product mix and higher average selling prices. Merrell and Saucony easily exceeded gross margin expectations in the quarter.
Reported operating margin was 10.1 percent versus 2.1 percent in the prior year. The adjusted operating margin was 12.6 percent, compared to 5.1 percent in the prior year.
Net earnings reached $44.7 million, or 53 cents a share, against a loss of $1.6 million, or 2 cents, a year ago. Adjusted EPS came to 67 cents, topping Wall Street's consensus estimate of 50 cents. On a constant-currency basis, adjusted EPS was 65 cents.
Inventory at the end of the quarter was down 14.2 percent year over year due in part to supply chain disruption; however, it marked significant improvement compared to the 20.8 percent lower year-over-year inventory position at the end of the first quarter.
Regarding its 2021 outlook, Wolverine now expects:
Revenues in the range of $2.34 billion to $2.4 billion, or growth of 31 percent, to 34 percent versus the prior year and representing growth of 5.6 percent over 2019 at the high end of the range. The target represents a $150 million increase from its original outlook in February.

Reported EPS is now expected to be in the range of $1.85 to $1.95 and adjusted EPS in the range of $2.20 to $2.30. Under its prior guidance, reported earnings were expected between $1.70 to $1.85 and adjusted EPS between $1.95 to $2.10.
Photos courtesy Merrell, Saucony