In its first report since going public, Signa Sports United (SSU), the Berlin-based sports e-commerce platform, reported sales climbed 10 percent in the fourth quarter and 24 percent in its fiscal year ended September 30. The better-than-expected performance came despite supply chain challenges that limited growth in the full-bike and e-bike category.
Signa Sports' online banners include Wiggle, Chain Reaction Cycles (CRC), Fahrrad.de, Bikester, Probikeshop, Campz, Addnature, Tennis-Point, TennisPro, and Outfitter.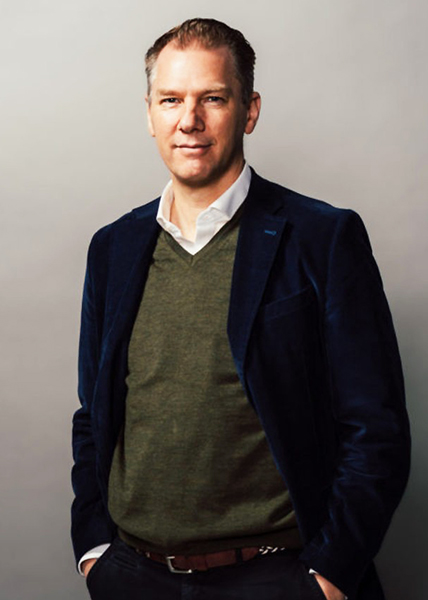 On a conference call with analysts, Stephan Zoll, CEO of SSU, shown right, said he was "proud of how our team has adapted to changing market conditions" that included disruption from the pandemic and major changes inside the organization.
"On the demand side, consumers continue to exhibit powerful demand across all of our work verticals, with 2021 representing the validation and acceleration of the megatrends that came into view during 2020," said Zoll. "We remain convinced that COVID has acted as a catalyst for consumers to actively pursue their passion for sports and active living and are confident that this dynamic will remain for the foreseeable future. Coupled with favorable consumer trends, we remain encouraged by the broadening scope of government green agendas and infrastructure spending, resulting in an e-mobility revolution and a boom in e-bikes that will continue to accelerate over the next decade."
On the supply side of the equation, he said the sports industry has not been immune from the well-documented supply chain pressures. COVID-related lockdowns, particularly in Asian geographies, have "heavily constrained" SSU's supply chain with particular pressure across manufacturing and transportation networks.
He added, "Given the steady demand we observed over the course of the year, we have felt the impact of our financial results as we have not been able to meet the full demand in the market. These disruptions have been felt particularly in the full-bike category and most notably across the e-bike segment, creating significant unmet demand."
Looking to the current fiscal year, Zoll said the company faces an "unclear picture" of when the supply chain situation, particularly in the full-bike category, will normalize, as many COVID-related impacts remain unresolved.
For fiscal 2021, Zoll said SSU delivered another year of strong organic performance with core e-commerce business exceeding targets from both a net revenue and adjusted EBITDA perspective despite the supply pressure in the market.
In the full year ended September 30, sales climbed 24.0 percent €872 million from €703 million. Excluding full-bike sales, sales gained 31 percent year-over-year. On a two-year basis, revenues grew 62 percent compared to FY2019.
The net loss in the year expanded to €46 million from €26 million due to one-off fees related to the public listing.
Gross profit grew 33 percent to €339 million as gross margins improved 277 basis points to 38.9 percent. On an adjusted basis, EBITDA vaulted 79.4 percent to €28 million from €15 million.
For the fourth quarter, net revenue grew 10 percent (19 percent growth when excluding full-bike sales) to €247 million. On a two-year basis, sales jumped 51 percent compared to Q419.
The net loss in the three months widened to €21 million from €10 million a year ago. Gross margins improved 182 basis points to 38.0 percent. On an adjusted basis, EBITDA was down 85.1 percent from €6 million to €1 million.
Signa Sports said that on a proforma basis, including a full year of announced acquisitions, the combined company exceeded FY2021 guidance for both net revenue and adjusted EBITDA, achieving €1,362 million and €73 million, respectively.
Recent accomplishments include becoming a public company on the New York Stock Exchange on December 15 through the completion of a business combination with Yucaipa Acquisition Corporation. The transaction provided gross proceeds of $484 million.
The company also closed the acquisitions of Wiggle/Chain Reaction Cycles (CRC) and Tennis Express on December 14 and December 31, 2021, respectively.
Zoll said that with the acquisition of Wiggle/CRC, SSU has formed a global online bike platform that is approximately four times larger than its next closest competitor. He said, "The two companies have a highly complementary geographic footprint, own solid brand portfolios that will benefit from the increased reach of the combined company, and have a meaningful organic synergy opportunity."
SSU said it moved to "rapidly scale" its position in the U.S. tennis market with the acquisition of Tennis Express following the April-2021 acquisition of Midwest Sports. Zoll said, "We estimate that these two acquisitions give us the leading position in the US tennis e-commerce market that has experienced a dramatic increase in player participation during the pandemic. By extending our European playbook of partnering with clubs, our supplier brands and domestic federations, we plan to support the sport's growth in the U.S."
Zoll said SSU would continue to drive growth across its platform through three strategic pillars. He elaborated, "First of all, we aim to drive market share in our existing markets by capturing existing whitespace as well as expanding further into categories such as emerging sports while continuing to develop our own brand portfolio. Secondly, we look towards inorganic growth to play a key role in our strategy as well as plan to be active in entering new markets. And we remain focused on attractive opportunities in front of us. For our final strategic pillar, we are excited about the opportunity to extend our business towards enabling third-party businesses, for both offline retailers and our brand partners, with accretive unit economics."
As part of its third pillar, SSU experienced growing demand for retail media sales last year. The company also continued to grow its connected retail footprint with over 80 connected retail partners added in the fourth quarter and by signing partnerships, such as an agreement with Motesque to exclusively launch the first-ever biomechanical AI-based virtual bike fitting engine for online bike shopping.
Other accomplishments include achieving climate neutrality for the second straight year.
Looking ahead, Zoll said, "As it relates to the broader market, we iterate our conviction that the growing passion for sports and active living will remain a key theme of 2022 and that this tailwind will be long lasting in nature. In the event that retail spending is adversely impacted by changes to the macroeconomic environment, we believe that sports spending will be resilient in the face of lower spending and will not be among the most severely impacted categories.
"From the perspective of our supply chain, we remain consistently engaged with our partners across the industry and the current expectation is that supply chain disruptions will likely continue into the second half of 2022 before normalizing for SSU."
Regarding its strategic priorities, Zoll aid the U.S. "remains a key geography," and the company will look to build on its strong position in tennis as well as extend its reach throughout the U.S. in the bike category. In Europe, SSU will look to continue to scale operations, especially outside the Dutch region. Zoll said, "To date, we have seen considerable strength throughout southern Europe and the Nordics and believe that remains great potential to make further inroads."
Zoll added, "While supply chain issues are likely to persist into the second half of 2022., we remain well-positioned to capitalize on our consumer demand, especially within the quickly expanding e-bike category, as inventory starts to rebuild."
Regarding acquisitions, he said SSU would focus on driving top-line synergies from the Wiggle/CRC and Tennis Express and explore additions. Zoll said, "The fragmented sports marketplace will present numerous actionable M&A opportunities, and we will be diligent in pursuing opportunities in core and adjacent verticals to continue with our successfully accretive consolidation journey."
Photos courtesy Signa Sports United