On Puma's quarterly media call, CEO Bjørn Gulden said the brand's 26 percent jump in first-quarter sales came despite ongoing coronavirus lockdowns and congestion at U.S. ports and reflected strength across running, golf, basketball, and its lifestyle offerings. He also predicted a return to sport with the help of the Olympics and the EURO Cup.
Discussing key growth opportunities, Gulden highlighted the brand's major relaunch into performance running with models such as the Velocity Nitro and the Deviate Nitro, shown below. He said the launch was "very well received," and Puma plans to take advantage of the resurgence seen in running during the pandemic. Gulden said, "More people are out doing sports, they buy running shoes, and we will have a space in that business."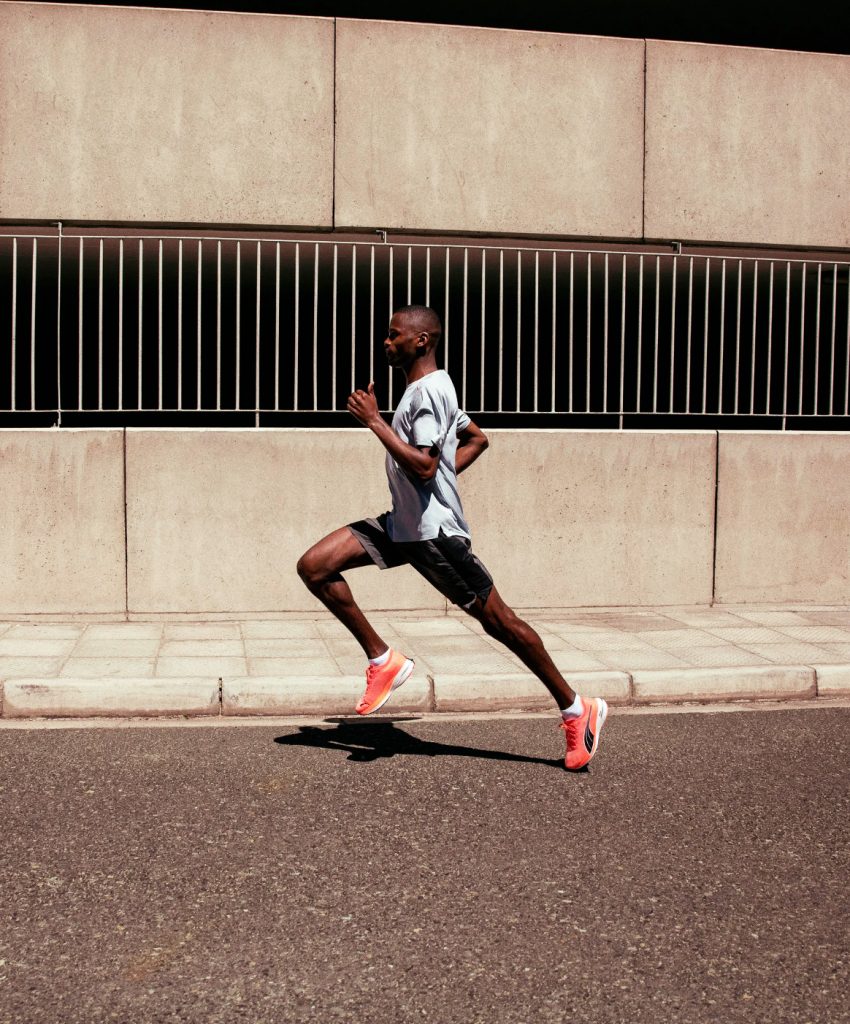 Gulden also expects running to gain a boost from the Tokyo Olympics and he expects the event to help support a broader "great turnaround for sports" in 2021. Puma will represent 13 federations at the event and around 200 athletes.
Regarding global football, Gulden said the signing of Nemar "created a lot of excitement" with the star player active on social media. Puma's soccer product has sold "very, very well" in regions that have been able to play soccer. Gulden also noted that Puma signed Kingsley Coman of Bayern Munich and will have four teams in the men's EURO Cup including Italy, Switzerland, Austria, and the Czech Republic. Gulden said, "We hope that the tournament will happen and that our teams will look good and perform well."
Golf, according to Gulden, "has boomed" as markets across the world have reopened and the Cobra Puma Golf business is expanding at a steady rate between 20 percent and 30 percent. He noted that Puma's golf business had been helped by partnering with some of the "sport's most exciting players," including Lexi Thompson, Rickie Fowler and Bryson DeChambeau. Said Gulden, "We are very, very happy that we kept the golf business when other people sold it."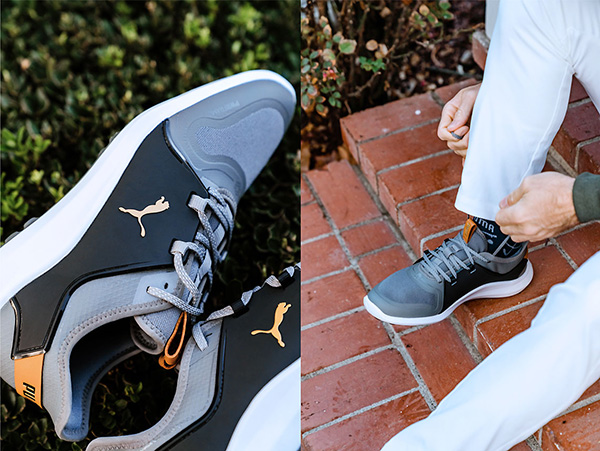 Basketball, a category Puma re-entered in 2018, helped support the 38.5 percent currency-adjusted growth seen in its first quarter in the Americas region. Said Gulden, "We have said that being in basketball has been the key to that younger consumer, especially the male ones. We think that the combination of players, product, music, and sport has really worked."
He said one strategy paying off for Puma across sports is combining "different athletes in different sports," showing a picture of Kyle Kuzma of the Los Angeles Lakers playing golf. He added that the signing of Charlotte Hornets' LaMelo Ball, the third pick in this year's NBA draft, "has been fantastic" and Ball will be one of Puma's featured athlete's in the brand's new "Only See Great" campaign. Gulden added, "He's probably the best young player in the NBA. His personality fits the brand, and we are very, very happy to be in basketball again."
In lifestyle footwear, Gulden noted that Puma for many years typically had "one or two or three shoes selling well," but now has eight or nine franchises seeing momentum. Strength is happening in men's and women's. Said Gulden, "We feel that we have a much wider and more stable business on that side than we used to have."
He said Puma has generated brand heat due to the signing of singer Dua Lipa, who has two franchised shoe models, including the Mayze. Gulden called Lipa "a great, great addition who creates a lot of excitement and is influencing a lot of our different target groups."
Lipa is part of Puma's "She Moves Us" campaign that's been well received. To watch the video, go here.
In the first quarter ended March 31, Puma's sales increased 25.8 percent on a currency-adjusted basis to €1,549 million and gained 19.2 percent on a reported basis.
By region, the fastest growth was in the Americas, expanding 38.5 percent currency-neutral (25.2 percent reported) to €533.9 million. The gains were driven by North America. 
In the Asia/Pacific region, sales grew 28.8 percent currency-neutral (24.6 percent reported) to €442.4 million.
The EMEA region, which was greatly impacted by pandemic-related lockdowns that closed stores, saw sales gain 14.0 percent currency-neutral (10.5 percent reported), to €572.4 million.
By product category, Footwear grew 27.0 percent currency-neutral (19.3 percent reported) to €773.8 million. Apparel grew 27.2 percent currency-neutral (21.1 percent reported) to €532.0 million. Footwear and Apparel were helped by strong demand for Puma's Running and Training and Sportstyle categories.
Accessories grew 19.4 percent currency-neutral (14.6 percent reported) to €243.0 million, strongly supported by golf and the leg and body wear business.
Puma's Wholesale business increased 24.3 percent on a currency-neutral basis to €1,202 million, despite lockdown-related store closures in several markets and supply chain constraints in North America. Direct to Consumer (DTC), which includes owned and operated retail stores and e-commerce, climbed 31.3 percent on a currency-neutral basis to €346.8 million, driven by strong growth in e-commerce of 74.9 percent on a currency-neutral basis.
Gulden said the quarter was basically in line with plan with the company starting the year with an order book of 30 percent.
The gain came against a sales decrease of 1.3 percent on a currency-neutral basis in the year-ago period as the pandemic emerged. On a two-year CAGR basis, sales are up between 12 o 13 percent. Gulden added, "So very healthy momentum for the brand."
Gulden added that Puma had to overcome supply chain disruption that impacted January's sales. By month, sales on a currency-adjusted basis were flat, up 0.4 percent, in January before accelerating to 16.8 percent growth in February and 75.3 percent growth in March as year-ago comparisons became easier.
Gulden noted that Puma faced a container shortage and congestions in harbors, especially in the U.S., that led to delays between three and four weeks in getting products into the company's warehouse and out to customers. He added, "That has improved during February and March."
Gross margins in the quarter improved 90 basis points to 48.5 percent despite negative currency effects. The improvement was driven by a better sell-through of products and less promotional activity.
Operating expenses (OPEX) increased by 8.6 percent to €601.1 million due to higher sales-related, warehousing and distribution costs mainly driven by a strong increase in the e-commerce business as well as higher marketing investments.
EBIT climbed 116.7 percent to €154.3 million from €71.2 million a year ago due to strong sales growth, higher gross profit margin and continued expense control. EBIT margin improved to 10.0 percent from 5.5 percent a year earlier.
Net earnings in the quarter nearly tripled to €109.2 million from €36.2 million the prior year.
Inventories increased 8.3 percent and in line with plan.
Given a strong first quarter, Puma said it now expects mid-teens sales growth on a currency-neutral basis, up from previous guidance calling for "at least moderate sales (ca) growth with upside potential." The outlook for operating and net earnings have not changed, and "significant improvement" is expected. Puma continues not to provide guidance for gross margin and operating expense due to the uncertainties in the marketplace.
One major uncertainty continues to be the negative impact of the pandemic.
"We had hoped, to be honest, that the impact of COVID would slow down at the end of Q1, and hopefully also during q2," said Gulden. "But looking at the numbers, where I think we had a globally all-time high of almost 800,000 infections yesterday, the curve is still, at least for the short term, going in the wrong direction. That means that our business is impacted by it."
He noted that Puma has around 150 of its own 855 stores closed due to lockdowns. At the end of April 2021, approximately 30 percent of the retail stores selling its products in Europe and Latin America are still closed due to lockdown measures, and the remaining 70 percent are mostly operating with significant restrictions.
The second ongoing headwind is supply chain disruption that has resulted in significantly higher freight costs and still some capacity constraints on containers and port congestion. Gulden said, "Although we are catching up, there's still two to three-week delays on many shipments."
He also said Puma is being impacted by the strength in the Euro against numerous currencies, including the U.S. dollar, although that may lessen as the year progresses. Finally, he referenced the boycotts many Western companies face after several nations imposed sanctions on China over alleged human-rights abuses in the cotton-producing region of Xinjiang. Gulden said, "The tension between certain markets, especially America, Europe and China, is causing some tension and some uncertainty, which currently has some impact on our industry. Hopefully, that will not be the case when we get further into Q2."
Photos courtesy Puma, Lead Image Puma Golf Fasten8. For more product information, go here.