On Nordstrom's fourth-quarter earnings call, Pete Nordstrom, president, said the retailer's partnership with Tonal, the at-home connected gym start-up, is just one part of the chain's efforts to build on recent success in the active category.
As reported, Nordstrom, on Monday, announced it had struck a deal to bring 40 Tonal mini shops into its full-line stores beginning in March to showcase Tonal's product assortment and to create brand interest. Tonal sells a wall-mounted training machine for upper and lower body strength training.
Asked in the Q&A session of the call about Tonal, Nordstrom said the partnership is about empowering Nordstrom merchants to think "less about a whole legacy view" of the department store's traditional mix and more about pursuing products Nordstrom's emerging customers are interested in most.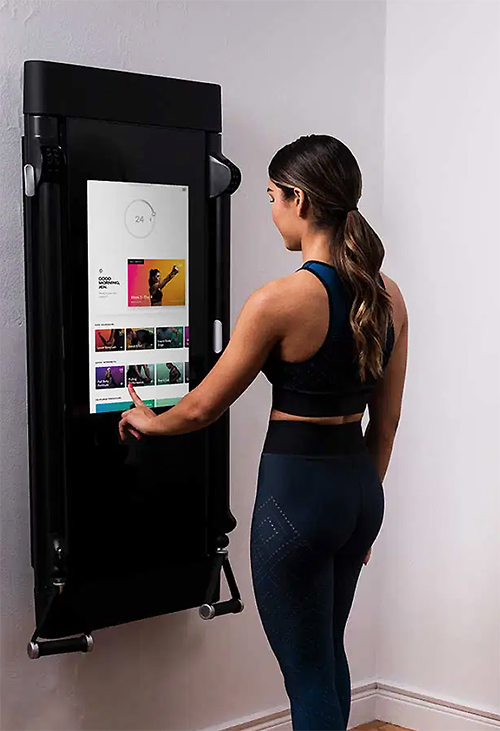 Said Nordstrom, "I give that credit to our active team looking for opportunities to enhance our authority in this subject, this category and classification. Tonal is a way where we can do that. We have a shared customer between the two companies, and they've got a willingness to try something with us and as do we with them. These are the things we love doing."
The partnership comes as Nordstrom has recently amplified its active offerings and accelerating its efforts as active has been a stand-out category during the pandemic.
According to an article in WWD, new active brands arriving on Nordstrom's shelves in the last three months include IVL, Outdoor Voices, Brooks Running, On Running, Malbon Golf, and Parks Project. New brands arriving in March will be Eleven by Venus Williams, Bad Birdie and Gramicci.
In its Fitness category, Nordstrom recently began selling Hyperice and Theragun massage devices, Bala weighted bangles, Sweaty Betty running gloves, and Yoga Design Lab yoga mats. Tonal will join the Tangram Jump Rope among connected fitness offerings. Topo Designs hiking backpacks and Smith snow helmets and ski goggles have recently found a home in Nordstrom's Outdoor category.
In December 2020, Nordstrom launched an Active microsite where customers can search active brands by activity or category and receive fitness and wellness advice, expert advice, product, and performance guides. The microsite was the first step to launching its growth strategy in the Active space for 2021.
"We know customers are looking for inspired workouts that elevate their wellness ambitions, and we're excited to offer them a dynamic new digital fitness experience through our partnership with Tonal," said Lori Marten, Nordstrom vice president and divisional merchandise manager, in a statement announcing the Tonal partnership. "Our goal is to help customers discover the latest active gear for style, performance and everything in-between, and we look forward to making it easier to discover everything in one place so they can look and feel their best."
In the fourth quarter, Active and Home realized double-digit growth. Beauty, Kids, designer Handbags, and Shoes also had strong sales results. On the call, Pete Nordstrom cited Active, Home, Beauty and Kids among the consistent "hot categories" during the pandemic. He noted that Active's strength builds on the casualization trend seen in recent years. Amplified inventory investments are planned in those areas for the near term.
Nordstrom said, "I think in the near term, it's clear where to invest. The trickier part is as the year goes on, trying to see how things evolve, and we're trying to get every bit of objective data we can around leading indicators of when these things will evolve and change."
Companywide, sales in the quarter were down 20 percent as Apparel, overall, continues to underperform significantly. Nordstrom cited weakness in men's Apparel and "more work on formal oriented" offerings.
On the positive side, the quarter's sales decline was slightly ahead of expectations and improved sequentially by 600 basis points relative to the third quarter. Compared to the third quarter, Nordstrom's full-price stores were up 5 percentage points, and Nordstrom Rack, up 9 percentage points. Companywide, online sales grew 24 percent to represent 54 percent of total sales than 35 percent for the same period last year.
Photos courtesy Tonal