Lululemon Athletica raised its outlook for sales and earnings for 2021 as first-quarter results showed continued momentum in online sales, a strong resurgence in in-store traffic and strength across its men's and women's offerings.
"Our first-quarter results reflected our strength across all drivers of growth, fueled by the continued expansion in our e-commerce business, our performance across categories and geographies and a rebound in the number of guests shopping in our brick and mortar stores," said Calvin McDonald, CEO, on a conference call with analysts.
Net revenue in the quarter ended May 2 jumped 88 percent to $1.2 billion. On a constant dollar basis, revenue climbed 83 percent. The company had projected sales in the range of $1.1 billion to $1.13 billion. Wall Street's consensus estimate had been $1.13 billion.
Company-operated store revenue jumped 106 percent to $536.6 million. Direct-to-consumer (DTC) revenue advanced 55 percent to $545.1 million. DTC revenue represented 44.4 percent of total revenue compared to 54.0 percent for the first quarter of 2020. Net revenue increased 82 percent in North America and 125 percent internationally.
On a two-year CAGR basis, revenue increased 25 percent, representing an acceleration relative to its three-year CAGR of 19 percent leading up to the pandemic. Revenue increased across all, up 23 percent in North America and 41 percent in international markets, both on a two-year CAGR basis. McDonald said the growth "reinforces that we remain early in our life cycle and have a unique business model that allows us to thrive in an ever-changing environment."
E-commerce comps were up 50 percent on top of the 70 percent increase in the same quarter last year that benefited from temporary store closings.
Adjusted earnings per share were $1.16 versus 74 cents in 2019. Lululemon had projected adjusted EPS in the range of 86 cents to 90 cents.
"We delivered at this high level while we also strategically managed a number of ongoing macro operating challenges, such as continued store closures, capacity constraints, supply chain challenges at the ports, and reduced air freight capacity," said McDonald. "While challenges of all types will no doubt remain going forward, I am confident we will continue to manage them effectively and deliver outstanding results."
Men's Growth Outpaces Women's
Women's revenue increased 23 percent while men's grew 27 percent on a two-year CAGR basis. Tops and bottoms saw strength with women. Performance in tops was driven by core styles and franchise extensions, such as the Align Tank.
Men's growth outpaced women's growth on both a one and two-year basis with positive momentum in its On The Move assortment.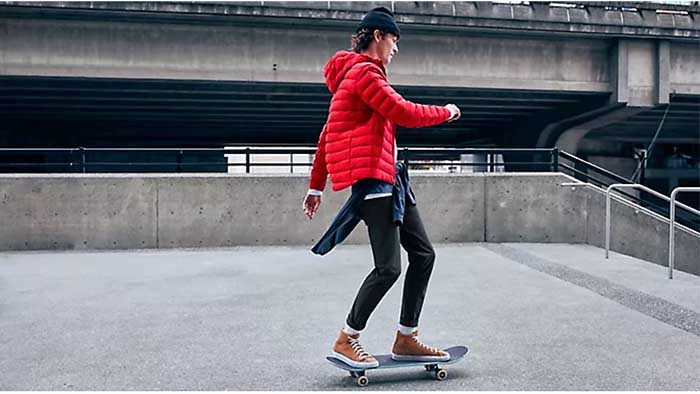 "Across both the women's and men's businesses, our sales success reflects our ability to consistently introduce new innovation to our guests as we expand core and newer categories and leverage our spectrum of raw materials," said McDonald. "We're in the early days of our product journey with ample opportunity to expand across our four key product areas of Yoga, Run, Train, and On The Move."
Online, the healthy comps came from a mix of new and existing customers and were helped by investments to upgrade its online experience. Said McDonald, "We're continuing to improve product education, offer better outfitting solutions and tell stories in a more compelling way."
Store Productivity Recovers
Store productivity improved to 88 percent of levels in 2019, exceeding management's expectations and moving towards a goal of returning productivity levels to 2019 levels. Conversion remained strong and continues to increase in the double-digits despite the traffic recovery as capacity constraints start to lift in many markets.
McDonald said Lululemon remains "committed" to stores and is "seeing more and more great real estate opportunities become available in areas in key cities around the globe." He credited the strong store performance to the retailer's pay protection initiative for staff implemented in 2020 that helped stores reopen quickly to take advantage of the improving traffic its seeing now. McDonald said, "This helped us deliver against our plans to kick-start our stores and reengage our store-only guests."
Mirror, the at-home fitness start-up acquired in July 2020, remains on track to deliver $250 million to $275 million in revenue in 2021 and was boosted by a strong Mother's Day campaign. By the middle of May, Mirror will be featured in nearly 90 Lululemon locations in the U.S. with plans to reach 200 by the holiday selling season. McDonald said, "We now have dedicated Mirror specialists among our educators in each of these stores, and the early sales results are encouraging."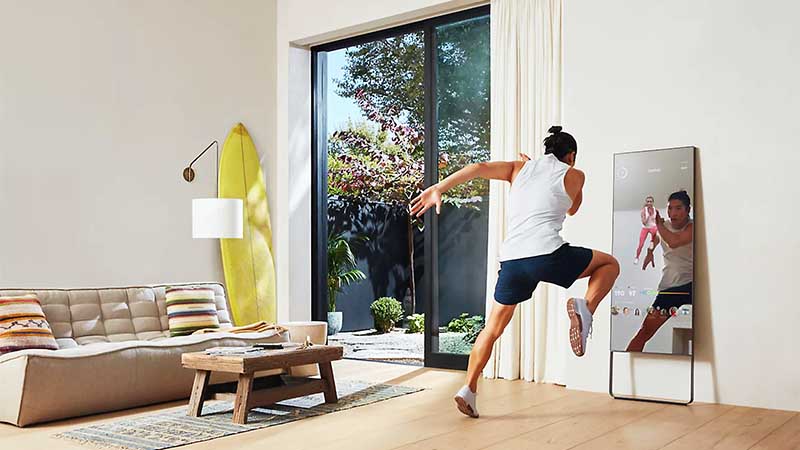 Internationally, McDonald said Lululemon has set "ambitious growth goals" following the hiring last October of longtime Adidas executive André Maestrini as EVP, international. He said, "From our new stores in China to continued growth in the Asia Pacific to our online performance in EMEA, the results continue to reinforce that we are early in the growth trajectory. And as I have said before, I can see a time in the near future where our international business grows in size to be equal to our North American business."
The earnings improvement was helped by an improvement in gross margins by 580 basis points to 57.1 percent. Gross margin increased 320 basis points relative to 2019, driven by 220 basis points of leverage on occupancy, depreciation and product team costs; an 80 basis point increase in product margin, with the decline in markdowns versus 2019 and despite higher airfreight expense related to COVID-19.
SG&A was 40.5 percent of sales, down from 46 percent in Q120, and compared with 37.4 percent in Q119. The deleverage relative to Q119 is due to the inclusion of Mirror in results, coupled with higher depreciation due to accelerated investments to support its e-com business and COVID-related operating channel costs.
Adjusted operating income for the quarter was $202 million, or 16.4 percent of net revenue compared to 5.3 percent of net revenue in Q1 2020 and 16.5 percent of net revenue in Q1 2019.
Inventories at the end of the quarter increased 17 percent to $732.9 million compared to $625.8 million at the end of the first quarter of 2020. On a two-year CAGR basis, inventory increased 29 percent.
Meghan Frank, CFO, said, "While we continue to see some delayed inventory receipts due to issues at the ports, our team is strategically using air freight, and we are comfortable with the level and composition of our inventory as we move into Q2."
2021 Outlook
For the second quarter, net revenue is projected to be in the range of $1.3 billion to $1.33 billion. Diluted EPS is expected in the range of $1.05 to $1.10 for the quarter and adjusted EPS in the range of $1.10 to $1.15. In Q220, sales were $902.9 million, reported EPS was 66 cents and adjusted EPS was 74 cents. In Q219, sales were $883.4 million and EPS was 96 cents.
For 2021, net revenue is expected in the range of $5.825 billion to $5.905 billion. Diluted EPS is expected in the range of $6.52 to $6.65 and adjusted EPS between $6.73 to $6.86. Previously, guidance called for revenue in the range of $5.55 billion to $5.65 billion. Diluted EPS was expected in the range of $6.10 to $6.25 for the year and adjusted EPS in the range of $6.30 to $6.45.
Photos courtesy Lululemon