Levi Strauss & Co. reported its top-line momentum accelerated in the fourth quarter ended November 28 after seeing sales return to pre-COVID levels in the third quarter, helping the denim giant reach its highest annual revenue since 1998. Chip Bergh, president and CEO, sees "several multi-year tailwinds," including the casualization trend, driving future growth.
On a quarterly call with analysts, Bergh said the accelerated casualization trend is "not just a U.S. phenomenon; it's happening around the world" and is driving growth in the brand's core denim business.
He said, "The total addressable market for denim is large and growing, and consumer preferences continue to shift towards casualization. As the global denim market leader, we are well-positioned to take advantage of it and drive growth."
In the most recent quarter, jeans growth in the U.S. outpaced apparel, with both categories surpassing 2019 levels. For the year, the U.S. jeans category was up 8 percent versus 2019. Levi's continued to increase shares in women's denim in the U.S. and achieved "significant traction" engaging GenZ consumers through programs like Levi's SecondHand re-commerce initiative and its Buy Better Wear it Longercampaign, said Bergh.
The jeans category is also expected to benefit as research shows almost 40 percent of Americans have had their waist size change during the pandemic and as the trend toward looser, baggier fits appear early in its cycle. Said Bergh, "The last big cycle was skinny jeans, which is a women's only thing, and the new denim cycle drives apparel widely. It drives footwear, and it drives tops. I'm optimistic for that reason."
Other tailwinds expected to support Levi's performance in the future include pricing power and its direct-to-consumer (DTC) push.
Bergh said moves to raise prices "are sticking," reflected by the company's 7 percent AUR (average unit retail) increase in the latest quarter over 2019. "We have plans to take additional price increases in 2022 and beyond, helping us to offset inflationary pressures. Even as we take price, our products provide an exceptional value to consumers," said Bergh.
At the store level, NextGen doors continue to open globally, including 16 in the U.S. in 2021. The stores support direct engagement with customers. Said Bergh, 'We're also using AI to enhance and differentiate our loyalty programs and app, and both have seen strong acquisition rates, meaningful growth in performance and productivity of existing members."
Finally, Levi's continues to diversify its business, including its move into the premium activewear category with its acquisition of Beyond Yoga. Underpenetrated areas continue in women's, tops and international.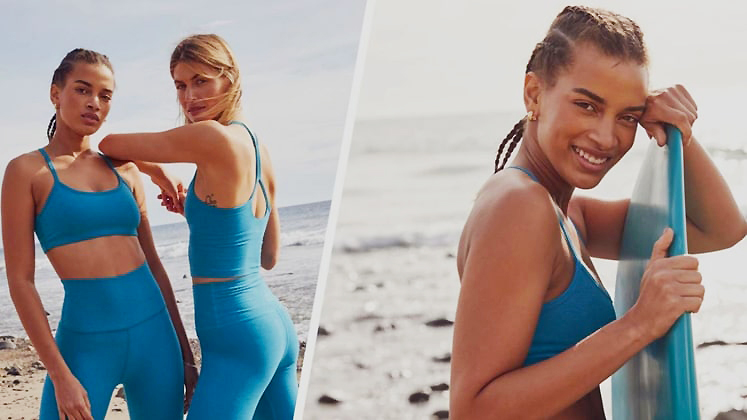 Q4 Revenues Climb 22 Percent
In the fourth quarter, revenues reached $1.7 billion, up 22 percent versus Q420 and 7 percent versus Q419. Results topped Wall Street's consensus target of $1.68 billion.
Net income was $153 million, or 37 cents a share. On an adjusted basis, net income grew to was $170 million, or 41 cents, up 105 percent from $81 million, or 20 cents, in Q420 and 58 percent from $108 million, or 26 cents, a year ago. Wall Street's consensus estimate had been 40 cents.
For the full year, revenues of $5.8 billion were up 29 percent versus FY20 and flat to FY19. Net income was $554 million, $1.35. Adjusted net income was $601 million, or $1.47, up 600 percent from $84 million $0.21 in FY20 and 31 percent from $456 million, or $1.12, in FY19. 
Americas Drives Regional Growth
The sales gains in the quarter were largely driven by higher AUR. The benefit of Black Friday and last year's acquisition of Beyond Yoga contributed approximately 3 percent to Levi's growth; this was offset by supply chain constraints that led to lost sales of roughly $50 million, or 3 percent.
By segment, sales in the Americas region, for its core denim business (Levi's brand, Levi's Signature and Denizen), grew 12 percent on a constant-currency basis compared to Q419, to $885 million. The improvement was driven by increased price and higher unit volume, which has sequentially improved throughout the year. All channels were up with continued strength in U.S. wholesale and accelerated growth in owned and operated stores and e-commerce. Growth was seen across all markets, including the U.S., up 9 percent, and nearly 40 percent growth in Latin America.
Europe grew 3 percent versus 2019 to $453 million, with sales held back by "sporadic virus resurgences." Excluding the impact of a footwear distributor becoming a licensee, Europe would have been up 6 percent.
Asia's revenues decreased 2 percent versus 2019, to $248 million, representing double-digit sequential improvement versus Q3 and driven by DTC and wholesale, even as COVID continued to impact Asian markets.
Looser Fits Driving Denim Category
Globally, Levi's brand accelerated to 7 percent growth versus 2019, with even stronger growth in its top five markets. Men's bottoms were up 6 percent to 2019, reaching the highest revenue level since Q415. Women's bottoms continue to outperform, climbing 21 percent to 2019 as the trend towards high rise and looser fashion fits drove significant growth. 
Levi's 501 brand was up 23 percent to 2019, driven by solid gains for men and women. Overall, looser fits continue to increase in penetration, representing roughly half of both its women's and men's bottoms assortments, including for the year.
Levi's tops business returned to growth versus 2019, driven by solid performance in men's woven and sweatshirts, and women's saw momentum across wovens, dresses and outerwear.
Beyond Yoga Pilots Men's Offerings
In its Other Brands segment (Dockers and Beyond Yoga), revenues grew 4 percent in the quarter versus 2019. The gain reflected Beyond Yoga sales of approximately $15 million in the roughly two-month period since the acquisition. Dockers' revenue continued to improve, and while still being down versus 2019, each quarter in 2021 was sequentially better. Beyond Yoga launched a men's pilot in the quarter with plans to expand in 2022 due to a positive response.
By channel, DTC in the quarter increased 18 percent versus 2019 due to higher AURs, increased conversion and store expansion. E-commerce was up 22 percent year-over-year, on top of the 38 percent growth last year, with strong results across several key metrics, including AUR, traffic, conversion, and profitability.
Levi's global wholesale business grew 1 percent versus 2019, reflecting 2 percent growth in the U.S. for the quarter. For the year, U.S. wholesale was up 4 percent versus 2019.
Adjusted gross margin of 58.1 percent expanded 380 basis points versus 2019, largely attributable to the higher mix of sales from DTC and women businesses and price increases and lower promotion; this was partially offset by a 60 basis point incremental air freight impact.
Adjusted SG&A expenses in the quarter were $776 million or 46 percent of net revenues compared to 45 percent of net revenue in Q419. The approximately $70 million increase relative to quarter Q419 was primarily due to the investments in its Buy Better, Wear Longer campaign, store expansion, currency impacts, and the addition of Beyond Yoga. Adjusted EBITDA margin of 12 percent expanded 270 basis points versus 2019.
Investments Planned In Core Inventory 
Inventories at the end of the quarter were 2 percent above Q419. Levi's plans to build core inventory through the first half of the year to better meet consumer demand. Levi's noted that approximately two-thirds of its stock includes core non-seasonal products.
Looking ahead, Levi's said it expects for fiscal 2022 revenues growth of 11 percent to 13 percent compared to FY 2021, between $6.4 billion and $6.5 billion. Adjusted diluted EPS of $1.50 to $1.56, up from $1.47.
"Overall, we are entering fiscal '22 with great momentum around the world. We are a stronger company than ever before with an agile supply chain enabling us to outperform as Levi drives increasingly more direct consumer engagement and denim category expansion while making meaningful gains with women and GenZ," said Bergh. "Longer term, our entry into the activewear market represents another strong runway for growth, in addition to the category diversification opportunities in our existing portfolio. Our company's potential has never been greater."
Photos courtesy Levi Strauss & Co.