Kohl's reported activewear outperformed in the fourth quarter and remains one of the chain's "most productive categories." Kohl's reiterated plans to increase in-store space dedicated to active assortments by at least 20 percent in 2021.
The increased space allocation follows the successful test of expanded assortments in 160 stores over the last two years that drove incremental sales, said Michelle Gass, Kohl's CEO, on a conference call with analysts. It comes as Kohl's last year set a goal to increase active penetration to 30 percent of sales, up from 20 percent currently.
"Our vision is to be the most trusted retailer of choice for the active and casual lifestyle," said Gass. "The trend towards casualization and living actively has been underway for some time but has accelerated with the pandemic. Kohl's is uniquely positioned to differentiate itself and address the active lifestyle needs of today's families given our breadth of relevant categories, our accessible and aspirational brand portfolio, our seamless omnichannel experience and healthy store base, and our leading loyalty program."
Gass said the increased active growth is expected to come from elevated product offerings from its three key national brands: Nike, Adidas and Under Armour. Expanded assortments in active are also planned for girls, special sizes, including plus and big & tall, and golf.
Athleisure And Outdoor Assortments To Be Expanded
"We are also expanding our assortment in athleisure and outdoor, two areas where we are currently underserved," added Gass.
In athleisure, Kohl's this month is introducing Flex, a new athleisure private brand that fills "an important whitespace in our men's and women's assortment," said Gass. This week, Kohl's introducing Calvin Klein underwear, intimates and loungewear in more than 600 stores and online this fall.
"Calvin Klein is one of the world's most recognizable brands and is another example of how we are elevating our brand portfolios to increase our relevancy with our customers," said Gass. "Further, we'll expand our offering of a Champion brand, which continues to be in strong demand, growing more than 95 percent in the fourth quarter."
Gass described outdoor as "a large incremental growth opportunity within active." Kohl's recently announced plans to introduce Eddie Bauer in approximately 500 stores and online later this year to complement its strong positioning with Columbia Sportswear and Lands' End.
Gass concluded, "We are confident that our moves in the active category in 2021 will further differentiate and strengthen Kohl's positioning and drive increased customer engagement."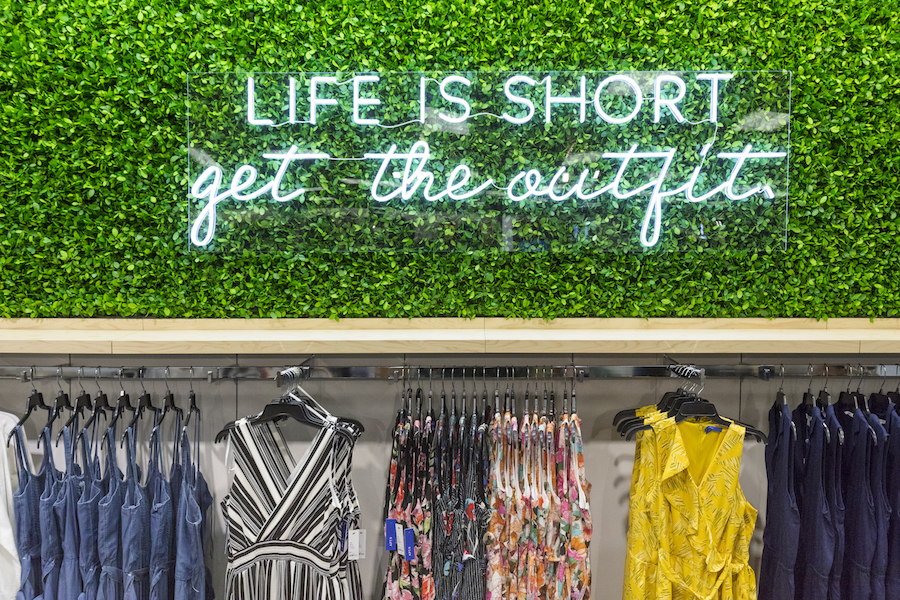 Fourth-Quarter Shows Strong Incremental Improvement
Overall, sales in the fourth quarter rose 10.1 percent to $6.14 billion, ahead of Wall Street's consensus estimate of $5.88 billion.
Earnings on an adjusted basis grew 12.3 percent to 346 million, or $2.22, easily ahead of Wall Street's consensus estimate of $1.01. Adjusted earnings exclude impairments, store closing and other costs, real estate gains, and gains on extinguishment of debt.
Net income totaled $343 million, or $2.20 per share, up from $265.0 million, or $1.72, last year. Gass said sales improved sequentially for the third consecutive quarter, and overall results exceeded expectations across all key metrics.
Digital sales climbed 22 percent to account for 42 percent of sales versus 31 percent last year. Stores fulfilled nearly 45 percent of digital sales, up from 35 percent last year. Sales strengthened through each month, with January benefiting from its program to accept Amazon returns.
Gass said the Amazon returns program continues to be a key contributor to driving traffic and introducing new customers to Kohl's. She said, "We especially saw this with the acceleration of post-holiday traffic in January. In 2020, we can attribute at least 2 million new, unique customers shopping at Kohl's as a result of the Amazon returns program, a third of which are millennials."
Among categories, home was the one positive category with continued interest in the kitchen for items like cookware, food preparation and kitchen electric, and living spaces where demand was strong for bedding and floor care. Active outperformed with notable strengths in children's. Beauty also outperformed Kohl's average, driven by bath & body, fragrance and skincare. Continued improvement was seen in women's.
Gross margins eroded 73 basis points to 32.0 percent, better than expected and marking further underlying margin improvement. Excluding holiday-related freight surcharges of approximately 60 basis points, gross margin down only 15 basis points despite the significant increase in digital penetration. Disciplined inventory management and further progress on pricing promotion optimization strategies drove an increase in merchandise margins year-over-year to offset the cost of shipping headwinds.
SG&A expenses declined 8.0 percent to $1.6 billion due to lower store payroll, marketing, technology, and credit expenses. As a percent of sales, SG&A grew to 26.1 percent from 25.5 percent.
For the year, adjusted earnings came to a loss of $185 million, or $1.21 a share, against earnings of $769 million, or $4.86, a year ago. The net loss in the year was $163 million, or $1.06, against earnings of $691 million, or $4.37, a year ago. Revenues were down 20.1 percent to $15.96 billion from $19.97 billion.
Elaborating on some other growth priorities, Gass highlighted the chain's new partnership to install 200 Sephora beauty in-store shops inside Kohl's this year, starting in August. Another 400 are targeted for 2022, and 850 are expected to be open by 2023.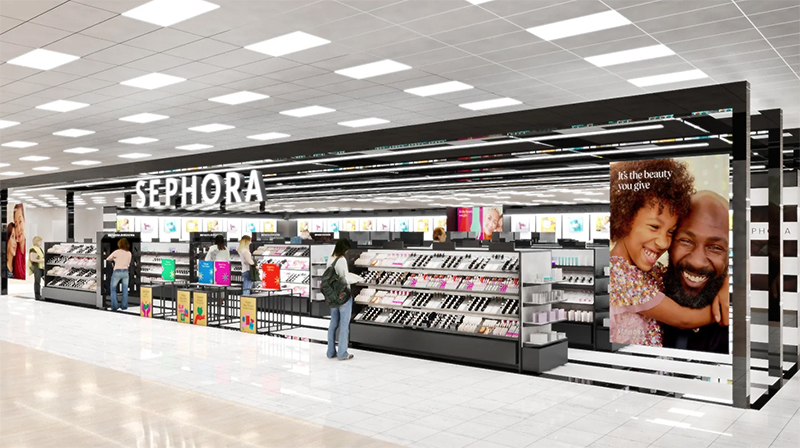 She said, "With  as our exclusive partner, Kohl's will become a leading beauty destination." Gass said Sephora's shops are expected to not only drive significant additional sales growth at an accretive margin but have "a halo effect across the entire store and drive sales and other categories, including positively impacting our women's business." She also suspects Sephora will help attract a younger consumer.
The women's category repositioning that included the exit of several brands, a new organizational structure, and new leadership continues to make progress. She said, "Women's quarter over quarter improvement outpaced the company and delivered strong results in active and intimate."
Choice counts have been reduced, depth expanded and storytelling enhanced. Positive growth was seen in Sonoma and So in women's in the quarter and "solid results" in LC Lauren Conrad, and Nine West, "all of which are important go forward brands," said Gass.
Private label assortments overall have been "significantly" edited to improve clarity and drive greater differentiation. Tek Gear in active, Jumping Beans in kids, Simply Vera in women's and Sonoma across all major categories are gaining more prominence. Continuing private brands continue to outperform the company average.
Sales Expected To Expand In Mid-Teens In 2021
Looking ahead, Kohl's said it expects full-year 2021 sales to increase in the mid-teens percentage range, operating margin to be in the range of 4.5 percent to 5.0 percent, and EPS to be in the range of $2.45 to $2.95, excluding any non-recurring charges.
Kohl's also plans to resume its capital allocation strategy in 2021, including increasing capital expenditures, reinstating dividends, resuming share repurchase programs, and employing liability management strategies. Capital expenditures are planned between $550 million to $600 million, including the launch of its Sephora partnership, the opening of its sixth e-commerce fulfillment center and store refresh activity.
Photos courtesy Kohl's