Boosted by strong demand for its casual offerings, Journeys saw a strong recovery in the first quarter and help its parent, Genesco Inc., deliver earnings and sales well above Wall Street's targets in the first quarter.
Journeys Group segment's sales reached $376.5 million in the quarter ended April 1, up 123 percent from $168.9 million a year ago. Sales were up 16.2 percent from $323.0 million in the 2019 first quarter.
The segment showed operating earnings of $33.1 million, rebounding from a loss of $37.1 million a year ago. Profits grew 75 percent from $19.0 million in the 2019 first quarter.
Mimi Vaughn, Genesco's president and CEO, said Journeys' offering of casual products resonated strongly with consumers as comfort continued to reign as the fashion choice of the pandemic.
"While teens always have a big compliment of fashion athletic footwear in their closet, we have talked about when fashion swings toward non-athletic or casual footwear. Journeys is especially well-positioned among its competition to deliver this assortment. Moreover, current teen fashion trends are diverse and playing into several Journeys' brand strengths. While fashion athletic grew nicely year-over-year, the gains in casual outpaced this growth, including a strong start to the sandal season."
She credited Journeys' merchant team's efforts in identifying and securing the brands and styles coveted by teen consumers. Vaughn said, "The combination of the right assortment and effective consumer engagement drove strong demand and full-price selling, including later in the quarter when we captured a healthy share of the increase in consumer spending following the arrival of government stimulus checks and tax refunds."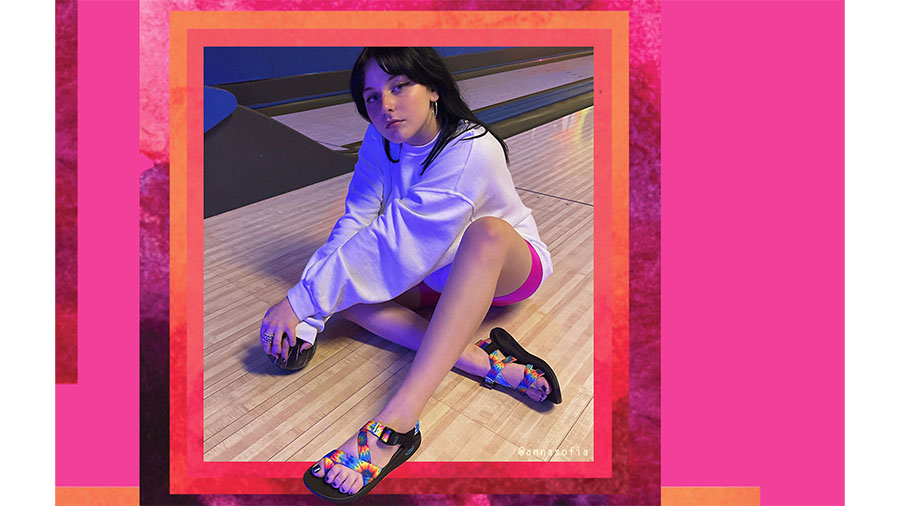 Journeys' stores achieved "much higher" conversion rates and increased transaction size, capitalizing on improving store traffic to drive store revenue above pre-pandemic levels. Online also continued strong, more than doubling its pre-pandemic levels as new website visitors increased by almost 30 percent. Online generated close to 50 percent of the company's Q1 revenue.
Vaughn added, "With its incredibly strong vendor relationships, the Journeys team accomplish all of this while skillfully managing through the supply chain disruption, which persisted in the industry throughout the quarter."
Companywide, sales increased 93 percent to $539 million and increased 9 percent over the 2019 first quarter.
This sales increase was driven by increased store sales resulting from store closures in the back half of the first quarter last year due to the pandemic, digital comp growth of 43 percent and increased wholesale sales. Stores were open about 90 percent of possible days in the latest quarter this year, mainly in Canada and the UK compared to 50 percent in the first quarter last year.
Comparable direct sales for the latest quarter were up 43 percent on top of a gain of 64 percent for the year-ago first quarter.
All segments showed strong improvement. Outside Journeys, sales were up 46 percent at UK-based Schuh, 26 percent at Johnston & Murphy and 84 percent at Licensed Brands, including Dockers, Levi's, and Bass footwear. Compared to two years ago, Licensed Brands sales were up 122 percent, Schuh decreased 11 percent and Johnston & Murphy gave back 35 percent.
Gross margin in the quarter was 47.8 percent, up 480 basis points versus last year and down 160 basis points from the 2019 first quarter. The decline versus 2019 was attributed to higher shipping and warehouse expense in its retail businesses due to increased e-commerce penetration.
Adjusted selling and administrative expense for the quarter this year decreased 2,360 basis points as a percentage of sales compared with last year and decreased 340 basis points compared with Fiscal 2020. The decline was due to reduced occupancy expense and reduced selling salaries partially offset by increased performance-based compensation expense. The reduction in occupancy expense was driven by rent abatement agreements with landlords and government relief programs.
Adjusted for the excluded non-recurring items in all periods, operating income for the quarter was $18.8 million compared to an operating loss of $69.5 million last year and an operating income of $8.4 million in 2019's first quarter.
On an adjusted basis, net earnings were $11.6 million, or 79 cents per share, compared to a loss of $51.4 million, or $3.65, a year ago, and $5.9 million, or 33 cents, the 2019 first quarter. Wall Street's consensus estimate had called for a loss of 57 cents.
Reported earnings were $8.9 million, or 62 cents, in the first quarter, compared to a loss from continuing operations of $134.6 million, or $9.55, in the first quarter last year and earnings from continuing operations of $6.5 million, or 36 cents, in the 2019 first quarter.
Vaughn said results in the first quarter "meaningfully exceeded" expectations.
"Our outperformance was driven by better than anticipated results at every division, led by record first-quarter revenue and profitability at Journeys," said Vaughn. "Even as the pandemic continued to impact our businesses to varying degrees, the pace of our recovery accelerated each month and overall in Q1, reflecting stellar execution, combined with a temporary boost from U.S. government stimulus and pent-up demand as the economy reopened faster than anticipated."
Looking to the first quarter, Vaughn said that although the second quarter is typically the company's lowest-volume quarter, the momentum from Q1 has continued into May.
She said, "We expect government stimulus and pent-up demand to end at some point, but we expect Journeys' strength to continue, Schuh's strength to build with the opening of stores and the UK economy, and Johnston Murphy's recovery to continue, but it will likely take until back to work in the fall to propel another step forward improvement."
Vaughn expects Genesco's businesses will continue to see "much higher e-commerce penetration" versus pre-pandemic levels due to the significant adoption of online selling during the pandemic. Genesco also expects a more normalized back-to-school selling period with a significant return to in-person learning and a more normalized holiday.
She added, 'Some COVID effects will linger, but with higher savings and continued government aid, the consumer is well-positioned to spend."
Overall, Vaughn said that although the stimulus has been beneficial, Genesco's favorable performance also reflected steps taken several years ago to focus resources on its footwear businesses that included the sale of the Lids business.
She said, "The pace of our recovery only reinforces our belief that the path we were on prior to the pandemic and on now is the right path forward. What we're most excited about is that we see opportunities to solidify the digital gains we made and capitalize on the ongoing industry consolidation to further expand our market share. COVID-19 has provided us the real opportunity to transform our business at a faster pace, and our results demonstrate that's what we're accomplishing."
Photos courtesy Journeys