On its first-quarter conference call, Roger Rawlins, CEO of Designer Brands and interim president, DSW, vowed to continue its push to become a bigger player in the athleisure space while expressing confidence that the chain would be able to secure enough inventory from other athletic vendors to replace Nike.
As reported in March, Nike plans to exit six additional wholesale accounts this fall, including DSW, to focus on its direct-to-consumer efforts and limit wholesale distribution to select accounts that it believes best supports its positioning in the marketplace. The other five retailers include Urban Outfitters, Shoe Show, Dunham's Sports, and Olympia Sports. Nike also plans to no longer sell apparel directly to Macy's.
The move followed similar steps in the prior year to end wholesale arrangements from another group of longstanding partners, including Zappos, Dillard's and Belk.
Addressing the issue Wednesday evening on its first-quarter conference call, Rawlins said, "Given their continued focus on the direct-to-consumer strategy, similar to our own approach with Vince Camuto, we were not surprised when our largest athletic vendor shared the news with us that they will not be taking further orders from DSW or our Canadian operations, beginning in September 2021."
He said DSW would continue to offer Nike products in its stores and online through the remainder of 2021 and believes the void afterward could be filled by other brands.
"No single brand is material to our operations, and DBI's broad assortment across multiple categories and channels is what differentiates our model from many others," said Rawlins.
Nike accounted for less than 5 percent of DSW's total sales in 2019 and grew to just over 7 percent in 2020 due to the shift during the pandemic that resulted in a significant decline in dress and seasonal footwear sales.
"On a positive note," Rawlins added, "we have an active dialogue with all of our Top 50 brands. And in the wake of this news, we have spoken with the leaders of every major athleisure brand that we work with. These conversations have been very positive. They see this news as an opportunity for growth, and we couldn't be more excited about the work ahead with these brands."
He said DSW and Designer Brands' Canadian operations that operates under The Shoe Company, Shoe Warehouse and DSW are also continuing to grow new categories, including increasing its focus on the trail, hiking and technical running categories. Rawlins said, "We are partnering in new ways through marketing to bring these brands to life, both in our stores with shop-in-shops and via amplification of their presence through our online channels."
In 2019, DSW accelerated its shift toward the athleisure category after acknowledging that it had historically been underpenetrated – defined as athletic products and footwear inspired by athletic looks suitable for wearing outside of the gym. In 2019, 32 percent of DSW sales were women's and men's athleisure footwear, while the overall category that year represented 52 percent of all adult footwear sold in the U.S.
Last year, those efforts accelerated further as the pandemic heightened demand for athletic and casual offerings and lowered demand for DSW's dressier seasonal styles. DSW said the chain's strong following with women attracted athletic vendors to increase offerings to the chain. By the end of last year, Rawlins said DSW had become the second-largest retailer of women's athleisure footwear in the U.S., behind only Nike.
On its first-quarter call, Rawlins said DSW and its Canadian banners continued to gain share in athleisure during the quarter, and the push would continue.
"We will take every action necessary to ensure we retain and grow our customer base in athleisure," said Rawlins. "A strategic focus for us continues to be giving the customer what they want."
In the first quarter, athletic comps at the U.S. DSW chain were up 87 percent. Athleisure, which includes athletic and casual, was up 92 percent at its U.S. DSW business versus last year. The athleisure category's penetration grew to represent 58 percent of sales at DSW this year versus 47 percent in the same period last year.
"Our pivot to athleisure is yielding strong results, and we continue to take share in this important category," said Rawlins. He noted that according to the NPD Group's POS data, DSW outpaces the rest of the market in the athletic category by 15 percentage points versus the same 13-week period ending May 1, 2019.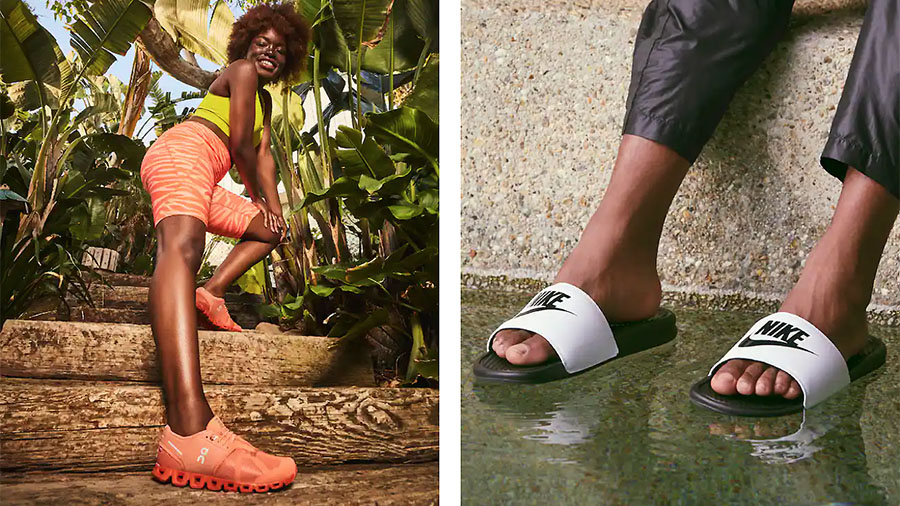 Overall, Designer Brands in the first quarter returned to profitability for the first time since the onset of the pandemic.
Sales improved 45.6 percent against pandemic-depressed year-ago levels, exceeding initial expectations. Comparable sales increased 52.2 percent for the first quarter of fiscal 2021 versus the 42.3 percent decrease for the same period last year due to temporary store closures. The performance marked the first positive comp since the third quarter of 2019.
Among other categories at the U.S. DSW chain, kids, which also saw an increased emphasis, comps continued strong, climbing 78 percent in the quarter. Seasonal comps recovered, up 56 percent, while dress was down 10 percent. The decline in dress was due to a lack of social gatherings and traveling, a continued trend of working from home due to the continued impact of COVID-19, and a more conservative inventory positioning. Dress accounted for 10 percent of sales in the quarter compared to 22 percent in 2019 across the same period. Jared Poff, CFO, said, "We are excited that the seasonal business is showing signs of recovery and look forward to the segment continuing to normalize throughout the year and beyond."
Online sales delivered another strong performance, climbing 13 percent for the quarter. Digital sales represented 35 percent of total sales for its U.S. retail business during the quarter versus 49 percent last year when most stores were closed, but well above first quarter 2019 levels of 22 percent.
Gross margins in the quarter improved to 30.7 percent compared to negative 5.5 percent last year and 29.7 percent for the first quarter of 2019.
Reported net income in the latest quarter came to $17.0 million, or 22 cents per share, including net benefits of 10 cents a share, from adjusted items, primarily the change in the valuation allowance on deferred tax assets. The year-ago period showed a loss of $215.9 million after $113 million in impairment charges.
Adjusted net income in the latest quarter was $9.5 million, or 12 cents. Wall Street was expecting a loss of 24 cents on an adjusted basis.
Designer Brands ended the quarter with inventory up 1.2 percent. Due to strong inventory controls, the company ended the quarter with total units on hand down 25 percent compared to the same period last year.
Among other strategic priorities outside increasing emphasis on athleisure and kids, Rawlins noted that DSW and its other retail banners continue to increase their focus on the Top 50 brands in footwear, which accounted for 78 percent of sales in the quarter compared to 50 percent in 2019. He said, 'Focusing here enables our company to maintain better in-stock positions and allows us to be less promotional, given the demand for these major brands."
The company is also shifting its focus more heavily to its owned brand, including brands only available at DSW, such as Kelly and Katie and Mix No. 6 and its owned wholesale brands that include JLO, Vince Camuto, Lucky, and Jessica Simpson. Fifteen of DSW's Top 25 selling items in the first quarter were designed and sourced vertically by Designer Brands.
In marketing, heavy investments are planned in digital, primarily funded by significantly reduced markdowns.
"Focusing on large national brands means we don't have as many markdowns, both because of high customer demand and requirements from the brands themselves that prohibit markdowns," said Rawlins. "We are redeploying those dollars into marketing, focused on customer acquisition. This investment resulted in top-line benefits, and VIP enrollments for the quarter were very strong, with 1.4 million new members. Additionally, as a result of these investments, March was our single largest month of new member sign-ups in the history of our loyalty program."
Given the still uncertain environment, Designer Brands declined to provide guidance for 2021. However, officials said it expects that the second quarter at DSW would show continued improvement. Canada will see improvement but at a slower rate than in the U.S., given the government shutdowns. Its Camuto wholesale segment has seen production increase sequentially each quarter and should benefit from increased demand for seasonal products, especially at DSW-exclusive brands and its Camuto-owned and licensed brands.
"We are confident that our business is recovering, and we should start to normalize in the second half of the year," said Puff. "We are still planning our inventory conservatively, but we are prepared to make the necessary inventory investments and increase production as demand returns. The first quarter marked our return to profitability, and we believe that that trend will continue going forward driven by the strength in our athleisure and kids business coupled with a recovery in our seasonal business."
Photos courtesy DSW