Helen of Troy said sales of Hydro Flask were "challenged" by a soft back-to-school selling season in the third quarter ended November 30 as most U.S. students were learning remotely outside the classroom.
On a conference call with analysts, Julien Mininberg, Helen of Troy's CEO, added that Hydro Flask in the quarter also faced "strong comparisons" against significant domestic distribution gains in the prior-year period, especially in the sporting goods channel.
Brian Grass, the company's CFO, further added that Hydro Flask faced headwinds in the latest quarter as COVID-19 reduced store traffic in specific retail brick & mortar stores, citing Dick's Sporting Goods, REI, and outdoor specialty shops. "Increased competitive activity" impacted Hydro Flask's sales momentum in the period, he added.
Helen of Troy's officials noted that Hydro Flask sales grew internationally, with growth overseas outlined as a priority for Helen of Troy and Hydro Flask, but it did not disclose whether Hydro Flask sales grew or declined overall for the quarter.
Sales in Helen of Troy's Housewares segment, which includes Hydro Flask and OXO, increased 21.4 percent in the quarter to $222.4 million, driven by the OXO brand.
Organic sales in the houseware segment increased 21.2 percent off the base that grew 28 percent last year. Said Mininberg, "Reflecting the continuation of strong demand for OXO products, consumers spend more time at home cooking, cleaning, organizing, and pantry loading."
The Housewares segment's operating income slid 10.9 percent to $37.7 million, or 16.9 percent of segment net sales revenue from 23.1 percent a year ago. The 6.2 percentage point decrease in operating margin was primarily due to a less favorable product mix, higher marketing expenses, increased freight and distribution expenses to support strong demand, higher royalty expenses and increased legal and other professional fees. These factors were partially offset by the benefit of sales leverage, a more favorable channel mix and travel expense reductions due to COVID-19. Adjusted operating income decreased 8.3 percent to $40.9 million, or 18.4 percent of sales from 24.3 percent a year ago.
Earnings Top Wall Street Targets
Companywide, earnings and sales came in well ahead of Wall Street's targets.
Consolidated revenue increased 34.3 percent to $637.7 million, exceeding Wall Street's consensus estimate was $560.1 million. The growth was driven by an organic business increase of 30.3 percent. The prior year's acquisition of Drybar contributed 3.7 percent to the growth.
Health & Home revenue climbed 34.6 percent to $250.2 million, boosted by gains in thermometry and air purification. The segment's brands include Vicks, Braun, Honeywell, and PUR.
Beauty segment sales jumped 56.2 percent to $165.2 million, partly reflecting the acquisition of Drybar. Organic sales rose 39.8 percent, primarily reflecting growth in the appliance category. The Beauty segment's brands also include Pert, Hot Tools, Professional, Infusium, Brut, Bed Head, Revlon, and Sure.
Net income advanced 22.6 percent to $84.2 million as higher operating income in the Beauty and Health & Home segments offset lower income in Housewares and higher income tax expense. Adjusted income increased 19.8 percent, to $94.8 million, or $3.76, topping Wall Street's consensus estimate of $3.11.
Adjusted EBITDA increased 24.0 percent to $117.0 million compared to $94.4 million.
Consolidated gross profit margin increased 90 basis points to 45.1 percent. The increase was primarily due to a favorable product mix within Health & Home and the Organic Beauty business, the favorable impact of the Drybar acquisition, and a favorable channel mix within the Housewares segment. These factors were partially offset by higher inbound freight expenses and an unfavorable product mix in the Housewares segment.
Consolidated SG&A ratio increased 180 basis points 29.3 percent. The increase was primarily due to increased marketing expenses, increased freight and distribution expenses, higher royalty expenses, increased legal and other professional fees, and higher bad debt expense. These factors were partially offset by the impact that higher net sales had on net operating leverage, travel expense reductions due to COVID-19 and the favorable comparative effects of acquisition-related expenses for the purchase of Drybar incurred in the prior-year period.
Consolidated operating income grew 27.0 percent to $100.7 million, or 15.8 percent of sales revenue, from $79.3 million, or 16.7 percent, a year ago.
Looking ahead, Helen of Troy reinstated guidance after not providing guidance since the pandemic began due to uncertainty created by the crisis. For fiscal 2021, consolidated net sales are projected in the range of $2.08 to $2.1 billion, which implies consolidated sales growth of 21.5 percent to 23.0 percent. By segment, projections include Housewares sales growth of 12.0 percent to 12.5 percent, Health & Home sales growth of 27.5 percent to 30.0 percent and Beauty sales growth of 27.0 percent to 28.0 percent.
Consolidated GAAP EPS is expected to be $10.29 to $10.46, and non-GAAP adjusted EPS in the range of $11.50 to $11.70. Adjusted EPS excludes any asset impairment charges, restructuring charges, tax reform, share-based compensation expense, and intangible asset amortization expense.
Mininberg said Helen of Troy is well ahead of projections as it nears the end of the second year of its five-year Phase II transformation plan. He said the company remains confident in the average annual organic sales growth targets of 2.5 percent to 3 percent and the average annual adjusted EPS growth of 8 percent over fiscal years 22 through 24.
He noted that Helen of Troy "came into the pandemic with momentum," and consumer trends related to COVID-19 further strengthened many of its brand's leadership positions and accelerated the company's online presence. Online accounted for about a quarter of its overall sales in the quarter.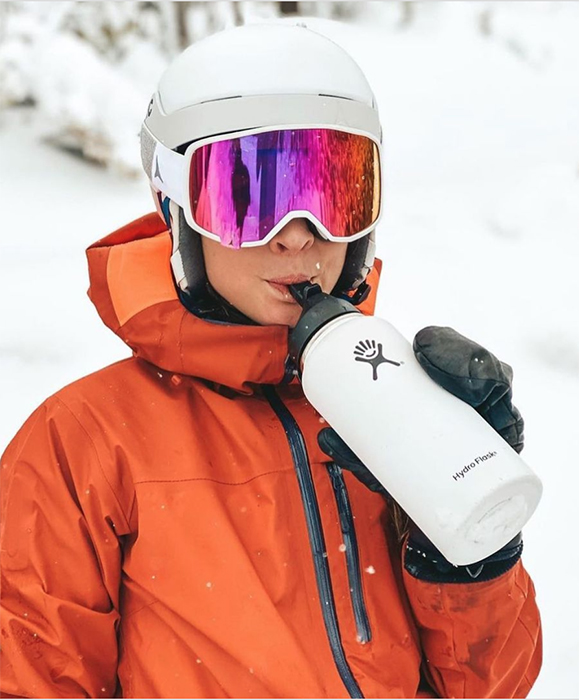 Drivers Of Future Growth
He also cited seven "building blocks" he expects to drive growth to the back half of the Phase II plan.
Those directly supporting Hydro Flask's growth are a new "safety of home" opportunity as consumers look for safe methods to transport food and water when they travel or commute. The CEO said, "Both OXO and Hydro Flask are perfect on-the-go solutions to provide the peace of mind and trust of the home as consumers venture back into the post-COVID-19 world."
Hydro Flask is also expected to benefit from an increasing sustainability demand as its drinkware, insulated coolers and totes eliminate single-use plastics. Mininberg said, "Our global associates and consumers around the world are demanding stronger ethics and greater equality from each other, their brands and their companies."
He noted that Hydro Flask, in October, won the 2020 American Park Experience Award from the National Park Trust for its Parks for All giving program that supports the development, maintenance and accessibility of public lands and green spaces.
Another trend, consumer-centric innovation, has been key to Hydro Flask's growth in customization and portability and remains an overall priority for Helen of Troy across brands. Mininberg said, "Bringing new products and brands people trust to make life easier, save time and sustainably solve problems better than the competition is a permanent trend and a proven strength for Helen of Troy. If you look at current and future consumer needs, we have identified new focus areas that include customization, personalization, portability, multi-functionality, durability, increased storage, wireless connectivity, and next-generation lightweight materials."
Other growth drivers in the years ahead for Helen of Troy include the robust health and wellness trend that led to record sales of air filtration, water purification and thermometry devices during the pandemic. A shift from living in cities to suburbs is expected to support OXO's range of household products. Finally, the beauty category is expected to benefit from a "Do It Yourself" trend that has driven sales of its One-Step Volumizer range in recent months.
Photos courtesy Helen of Troy/Hydro Flask