G-III Apparel Group reported first-quarter results handily surpassed company guidance as demand for casual apparel remained strong and extended to include additional categories.
"This past quarter, casual categories continued to drive our results," said Morris Goldfarb, G-III's chairman and CEO, on a conference call with analysts. "With each passing week, we are encouraged by the increasing sales at retail for our broader lifestyle apparel such as sportswear, wear-to-work attire and dresses. These trends provide a good indication for the remainder of the year."
He added that G-III's merchants work with vendors and retail partners to expand these product offerings into its line assortments for the upcoming seasons.
"Our overall business in North America is really good, and it's been getting stronger over the last few months," stated Goldfarb. "We are optimistic about the remainder of this fiscal year and excited about our future."
One challenge is keeping goods in stock, given logistic challenges. Inventories were down 31 percent from last year's first quarter and down 36 percent to two years ago.
Goldfarb said inventories are "current and well-positioned," and the company is managing inbound freight challenges. He said, "Like others in the industry, we too are experiencing an impact from rising shipping rates and availability of containers. The longstanding partnerships that we have with our steamship carriers benefit our ability to secure space on vessels. We're working to offset cost increases while also getting our goods here in a timely manner. We believe that the strength of our portfolio of global power brands will allow us to selectively raise prices to largely offset higher freight costs."
G-III's five "power brands" are DNKY, Donna Karen, Calvin Klein, Tommy Hilfiger, and Karl Lagerfeld. Goldfarb said that taken together, the five have an annual net wholesale potential of $4 billion. Other owned brands include Vilebrequin, G.H. Bass, Eliza J, Jessica Howard, Andrew Marc, and Marc New York. The company also has a sizeable fan apparel business that includes MSX By Michael Strahan for NFL, Touch by Alyssa Milano, Starter jackets, GIII for Her, and GIII Sports by Carl Banks. 
Q1 Revenues Climb 28 Percent
In the first quarter ended April 30, sales climbed 28.3 percent to $519.9 million. Sales exceeded G-III's projected sales of $460.0 million and Wall Street's consensus estimate of $462.2 million.
Wholesale segment sales were $512 million, up 35 percent year-over-year and down 10 percent compared to the first quarter two years ago.
Net income reached $26.3 million, or 53 cents per share, compared to a net loss of $39.3 million, or 82 cents, in the prior year's quarter. The company had expected EPS in the range of 5 cents to 15 cents. Wall Street's consensus estimate was 7 cents. As a result, earnings were just over double the 24 cents per share netted in the 2019 first quarter.
Gross margins improved to 37.6 percent in the latest quarter compared to 30.7 percent a year ago. The improvement was due to clean inventory levels at its wholesale channel that reduced promotional activity. Last year's gross margins were negatively impacted by the pandemic's onset, which resulted in recognition of certain fixed costs, primarily royalty rates over its reduced sales base.
SG&A expenses decreased 8 percent year-over-year and were reduced to 27.2 percent of sales from 38.2 percent a year ago due to cost-containment efforts put in place with the onset of the pandemic and the reduction in its store base.
The year-ago period included net losses from the restructured Wilsons Leather and G.H. Bass store operations of $15.0 million, or 31 cents, per share.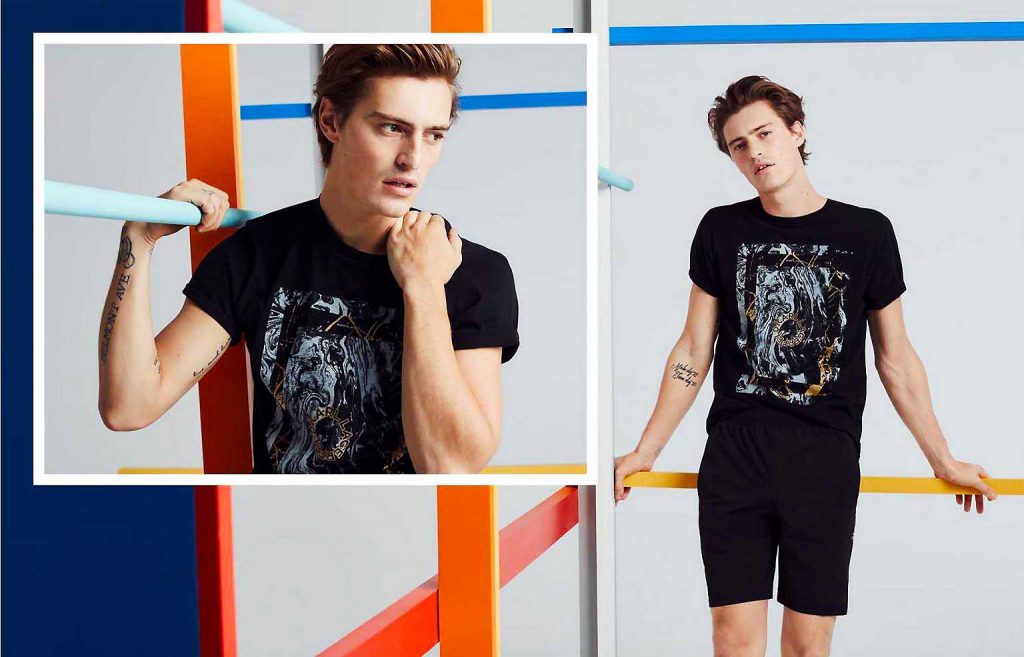 Athleisure And Casual Sportswear Drive Gains
In the wholesale segment, casual trends drove growth with continued sales improvement in lifestyle apparel, including sportswear and wear-to-work attire. Dress sales growth accelerated to exceed expectations.
"Demand for athleisure and casual sportswear across our power brands once again accelerated and continues to be strong," said Goldfarb. "For the second half of the year, we're incorporating wider functionality and fits to facilitate transition transitioning from home to a full-lifestyle collection for both athleisure and sportswear where we continue to see growth opportunities ahead."
Outerwear had "another good quarter" with cold weather in the quarter, helping drive demand. Said Goldfarb. "Clean inventory levels in the channels position us well for the fall 2021 season. We believe consumers will maintain active outdoor lifestyles for the foreseeable future, and we will continue to meet that demand and grow this business."
Dresses are seeing a significant acceleration in demand for day and occasion dresses and career wear, such as suit separates. DKNY women's footwear had a "particularly strong quarter" and expanded in the department store channel. The handbag business for Calvin Klein and DKNY saw significant increases with the benefit of refreshed assortments. In addition, the launch of Karl Lagerfeld women's sportswear, footwear and handbags at Macy's exceeded expectations.
Other highlights in the quarter include solid online growth, with sales on its retail partner websites climbing over 60 percent from two years ago. Internally, DKNY and Karl Lagerfeld Paris sites increased approximately 40 percent over last year.
Internationally, China stood out with significant growth on continued outperformance in e-commerce. As a result, the China business is expected to be up 50 percent this year.
For fiscal 2022, G-III Apparel is now forecasting sales of $2.57 billion, up 24.8 percent compared to $2.06 billion last year. Last fiscal year's net sales included $91.8 million from the Wilsons Leather and G.H. Bass stores. Net income is expected to be between $125 million and $135 million, or between $2.60 and $2.70 per share, well above earnings of $23.5 million, or 48 cents, last year. The results last year included a net loss per diluted share of $1.14 associated with the closure of Wilsons Leather and G.H. Bass store operations.
The company hadn't provided full-year guidance for several quarters due to uncertainty associated with the impact of the pandemic.
For the second quarter, sales are expected to reach $460 million, which compares to $297.2 million in the same period last year. Last year's sales included $19.7 million from the Wilsons Leather and G.H. Bass stores. Net income is expected to be in the range of 3 cents to 13 cents compared to a net loss of 31 cents a year ago, including a net loss per share of 53 cents a share associated with the Wilsons Leather and G.H. Bass store exits.
Photos courtesy G-III, Karl Lagerfeld Paris