Foot Locker Inc. surprised investors by reporting first-quarter results that came in well above Wall Street's estimates and then in a bigger way by announcing the decision to close its Footaction chain.
The plan calls for the conversion of approximately one-third of Footaction's 231 stores into other existing banner concepts, Foot Locker and Champ Sports, over the course of 2021. The remaining majority of Footaction stores will close as leases expire over the next two years.
On a conference call with analysts, Dick Johnson, Foot Locker's CEO, said the company periodically undergoes a banner review process that has in the recent past led to the closing of Runners Point in Europe during 2020 and a recent move in the U.S. to more closely align Champs Sports and Eastbay.
The real estate realignment comes as the accelerated shift to digital during the pandemic forced the company to quickly adapt to consumers' changing preferences and create stronger connections with them.
The move takes advantage of several lease expirations over the next two years and enables the company to replace a third of Footaction locations with better-performing banners. The converted stores will also feature larger women's and kids' sections and more extensive apparel assortments.
Johnson said the profitability and productivity of Footaction was below the company's portfolio average. He also noted that 85 percent of Footaction stores are located in the proximity of one of its other banners to represent high overlap. He added that there's "a fair amount of overlap from a consumer base" despite efforts over the years to differentiate banners with different product assortments and experiences.
Finally, Johnson noted that in 2020 the company tested converting some Footaction locations to Foot Locker, specifically in the L.A. area on Whittier Boulevard, on Broadway in Downtown L.A. and Gotham Plaza in Harlem, and found those spaces became more productive.
Johnson added, "Given the timing of the lease expiries, given the timing of the digital effort that we've seen, this is the time to make this decision."
As part of its broader brick and mortar strategy, Foot Locker will be able to accelerate its pivot off-mall push with its larger community-driven Foot Locker Power Store locations and Champs Sports' new Homefield concept.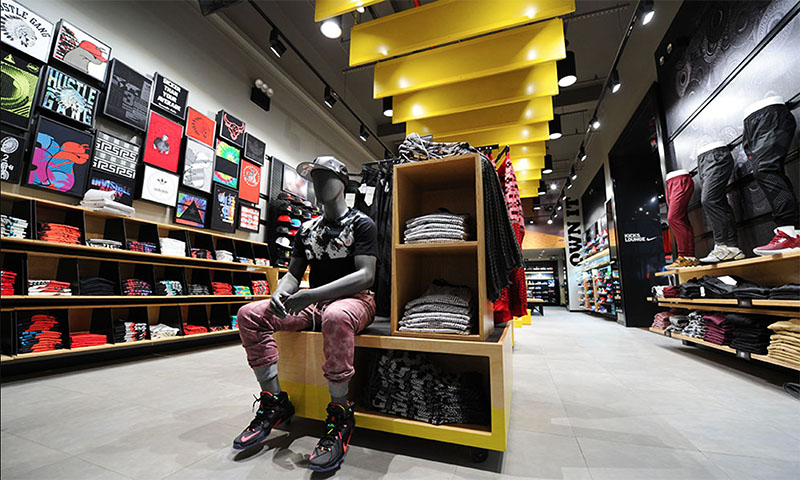 First-Quarter Revenues Jump 83 Percent
The move comes as Foot Locker's same-store sales accelerated significantly through the first quarter despite lean inventories due to supply chain challenges.
"Athleisure and fitness consumer trends continued to drive strong demand across genders and families of business," said Johnson. "Although our inventory levels were lower than we would have liked, the composition and quality of goods were fresh, and our customers responded very well to our merchandise assortments. This resulted in higher inventory productivity and significantly less promotional activity, enabling us to deliver healthier margins and an impressive bottom-line performance."
Total sales jumped 83.1 percent, to $2.15 billion in the quarter, well ahead of Wall Street's consensus estimate of $1.86 billion. The gains were led by a 99 percent gain by its stores, with the sizeable gains reflecting temporary store closures in the year-ago period as the pandemic arrived.
Foot Locker's store base was open 83 percent of potential operating days in the quarter versus 48 percent last year. While U.S. and Asia Pacific banners were essentially fully opened, EMEA and Canada continued to face pressure due to COVID restrictions, opened roughly 39 percent and 75 percent of potential operating days, respectively. Compared to a more normal Q119, sales were up 3.6 percent.
Direct-to-consumer (DTC), or online, sales remained healthy despite the store reopenings, with sales up 47 percent in the latest quarter, ahead of expectations. DTC was 25 percent of total sales for the quarter compared to 31 percent last year.
By month, a mid-teens decline in February, due mainly to launch calendar shifts and tax refund delays, gave way to strong triple-digit gains in March and April as the onset of the pandemic was lapped.
Champs Sports Paces North America Growth
In North America, Champs Sports led to strong overall gains with a comp increase in the triple-digits. The rest of the U.S. banners saw comp growth over 90 percent, while Foot Locker Canada posted a low 70 percent gain.
Eastbay was up mid-single digits, an improvement from recent trends. Andrew Page, EVP and CFO, said on the call, "The gradual return to group sports participation sparked sales of hard goods and team performance products. Recall, that unlike our other banners, Eastbay did not comp against store closures last year."
Foot Locker Asia delivered a triple-digit comp gain, while Foot Locker Pacific increased in the mid-90 percent range. In Europe, comps grew in the high-30s despite extensive COVID restrictions. Sidestep, which experienced the most closures, decreased in the high teens. The direct businesses remained strong for Foot Locker and Sidestep banners.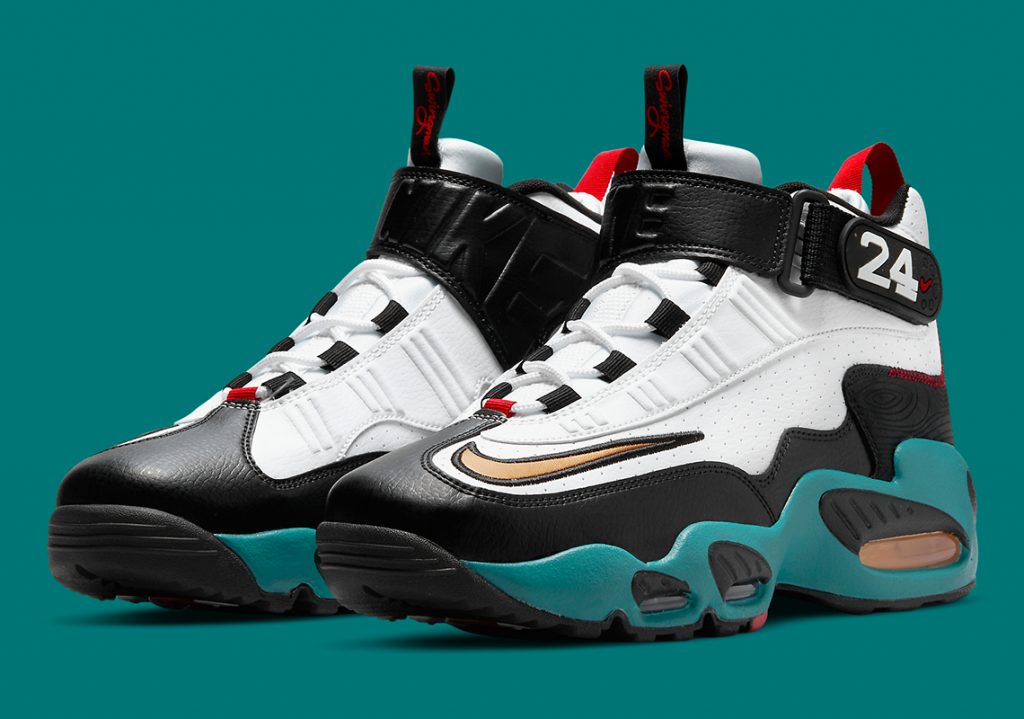 Footwear And Apparel Show Strong Q1 Gains
Footwear sales increased over 70 percent, while the apparel and accessory businesses were up triple-digits. Both families of business increased as compared to 2019.
The strength in footwear was broad-based with gains across all regions, led by North America and the Asia Pacific. Strong double-digit increases were seen across men's, women's and kids' footwear, with women's driving the largest gain.
Men's basketball continued to see healthy momentum, delivering a high double-digit increase led by the Jordan brand, key Nike icon product and compelling new initiatives by Puma and Reebok. An increased focus on seasonal categories brought new customers and helped drive a triple-digit increase with gains in Ugg and Birkenstock and strong gains from recently-introduced Crocs. Men's running increased strong double-digits, led by Max Air, Adidas Nomad, Puma RS-X, and strong New Balance momentum.
Apparel was up triple-digits year-over-year and ahead double-digits versus the first quarter of 2019. Men's and kids led the way, up triple-digits, while women's increased strong double-digits. Andrew Gray, EVP and chief commercial officer, said, "The casualization of society remained the catalyst for our business, and we saw all major categories increase, with shorts driving the largest gain with momentum across many brands, including our own."
Gray added that customers continued to respond well to elevated storytelling across all product areas, with its consumer concept offense driving demand. These included, City to the World from Nike, All Day I Dream About Sneakers with Adidas, a partnership with We Need Leaders and New Balance, and a Sesame Street/Champion collaboration.
Looking ahead, Gray said the "culture of basketball remains strong" with new launches coming from Adidas, Puma and New Balance. The seasonal expansion continue with Ugg, Crocs, Converse, and Vans.
"We will continue to enhance our storytelling in Q2 through our celebration of the 25th anniversary of the Griffey 1, shown above, with our Nike concept and our second installment of All Day I Dream About Sneakers, shown below, with Adidas," said Gray. "We also have exciting collaborations in the pipeline with the likes of Kids of Immigrants and Vans, Louis de Guzman and New Balance, and Puma and White Castle, to name a few."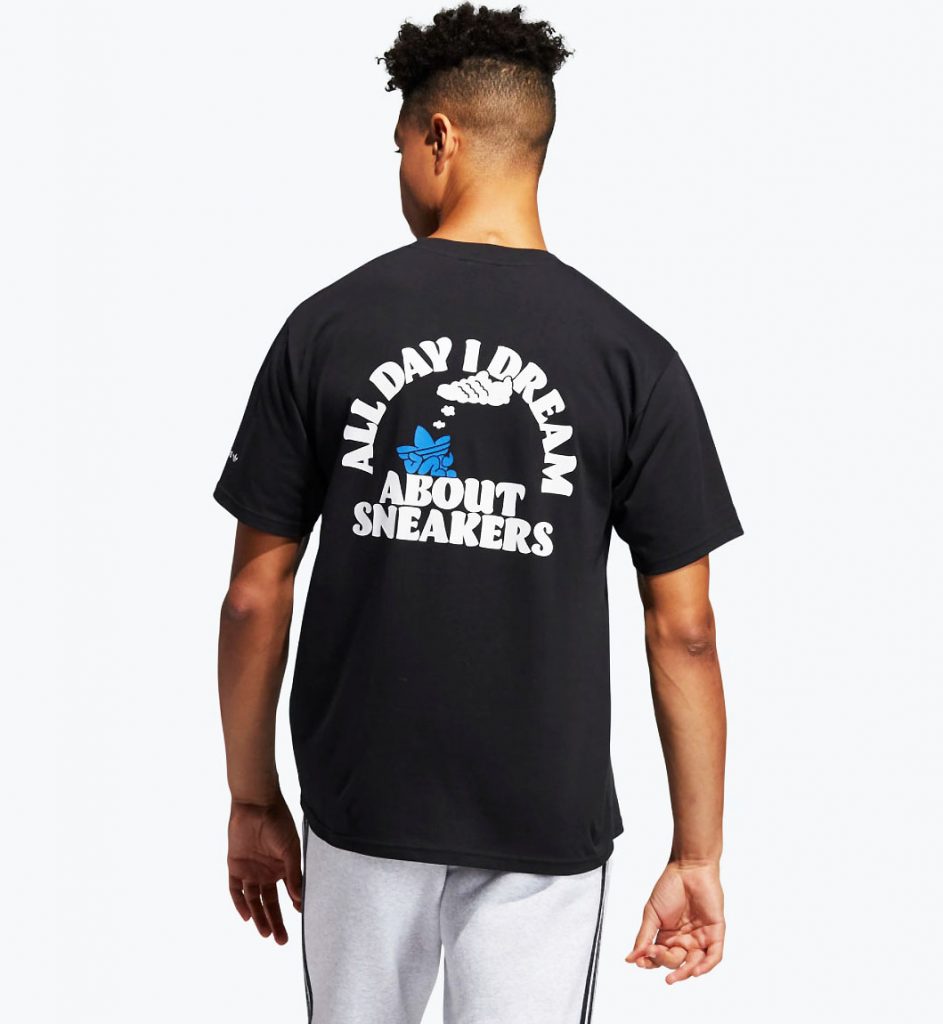 Earnings Rebound
Foot Locker reported a net income of $202 million, or $1.93 per share, in the quarter compared with a net loss of $110 million, or $1.06, for the corresponding prior-year period. On a non-GAAP basis, earnings were $1.96 per share, versus a loss of 67 cents per share and easily ahead of Wall Street's consensus estimate of $1.05.
Gross margins improved to 34.8 percent compared to 23 percent last year. When compared to a more normal Q119, gross margin improved 160 basis points. Merchandise margin improved 250 basis points over last year and 80 basis points over 2019, as the meaningful reduction in markdowns more than offset the higher freight expense that comes with increased penetration of digital sales.
Despite being much less promotional, average selling prices were down low-single-digits in the quarter, while units nearly doubled. The decline in ASP was driven primarily by product mix. The promotional environment is expected to remain favorable through most of the year, but to a lesser extent than levels experienced in Q1.
As a percent of sales, occupancy and buyer's compensation returned to more normal levels versus last year's abnormally high rate. Inclusive of approximately $5 million of COVID-19-related rent abatements in the quarter, occupancy costs leveraged 80 basis points over Q119.
SG&A expense rate came in at 19.4 percent of sales, representing 750 basis points of leverage over last year and 60 basis points of leverage compared to 2019. In addition to expense control, Foot Locker received $10 million in government subsidies, which partially offset nearly $2 million of incremental PPE expense and 90 basis points of higher bonus expense.
Port Congestion Easing
At the end of Q1, inventory was down 30 percent compared to last year. The decline partly reflects that inventories were up 20 percent at the close of Q120 due to the elevated store closures resulting from the pandemic. Congestion at U.S. ports also led to "abnormally lean inventory levels" during the first quarter. Supply chain challenges are lessening, and inventory levels are expected to begin building back up in the second quarter.
Said Johnson, "Inventory flow and receipt velocity did improve as delays began to ease through the first quarter, and we expect further improvement in Q2, which should reflect positively on our inventory levels. In the meantime, we have been working with our vendor partners to utilize ultimate ports and expedited rail and truck services to accelerate the flow of goods."
Looking ahead, second-quarter sales are expected to be about flat with the prior year. In the year-ago second quarter, comps were up nearly 19 percent due to pent-up demand, high promotional activity and government stimulus. In the current year, delays in inventory receipts have shifted some delivery to the second quarter.
Gross margin in the second quarter is expected to benefit from a less promotional environment year over year. SG&A expense is expected to remain elevated as government subsidies and reduced store operating costs are lapped.
For the full year, total sales are projected to increase at a low double-digit to low-teens rate over fiscal 2020; and meaningful gross margin expansion is expected over fiscal 2020, largely reflecting a more rational promotional environment. Compared to 2019, modest gross margin improvement and about even SG&A are expected.
Photos courtesy Foot Locker