Crocs Inc. significantly hiked its guidance for the year as robust demand across its clogs, sandals and Jibbitz segments offset logistics challenges in part tied to temporary factory closures due to spikes in COVID-19 cases.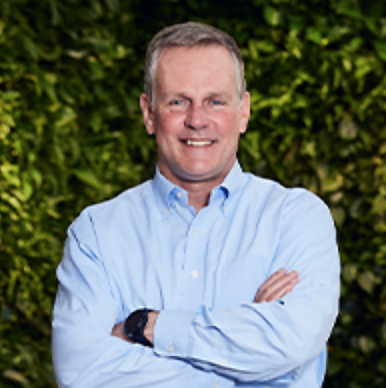 "Q2 results are exceptional as we continue to see strong demand for the Crocs brand globally," said Andrew Rees, CEO, on a conference call with analysts.
In the quarter ended June 30, revenues surged 93.3 percent to $640.8 million. Crocs had expected second-quarter revenue growth to be between 60 percent and 70 percent. Wall Street's consensus estimate had been $539 million. On a currency-neutral basis, revenues grew 88.4 percent.
By category, clogs again led the way, surging 101 percent year-over-year to represent 74 percent of total footwear revenues versus 68 percent last year. Rees said, "We continue to innovate and are encouraged by the initial results of our new platform and seasonal colors and prints."
Sandal sales jumped 57 percent in the second quarter and are now up 38 percent for the first half, driven by Crocs' Classic Slide and Classic Sandal that both feature personalization. The Brooklyn and Tulum franchises also outperformed. Given the strength of clogs, sandals represented 20 percent of footwear sales for the quarter versus 23 percent last year.
Rees said Crocs' global brand study now shows sandal consideration is in line with that of clogs. He added, "As we have shared, while we expect clog growth to outpace sandals this year, we anticipate that over the longer term sandals will grow faster than clogs."
Jibbitz sales were "once again exceptional," said Rees, as sales more than tripled for the quarter versus last year. He said, "The global personalization mega-trend continues, and clogs fans enjoy the experience of shopping for charms in our retail and wholesale stores."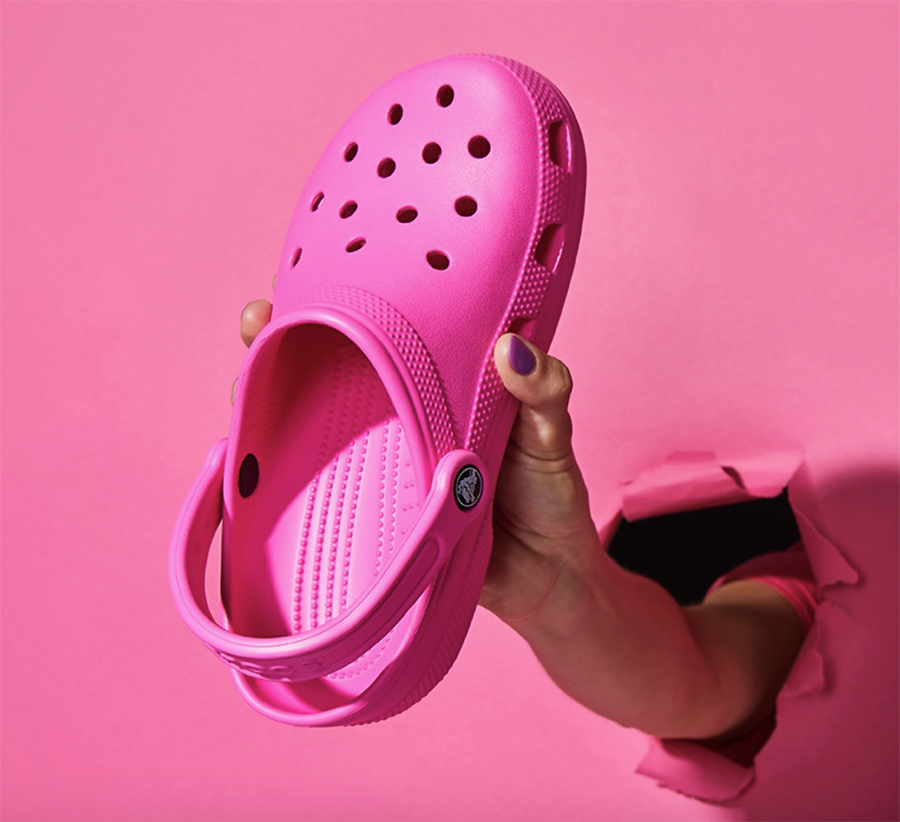 From a channel perspective, global DTC revenues, which include revenues from e-commerce and company-owned retail stores, grew by 78.6 percent year-over-year and 86.4 percent compared to 2019. Traffic and conversion at stores were up significantly from a more normalized second quarter of 2019. E-commerce marked its 17th consecutive quarter of double-digit growth. Overall, DTC represented 52.0 percent of second-quarter revenues.
Digital sales grew 25.4 percent to represent 36.4 percent of revenue. Digital sales were elevated at 56.1 percent of sales in the year-ago quarter due to store closings amid the pandemic. In 2019, digital represented 32.6 percent of revenue. Rees said, "Digital remains a top priority and we continue to invest in our customer experience globally to maintain our competitive advantage relative to other footwear brands."
Wholesale, which includes brick and mortar, e-tail and distributors, grew 112.1 percent versus the prior year and 71 percent compared to 2019. Rees said Crocs' focus on strategically important accounts, comprised of leading e-tailers sporting goods chains, family footwear stores and specialty footwear retailers, led to strong growth in all sub-channels globally. Said Rees, "Our top 20 brick and mortar accounts and distributors were standouts as they rebounded from the depths of the pandemic."
By region, revenues in the Americas reached $405.7 million, increasing 135.6 percent on a constant currency basis. DTC growth was 120.1 percent, driven by retail. Higher traffic, combined with the anniversary of significant store closures last year, contributed to triple-digit growth in company-owned retail stores year over year and growth of more than double versus 2019. Digital penetration was 30.8 percent versus 30.7 percent in 2019. Wholesale growth was at 149.3 percent versus prior year and 140 percent versus 2019.
EMEA revenues of $108.3 million increased 52.6 percent on a constant currency basis. DTC revenues increased 29.2 percent with e-commerce strength driven by higher traffic and a return to growth in retail as stores reopened. Wholesale revenues climbed 82.6 percent, fueled by broad-based strength at retail distributors and brick and mortar. Mehlman said the EMEA business overall continues to benefit from the region's focus on digital commerce, which represented 52.5 percent of the revenue this quarter, versus 40.3 percent, in Q219.
In the Asia Pacific region, revenues of $126.8 million increased 27.1 percent on a constant currency basis. DTC increased 10.8 percent while wholesale grew 76.5 percent. Digital revenues grew 17.1 percent versus the prior year and 40 percent versus 2019. South Korea continued to exhibit strength while several other countries in the region remain impacted by the pandemic
Operating income more than tripled to $195.3 million from $56.6 million. Operating margins expanded to 30.5 percent from 17.1 percent a year ago. Crocs had forecast operating margins between 21 percent and 23 percent.
Gross margin improved 740 basis points to 61.7 percent. Adjusted gross margin of 61.8 percent rose 660 basis points compared to the same period last year.
The margin gains reflect in part an increase in average selling price during Q2 by 8 percent to $21.84 due to less promotional activity and higher pricing, as well as favorable product mix. Anne Mehlman, EVP and CFO, said, "The Q1 price realignment we took on certain products in select markets globally have been successfully adopted and as evidenced by our growth have not hindered demand."
The gross margin gains also reflect fewer promotions and discounts that offset pressures from elevated free rates.
SG&A expenses increased to $199.9 million from $123.3 million in the same period last year to support growth. As a percent of sales, adjusted SG&A improved to 31.2 percent of revenues versus 33.0 percent a year ago.
Net earnings reached $319.0 million, or $4.93 a share, against $56.6 million, or 83 cents, a year ago. Adjusted EPS were $2.23, more than double $1.01 achieved for the same period last year and well ahead of Wall Street's consensus target of $1.60.
Rees said Crocs' brand heat continues to benefit from leveraging digital and social marketing, influencer campaigns, and collaborations.
He said Crocs during the quarter became the first footwear brand to market an augmented reality experience on TikTok with a hashtag #GetCrocd
Challenge featuring sandals and clogs with Jibittz. Globally, the TikTok challenge drew over 8 million views and over 1 million uses of the hashtag.
Buzz for the brand was also generated from Crocs' second collaboration of Balenciaga as well as collaborations with the London-based gateway brand, Palace; Russian rave-music brand Little Big; and Japanese influencer retailer Beams.
Among other initiatives, Crocs reintroduced its Path to Health Care initiative that led to the donation of 50,000 pair of Crocs shoes to frontline caregivers.
Crocs also on Wednesday made a commitment to reaching net zero emissions by 2030 through sustainable ingredients and packaging as well as responsible resource use. Said Rees, "We anticipate our consumers will be as excited as we are about our commitment to having a positive impact on our planet."
"While we remain incredibly optimistic about our business and have substantially raised our 2021 guidance, as we emerge from the pandemic global logistics remain challenging and volatile," said Rees. "In addition, we're increasingly seeing COVID spikes in some of our primary manufacturing countries and are concerned about the short term impact of potential factory closures on supply."
The potential supply disruption and related expenses have been incorporated in its updated guidance.
In the Q&A session, Rees said many of the logistic challenges seen over the last twelve months are continuing, including availability of containers and lengthy freight times. Transit times from Asia to most of its markets remain approximately double what they were historically. The elevated freight costs are expected to continue in the back half.
New disruption within the supply chain is coming from COVID spikes taking place in Southeast Asia and particularly Vietnam. Rees said, "Our expectation is that we will see some temporary factory closures in the next quarter as Vietnam battles COVID there. Unfortunately, they don't have access nor all the ability to administer the amount of vaccine that we have in this country. So really they're left with lockdowns and being judicious about how people interact."
He said the guidance is based on the potential disruption as well as inventory on hand and in transit.
As of June 30, inventory was $209.1 million against $146.8 million at the same time a year ago. The increase reflects higher in-transit inventory due to the continuation of global logistics challenges.
For the full year, Crocs now expects revenue growth to be between 60 percent and 65 percent, up from a forecast of 40 percent and 50 percent previously. Non-GAAP operating margin is projected to be approximately 25 percent, up from a range of between 22 percent and 24 percent previously forecast.
For the third quarter, Crocs expects revenue growth to be between 60 percent and 70 percent and non-GAAP operating margin to be between 24 percent and 26 percent.
Photos courtesy Crocs