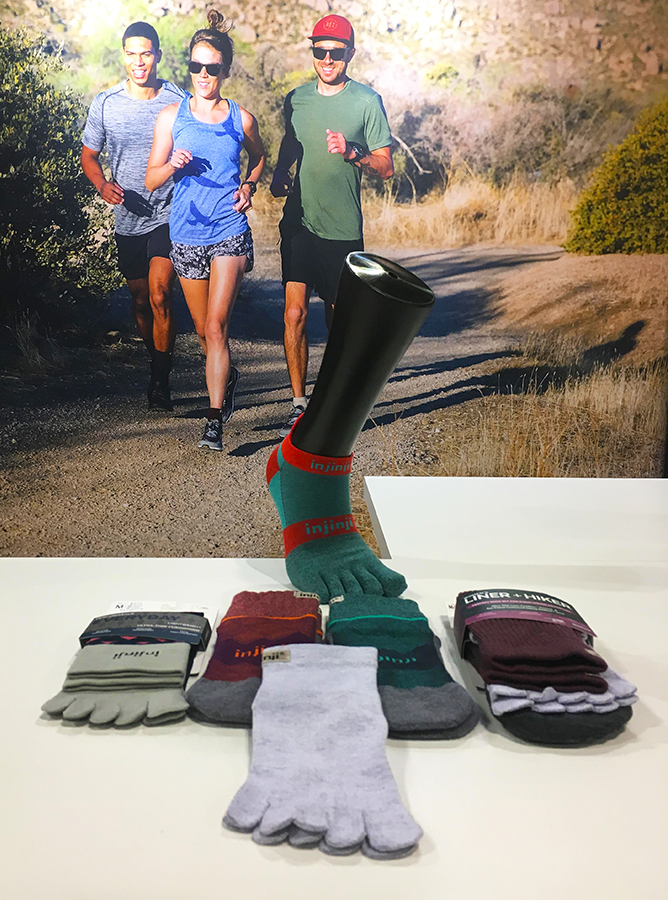 The Toe Sock … each toe individually wrapped in a cushion of comfort, where they can splay with full range of motion during every footfall.
Founded in 1999, the innovators of California-based Injinji—all passionate about making the journey of life more comfortable—patented the five-toe sock design to allow the foot to function naturally inside any shoe without discomfort from hot spots or blisters.
I wanted to talk with Claire Kopperman, Injinji's director of E-commerce and Operations, to find out what's new from Injinji for Spring 2019, so we met up at OR Summer Market last month.
—•—
What can we expect from Injinji for 2019? We have a very wide breath of socks to work in a wide variety of shoes–lightweight, midweight, heavyweight and all of the sock heights within the three categories for every sport, including casual.
As the leader in five-toe construction since 1999—way before the trend became popular in the outdoor space—the natural splay of the toes and the way your toes function with a sock and then in a shoe were paramount to our designers. Unlike the bulk you get from a regular sock, the five-toe sock is much more comfortable to the wearer.
We are expanding our toe sock assortment into more casual dress toe socks for 2019 called our EVERY DAY Collection, shown above, that includes solids and patterns like the Trident and are red/black argyle socks. All of the socks include a double cuff, slightly thicker so the socks stay in place during motion, and are a 54-percent Cotton/46-percent Nylon knit.
You offer a Sock Liner, and it's a very popular item for Injinji. Why would someone want to wear two socks … a liner (with toes) under another sock?  That's correct. More people are running in our Sock Liners and putting a thicker sock over the liner for comfort. For Spring 2019, we have taken the base of our hiking/trail sock and translated the construction into a running sock. The design is the same as the trail sock with double cuff for a tighter fit to keep debris out; the knit follows the toe line so there is no excess material, and then we added padding all the way through to the bottom in a women's and men's version.
You can wear as a stand-alone sock, but our socks for the season are made to function best with our liners as the base layer. The pairing is really more applicable for the heavy endurance trail runner than the casual marathon or 5K runner. The shoe's toe box, when you are running downhill, can cause abrasion. When you pair the liner with the sock, it provides extra toe protection and comfort during those really long runs on tough terrain. This is also really popular with backpackers and trail hikers.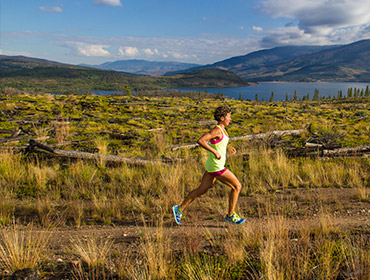 At retail, are the liners and socks packaged together? Yes. We offer a liner that is 100-percent polyester for moisture wicking with a 100 percent wool sock for the durability, comfort, anti-stain and temperature regulator as opposed to a wool polyester blend.
Is this a four-seasons combination? Yes.
And seamless, circular knitted? Yes. The socks are really comfortable to wear as much as they are comfortable to the touch.
Why the double cuff?  Prevention of debris from getting into your foot from around the ankle. We gather feedback from our team athletes, consumers and retailers to make the necessary adjustments for comfort and fit and they always ask for ways to improve construction to eliminate debris from getting between the foot and the sock.
What are some of the trends you see in sock manufacturing? We focus on comfort and functionality as our two main drivers. It's not really a trend, but we are looking at the casual sock category more closely.
Why offer five finger construction in a casual sock collection? Our customers really like the five fingers fit, and so we thought, why not incorporate the design in a casual, every day sock? Our company was founded in 1999, way before Vibram FiveFingers came to market. We found that separating all of the toes eliminates friction and blisters and helps your toes to splay out better. Also, our material is not restrictive. You can fit all your toes in very comfortably. Vibram helped our brand awareness, but it was more a happy coincidence that our socks fit perfectly into Vibram FiveFinger shoes.
Our brand has always been about promoting the benefits of a natural footfall with five finger construction. We started in the ultra-running space and it was only until Vibram, the brand, came out that our sock design went mainstream for the more casual runner.
Where will we be able to find the EVERY DAY Collection at retail? For our newest products, we sell online only, similar to a test market, before we expand to selling the collection to all of our domestic and international retail partners. This gives us more time to gather feedback to determine if the socks fit in the line.
Photos courtesy Injinji