By Thomas J. Ryan
Hydro Flask returned to growth in Helen of Troy's second quarter ended August 31 "as more people return to the outdoors" with strong growth online and internationally. Incremental marketing investments are planned for the fiscal second half to support accelerated momentum for the water bottle brand.
Julien Mininberg, CEO at Helen of Troy, told analysts on a conference call, "The brand overcame a strong comparison in the same period last year and overcame this year's headwinds from closures and lower store traffic at key retailers."
Mininberg noted that according to syndicated point-of-sale data, Hydro Flask continues to sustain its leading U.S. market share position in insulated hydration vessels. International sales for Hydro Flask grew "very fast" in the quarter and strong growth online overall helped offset lower domestic wholesale sales for Hydro Flask.
Said Mininberg, "While retail stores were largely open by the end of the quarter, consumers continued to shop online where the brand delivered strong e-commerce and DTC sales. Hydro Flask's brick & mortar point-of-sale also began to improve as foot traffic started to reemerge in regions where consumers felt more comfortable leaving their homes."
Looked ahead, Mininberg stated, "While it is likely COVID will persist for a longer time than any of us would like, we continue to like our prospects on Hydro Flask, as it remains highly relevant and wildly popular and with its on-trend positioning, product, distribution, and online."
Overall, sales in Helen of Troy's Housewares segment, which includes Hydro Flask and OXO, increased 20.3 percent in the quarter to $167.9 million. The OXO brand saw even stronger growth than Hydro Flask as consumers spent more time at home cooking, cleaning, organizing, and pantry loading in response to COVID-19.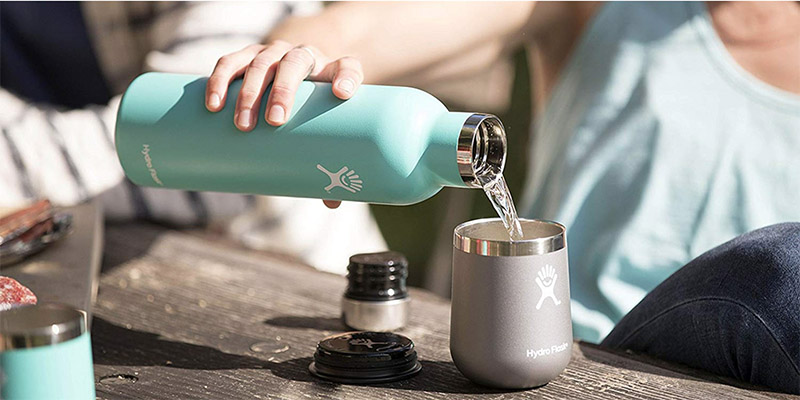 Operating income in the Housewares segment increased 27.2 percent to $45.4 million, or 22.5 percent of segment sales, compared to $35.7 million, or 21.3 percent of sales, in the same period last year. The 1.2 percentage point increase in operating margin was primarily due to the favorable impact that higher overall net sales had on operating leverage, a more favorable channel mix, and cost reduction initiatives including temporary personnel, advertising and travel expense reductions due to the uncertainty of COVID-19. These factors were partially offset by a less favorable product mix, higher performance-based annual incentive compensation expense, higher freight and distribution expense to support strong demand and increased customer chargeback activity.
Adjusted operating income for the Housewares segment increased 27.1 percent to $47.8 million, or 23.7 percent of segment net sales compared to $37.6 million, or 22.4 percent of segment net sales, in the same period last year.
Helen of Troy's Consolidated Sales Jump 28 Percent
Overall, Helen of Troy's net sales revenue jumped 28.2 percent to $530.9 million. The company's two other segments, Health and Home and Beauty, have also benefited from the stay-at-home economy.
Health and Home sales jumped 33.2 percent to $158.8 million, benefiting from strong demand for air purifiers and thermometers. The segment's brands include Vicks, Braun, Honeywell, and PUR.
Beauty segment sales increased 34.6 percent to $87.3 million. Organic Beauty sales grew 23.0 percent as its One-Step Volumizer franchise grew sharply. Drybar, acquired in January 2020, contributed an additional 12.1 percent sales growth to Beauty. The Beauty segment's brands also include Pert, Hot Tools, Professional, Infusium, Brut, Bed Head, Revlon, and Sure.
Net income nearly doubled to $87.3 million, or $3.43 per share, from $46.1 million, or $1.83, a year ago. Excluding restructuring charges, earnings climbed 69.7 percent to $95.9 million, or $3.77 per share, easily topping Wall Street's consensus target of $2.39.
Adjusted EBITDA expanded 62.5 percent to $113.4 million.
Looking ahead, Helen of Troy said that based on stronger than expected performance, it reversed a number of precautionary measures that had been taken in the first quarter to preserve cash flow and minimize its cost structure with the emergence of COVID-19. The changes included the restoration of wages, salaries, and director compensation to pre-COVID-19 levels. In addition, towards the end of the second quarter, the level of investments in certain marketing activities, new product development and launches, and capital expenditures were increased. During the remainder of the fiscal year, the company plans to continue to increase its marketing and other growth investments, including investing more in marketing and customization capabilities around Hydro Flask. Braun thermometers and its Volumizer franchise in the beauty segment were also cited as near-term growth opportunities.
Asked by an analyst for an update on Hydro Flask's growth potential, Mininberg said the company still has "tons of opportunity" with Hydro Flask and is looking to capitalize on current strength in the marketplace.
Said Mininberg, "The build out is a big deal. It's doing extremely well in most markets, especially outside the United States right now where it happens to be on fire. And DTC is a huge new driver for Hydro Flask beyond what we've done already online where we feel we can catch up considerably with what's going on in the market and we're pouring a ton of investment."
Photo courtesy Helen of Troy/Hydro Flask